Spanning over 3 days and 16 venues,
Hungry Pigeon
– one of the North's newest festivals, is set to be a big one. The festival takes place all over Manchester's vibrant Northern Quarter, in and out of the infamous haunts that populate the area. With each venue literally minutes apart, Hungry Pigeon will see just over 15,000 festival go-ers make their way through Manchester's busy streets and bars for one of the City's biggest music events of the year - with ATHLETE taking to the stage right in the heart of Manchester on the pastures of Piccadilly Gardens.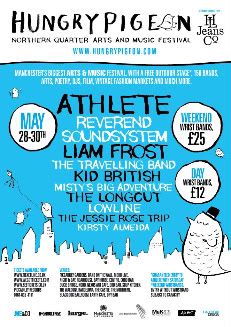 On Saturday 29th May thousands of revellers will be treated to the live show (courtest of Manchester City Council and Visit Manchester) with guest host Inspiral Carpets legend and Xfm DJ Clint Boon, who adds "You can't help feel with the Hungry Pigeon Festival that it's another Manchester success story in the making. Check back in 5 years time and I'm sure it'll be one of the most talked about annual events in the city's live music calendar". There are also some welcome returns from last year's line-up, including eight piece band Misty's Big Adventure and The Travelling Band, as well as fresh acts Liam Frost, Reverend Soundsystem, Kid British, Kirsty Almeida and many more. With an extensive lineup of quality acts, Hungry Pigeon is already shaping up to be one of the biggest festivals the North will see this year. For a full line-up and how to get your ticket visit the official
Hungry Pigeon
website and
Ticketline.co.uk
.