Festivals are hard to remember. Overwhelmed by that blaze of lights, sounds, images, feelings, people - blurred by the more or less legal substances that one can find in any music festival - days seem to last weeks and memories get mixed up in a psychedelic brainshake that makes it difficult even to recall the line up of the previous night. That's why I decided to grant custody of my fresh emotions to my blackberry and email me back every day what was passing through my mind during the 3-day music marathon of
Primavera Sound 2010
. Here is the very detailed, (almost) uncensored report of my very own Primavera Sound experience collected in real time.
From:
Laura Lotti
Subject:
Dijous
Date:
28 May 2010 07:17:57 BST
To:
Laura Lotti

The festival starts in a really slow stoned spanish way - with desayuno y coronita at Oviso, the nicest bar in Barrio Gotico, hang out of the cool/hippie/skater/surfer kind of guys (at 4.30pm) and a little trip to the beach (after the cold of London I feel I completely deserve it). Not many bar owners are nice in Barna (the one of the veggie place just in front of Oviso is a twat) but here everyone is really nice. We get to Parc Del Forum at night. It rains. Not a good welcome. And my mood gets even darker than the sky as I realize I have miserably missed
The Fall
due to queue at the accreditation stand point. Thursday starts in a quite delusional way, then. And the line-up for the rest of the night is not very exciting. One highlight is
Titus Andronicus
- their fast, distorted guitars, wild percussions and epic lyrics don't fail to meet the expectations and despite not being my cup of tea they are good indeed. I willingly skip
The XX
, the band I saw three years ago in London's Plastic People (what a random venue for this band!) for the first and last time and want to preserve a lovely memory of their melancholic dark pop. In fact, from what I can hear from the food area where we console our souls hungry of good beats and excitement, it seems I've done well to avoid them.
Smith Westerns
are Pitchfork's new indie darlings. I find them boring. Is this the long-haired American version of the Libertines? Is the singer Nick Cave's son? He looks so much like him, but I hope not. Musicwise, I would expect more from Nick Cave's son. They are not bad after all, their catchy guitar riffs and the stage presence of his frontman are quite entertaining, but I don't see much inventive or novelty. [I've done my research once back, and I haven't found any hint of family relations to the Birthday Party's singer. Good.]
Superchunk
still rock hard! I've never cared about Superchunk (it's a band my dad would like) but they are definitely putting up a supercharged performance for their fans.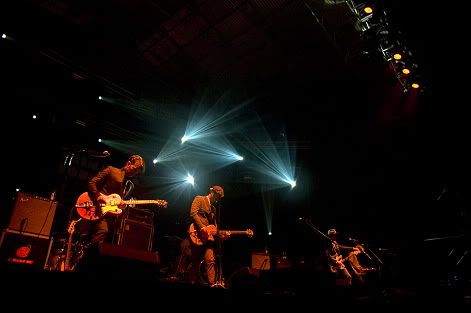 Broken Social Scene
are so so good! I actually expected something completely different from them (I have to admit I haven't followed their progression lately) and their organic and genuinely good sound leaves me gladly surprised. They are so eclectic. All the members of the band (6? 8? 10? I cannot count how many of them are on stage this time) play every instrument optimally, and every song has got a different flavour. I really enjoy their show and I love Kevin Drew's voice - let's admit it, it is difficult to find good male voices nowadays, but he does have an amazing voice indeed. They are so bloody musically good, so visually effortlessly beautiful that I almost hate them.
And now it is time for the headliner of the night,
Pavement
. Stephen Malkmus is still unbelievably cool. I saw them in Brixton only a few weeks before Primavera Sound, but it seems that in this short amount of time Mr Malkmus has lost his voice. They actually get pretty amazing with 'Fight This Generation', but maybe I'm only too stoned to notice their struggle to rock like in the good old days. With another "vodka y redbull light" in my hands, we decide to go and see
Fuck Buttons
comfortably sat on the "gradas" of the Rayban stage, while killing time till the metro reopens. And unexpectedly the gig I have been enjoying the most tonight is actually Fuck Buttons' - form far away, sitting on the terraces, drinking, smoking and shaking my head to the pumping noise. (Maybe I'm getting old?) Fuck Buttons are really good indeed. Is it because of their psychedelic rhythm that suits my hippie mood of the present time? Or is it that their crescendo of noise and bleeps and kicks is just amazing? Probably both.
Header image by Inma Varandela
Superchunk & Pavement photo by Dani Canto
Broken Social Scene photo by Samuel Navarrete