Welcome to the third, and final, instalment of our Primavera Sound 2010 coverage. Today sees 405 writer Laura Lotti round-up her general feelings of the festival, including some awards!
From:
Laura Lotti
Subject:
Dissabte
Date:
30 May 2010 12:19:07 BST
To:
Laura Lotti
Oddsac
is fucking weird! If I had seen it on acid I would have been traumatised forever. The afternoon starts with the screening of the aforementioned psychedelic movie by Danny Perez and Animal Collective. Flashy, loud, psychological obscure, visionary as Animal Collective's music, 'Oddsac' can touch your deepest, most hidden nerves. Watching it right after breakfast (as I did) is not highly recommended. Brutal images of nature rebelling to humans and primordial sounds follow one another in plot-less succession. After this effort, I am finally convinced that Animal Collective are 360 degrees artists. And I've decided I will never eat marshmallows again (if you have watched Oddsac, you know what I mean).
Real Estate
sound cooler than expected. I was a bit sceptical towards them (as I generally am towards all the hype bands celebrated by the hype blogs) in the first place, but they are actually musically good. Their raw shoegaze-y pop is catchy and refreshing, and I can detect some Animal Collective-y hints in their music (or maybe I only have to recover from the visionary 'Oddsac' experience and I hear echoes everywhere). And now it's time for my personal high light of the day:
Micheal Rother and Friends present Neu!music
. Michael Rother is still amazing (and hot) but where are the analog synths and obscure machinery Neu! were using back in the days and that made their sound so magical? This is "only" a work of backing tracks (a good one, though) in front of a really cool sleek silver Mac. I try not to cry of disillusionment and run to see Atlas Sound.
Atlas Sound
actually offers much more of the aforementioned magic in his minimal set. His creepy and unwillingly imposing presence, his acoustic guitar and a few effects create much more of an atmosphere. I stick to the Pitchfork stage for
The Slits
's performance. They play old hits and new tracks, which sound as exciting and fresh as the old ones. Ari Up is still a hot mess and shakes her bootie to Jamaican rhythms, dubs and reggae all clad, non-surprisingly, in Jamaican colours. She's still got the same great voice and she's an amazing show woman.
Now it is time for the other great highlight of the evening:
Grizzly Bear
. They are good and I like a lot their dreamy sophisticated melodies, but, don't get me wrong, I still can't understand how they could fill up the second biggest stage this way. And I don't know why they keep putting them and Animal Collective in the same music cluster. Tonight, they sound a bit blues-y for some reason (or maybe it's the beer that starts affecting my ears). To be honest, they're not blowing my mind. I think they're not putting together a strong performance. But I'm enjoying it. They're great musicians at all effects and their musicianship is simply superb. And now let's move to the ATP stage for the band I've most desperately wanted to see in ages,
Liquid Liquid
. I have got lots of expectations towards their show, and they don't let me down once. This band is the living proof that when you have got great basslines and lots of banging percussions, you don't need anything else. They are indescribable; they are "the poetry of rhythm", as Sal Principato defines his band. It might sound a bit obnoxious but that's the bare truth. Liquid Liquid were already in my top 10 bands and with this show they are rapidly conquering the very top of the chart as favourite live band. Their gig is so brilliant that I think I'm finally fulfilled, for tonight and for the whole festival.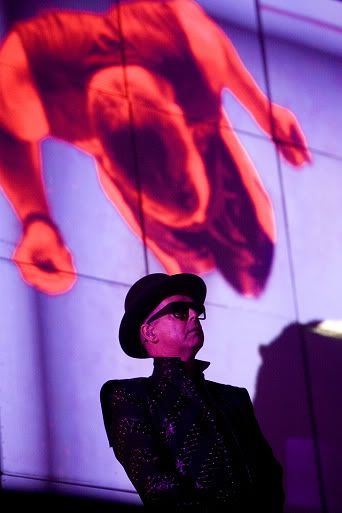 I quickly move to the main stage to check out
Pet Shop Boys
. I find them a bit ridiculous with their technicolor show Lady Gaga would be proud of. I go and get another drink. Somehow I find myself listening to
Lee "Scratch" Perry
. Wait a minute. Me? Not only listening to Lee "Scratch" Perry, but jumping and dancing under the stage to the irresistible tracks of the 74 year-old godfather of dub? Yes! His voice sounds warm like sun and solid like a stone carved by the Caribbean Sea, he is perfect after the post-punk-funk of Liquid Liquid. I haven't danced so much in the whole festival like tonight.
Orbital
start in a brilliant way, in a hectic crescendo of techno and house supported by great visual effects. But they kill my rave mood with a remix of Bon Jovi's 'Heaven on Heart'. With this, their cheesiness becomes unbearable and to be honest I don't leave them the opportunity to repair the damage, since I am attracted to the beats coming from the Pitchfork stage (again). So this is
The Field
! I knew nothing about this electronic alchemist from Stockholm, that has been allegedly active since 2005 and has released 2 albums on Kompakt, but I'm totally amazed. He mixes ambient and techno in a unique way and during his live performances he turns into a full live band, with the support of Dan Enqvist, John Stainer (drummer of the über-cool Battles) and multi-instrumentalist Andreas Söderstrom, which convey a completely new depth and richness of sound to the otherwise computer-made electronic music of The Field. The Field's deep beats open up in a hysteric crescendo. I instantly wish I've seen more. I knew already that the Swedish were cool, since I discovered Kopperberg cider, and The Field definitely confirms my love and respect for that population. So the festival is over and now it is time to decree the winners of this 3-day music marathon.
Best of best:
Liquid Liquid.
Best new act:
Ganglians.
Acts I regret the most not having seen:
The Fall, Sleigh Bells, The King Kahn & BBQ Show.
Acts I regret the most having seen:
Marc Almond, Michael Rother and Friends.
Best line-up per stage:
ATP and Pitchfork tie. Pitchfork wins for the best overall line-up, whilst ATP, despite a few flops (Michael Rother and The Psychic Paramount), did have two massive highlights: Scout Niblett and Liquid Liquid.
Best day
: Saturday. Dance and good vibes.
Header/Pet Shop Boys/Grizzly Bear image by Inma Varandela