Welcome to part two of our mammoth Primavera Sound 2010 review. Yesterday 405 writer Laura Lotti took us into her world and spoke about day one, which included lots of alcohol and bands such as Pavement. Day two is much the same, minus Stephen Malkmus.

Alright, today I feel in a proper festival soldier mood. After having shamelessly missed The Fall last night, no more mistakes. Strategy. And everyone for themselves: first rule of the festival goer's handbook. The tube is a proper nightmare, starting from the funny doors to the lack of escalators and the gates that open in the opposite direction, to the most difficult system of interchanges between train lines. After a proper odyssey to get to Parc Del Forum, here we are. First stop:
A Sunny Day In Glasgow
. I've wanted to see them for ages and the first thing I notice when I see them is their look: I thought they were going to be much older. Maybe it's because of their rich sound and elaborated melodies, where voices build up as if they were coming from outer space. Or maybe they only look much younger. Their sound is really organic and I am enjoying their performance a lot, but the afternoon sun and the salty breeze make me want to listen to some sillier stoner rock. Like Harlem, for instance.
Harlem
seem to me the cliché carefree American dudes often portrayed in movies like American Pie, that you can't help but smile at when they sing about 'Gay Human Bones and 'Junkie Bones'. They look like they are having so much fun on stage and manage to transmit such a positive energy, that everyone in the audience screams of excitement and jumps in the evening sunset on the sea. Their power-pop/surf definitely works. And I'm down in the crowd, too. I move then to other atmospheres with
Scout Niblett
. I must admit I don't know much about her, but already the fact that she's on the ATP stage should be a good sign. A tiny mousy-faced woman in mismatched clads appears with her sole guitar. And with a young, touchy and powerful voice start to sing. Goosebumps. The depth and flexibility of her voice reminds me of Bjork and the rawness and brutality of her sound makes me strangely think of Kurt Cobain - despite having overall some more common ground with the likes of Cat Power and PJ Harvey. You can see that what she doesn't put in "stage presence" she puts it into her music. And who needs a stupid "stage presence" when you've got such an amazing voice? Her show has got something intimate. I close my eyes and imagine seeing her in a really small venue, filling the room with her bare, timid but violent voice and raw guitar riffs. That room would explode. She exults after every song almost surprised by the genuine applause of the public - that is huge, despite being only 7pm. That must be because of that magic charisma she exhales, for her elf like face and that weird sweet inhuman voice, that turns into a powerful cry when she sings. It is then the turn of
Ganglians
that by the end of the night will become officially my favourite band of the year. Take psychedelic guitar riffs, noise and melodies in equal amounts, add some distortions and (lots of) reverb and voice effects, and you'll get the perfect recipe for the summer. And they sound perfect together. I remember listening to their self-titled album out on Woodsist and not being that impressed despite recognising their genius: this is a rare example of a band that live sounds even better than on record! And when stoned those echoes and reverbs sound even better. Ganglians are just irresistible. They're surf and pop and goth and psych. Brilliant! And I didn't even get their uniqueness among all these new allegedly cool bands celebrated in every allegedly cool blog. The vocal effects make their voices sound metallic, like real instruments. And still, all these effects don't overshadow their ability as musicians. And their capacity to orchestrate them all into a waterfall of notes, echoes, thumps and bleeps is incredible to my stoned ears. [By the way, since I came back from Spain I've been listening to Ganglians non-stop and I can confirm that they sound amazing even when fully sober. I officially declare them my favourite new band of 2010.]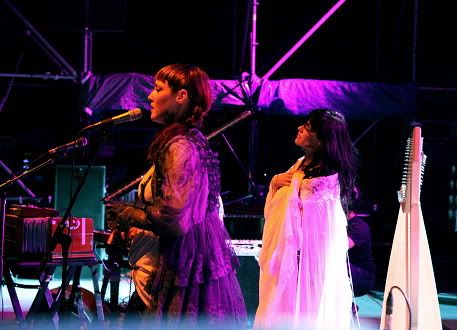 Cocorosie
put up a very arty show. The two amazingly sexy (and ermm, middle aged) sisters mix up medieval fantasies, flutes, boom-boxes and pop with trippy visuals. But as much as I appreciate their ability in producing sounds and melodies out of the weirdest, most random things, the final effect doesn't convince me. I find their sound too pop, actually, almost trip pop.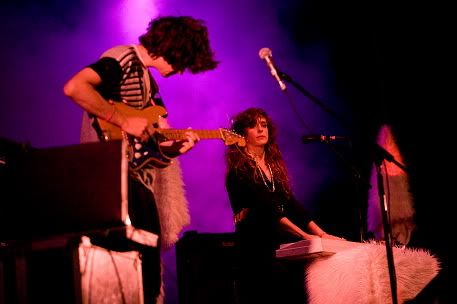 Cocorosie's is a good show but it's definitely worth leaving them in order to see
Beach House
. They're just as good as you hear them. The ATP stage is packed, and they play superbly. They are less inventive than Cocorosie and put up a show solely focused on their musical performance without visual embellishments, but their melodies are so haunting and enthralling that I can't help and close my eyes to the notes of 'Zebra' and sing along. Another great voice and delicious melodies.
Wire
are playing on the Vice stage. The energy and sharpness of their sound are simply impressive. I'm overwhelmed by the amount of great music I've been seeing so far! And Colin Newman still preserves his powerful voice.
Panda Bear
is next on stage.
>
Sweet smell of weed floating in the air. Noah Lennox has to delay his show due to problems with the visuals, that can't get fixed eventually, so Panda Bear will have to play without videos - which is quite off-putting, since the crazy images usually flashing around him constitute half of the show. I've always liked Panda Bear and Animal Collective but I think there's not much point in seeing him live since the show is not very visually exciting. Actually, who needs visuals, when you can sit down, close your eyes and surrender to the beats, the bass, those kicks and that infinite primordial echo! After the transcendental experience with courtesy of Panda Bear, it's time for Pixies. On the way to the main stage, I stop to check
Marc Almond
. I wish I never did. He looks (and unfortunately sounds) like the old crooner of the piano bar of a cruise ship. I try to erase the memory of this embarrassing show, while running to the San Miguel stage for Pixies.
Pixies
are great as usual. Black Francis's amazing voice and the whole band's musicianship are simply superlative. Still, it doesn't feel "real", if you know what I mean, considering all the rumors surrounding issues going on between the members of the band (the fact that Kim Deal's face is never caught on the maxi screens might be a clue, or maybe I'm simply conspiracy freak?). I actually attempt to get out of the San Miguel stage, but I've been swallowed up by the masses and can't move.
Yeasayer
are brilliant. Basically, live they sound like an a capella band, but they are also poli-instrumentalists and freaky eclectics. To be honest, I've got the feeling they are suffering from some sound problems (another minus for the Vice stage) and overall I prefer the old tracks, more psychedelic and ethereal, to the new poppy ones. They put up a great show, they look cool and sound good, but somehow I expected more. I still can't decide whether 'Waiting for the Summer' and '2080' have been ruined by sound issues, or by the fact that maybe they're not "as good" as I thought, or simply by the singer's attitude. I could excuse him for his behaviour on stage only if he admitted he was totally drunk. On the way back, I'm glad to see that my Italian fellas, The Bloody Beetroots, have evolved into a 'real' instrumental electronic band
The Bloody Beetroots Death Crew 77
that centrifuges techno, hip-hop, italo disco, punk and house in an explosive mix. Second day: gone. I start feeling I need a holiday from this holiday.
Header Image by Chus Sanchez
Cocorosie photo by Chus_Sanchez
Beach House & Pixies photo by Inma Varandela
Panda Bear photo by Dani Canto