So, a festival in one of my favourite cities in the world, you say? Ok, go on. And you've basically handpicked my favourite bands of the last decade? Well, thanks, I'm flattered. That was my reaction when I first saw the line up to Primavera 2011.
Despite the shambles of the Primavera Portal and the digital cards (I didn't even access mine) it didn't disappoint. I haven't been to a festival that has had such a consistently important number of bands playing throughout. It sees Pulp assert themselves as a truly vital band, PJ Harvey and Sufjan Stevens play shows that mesmerise the crowd and The National nearly moving me to tears.
The only gripes are some disappointing 'big' acts (hello, The Flaming Lips and Animal Collective) and the fact that I missed so many bands I really wanted to catch (sorry, TuneYards, Das Racist and Gold Panda).
Arriving on Wednesday means I manage to get my wristband early – and also that I get to see Echo and the Bunnymen and Caribou at Poble Espanyol. McCulloch is in his usual tempestuous mood but they play Heaven Up Here and you remember what a special band they are. I've seen Caribou once before at a festival and they were disappointing. Tonight they get the crowd bouncing.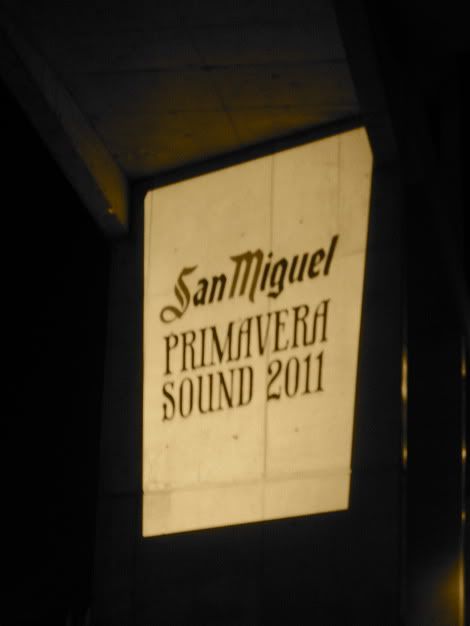 Day 1: Cults, of Montreal, Big Boi, The Walkmen, Interpol, The Flaming Lips, el Guincho, Girl Talk
With wristband on I manage to get onto the festival site quickly (I look at the queue for wristband exchange and feeling fleeting sympathy – it looks atrocious) and arrive just in time to see Cults. There are worse things in this world than staring out at the sea, the sun shining and listening to girl-boy pop which features xylophone on every song.
Yet it takes of Montreal to really get things going. Their bizarre take on pop and onstage theatrics make them the perfect festival band. They have wrestlers and a referee on stage, hand out balloons and do a greatest hits set that features Hissing Fauna material as well as the cream of the new album (did anyone see the tour when Kevin Barnes wore a suit made out of whipped cream? I swear this happened but now am beginning to doubt myself).
For the rest of the first day there seems to be a competition to see which artist can get the most 18 year old girls on stage with them. Big Boi gives it a good go, setting the bar high and playing 'Ms. Jackson' (it's a track you have to hear live, even with 50% of the song's creators absent) and 'Bombs Over Baghdad' as well as the hits from last year's Sir Lucious Left Foot.
I then head over to the Pitchfork stage for The Walkmen who have become the statesmen of indie. They play a blinding set drawn mostly from the fantastic Lisbon album but you get the feeling most of the crowd are just waiting for 'The Rat', which is a shame. Then it's over to Interpol who are solid, sexy and unspectacular, delivering a greatest hits package that does exactly what it says on the post-rock tin. The night's headliners The Flaming Lips try too hard to please – glitter, bouncy balls, giant hamster balls, a bevy (yes, bevy) of young girls at the side of the stage and Wayne Coyne constantly urging the crowd to get involved. It doesn't happen for them though even though you can't really argue with a set that finishes with 'Do U Realize?'
El Guincho takes it up a notch by having models on stage engaging in pillow fights and kissing. Which kind of detracts from the music, which might have been the point. It does mean the stage is set for Girl Talk. His brand of jock-mash-up is a revelation at 5am in the morning. Having flown in just for the festival he still manages to have convinced a lot of people to dance on stage with him and it doesn't take long for the crowd to get involved as well. It does means I'm home just as the sun is coming up again.
Day 2 - Sufjan Stevens, Low, Belle and Sebastian, The National, Explosions In The Sky, Pulp, Battles
It's Friday and I'm bleary eyed but I manage to convince my (very good) friend to take me with him as the only person who has managed to get tickets to see Sufjan Stevens in the Auditori. It was worth it. I was fortunate enough to see him at the Royal Festival Hall but even the second time around he is just as mindmelting and ridiculous (in the best way possible). 'Impossible Soul' is 30 minutes of spectacular theatrics and I get to the front for the finale of 'Chicago'. As the balloons fall around us it feels like the headline set – not the start of the second day.
I step out into the sunshine to see Fiery Furnaces and M. Ward from afar before heading back to the Llevant Stage to get a good place for The National. Tonight, as always, they are incendiary. 'All The Wine', 'Abel, 'Fake Empire', Sufjan joining them onstage and finishing with a beautiful, tear jerking 'About Today'. It's majestic.
Low are elegant and lovely but I'm not in the mood so I head over to Belle and Sebastian to catch the good time Scottish indie pop they seem to specialise in these days. Explosions in the Sky are next. They sound huge and atmospheric and suit the amphitheatre that is the Ray Bans stage. Nice lights as well. It is, however, all really preamble for the main event. Tonight was always going to be all about Pulp. They don't let us down, proving what an important band they are. After 9 years away they take to the stage with their name writ large in gigantic neon letters. You know it's going to be a show to remember. 'Do you Remember the First Time' takes on added poignancy. They play 'Babies'. They play 'Underwear'. They play 'Common People'. They play an unforgettable set.
After that things are only going one way but Battles' math rock makes an odd sense at 4 in the morning. It doesn't hurt that they play my favourite song so far this year ('Ice Cream'). It keeps me smiling all the way home on the subway.
Day 3 - Male Bonding, Yuck, Warpaint, Fleet Foxes, PJ Harvey, Mogwai, Odd Future, Animal Collective, Holy Ghost, Kode 9
I spend Saturday daytime watching Male Bonding play on a bus (no, me neither - but they're good), then head over to the festival. Yuck are up first and draw a massive crowd. I'm surprised and the band look a little lost on the big stage but it's enjoyable nonetheless, 'Georgia' being a stand out. I break into a gentle jog to get a good position for Warpaint, who I've been waiting to see for a while. They seem to have a lot of fun on stage and sound great (their attempts to speak Spanish less so), climaxing with the sublime 'Elephants'.
Fleet Foxes are perfect in the sun even though every song seems to sound the same so I leave to watch the football. After the third goal it's time for some more music.
PJ Harvey is, in many ways, the opposite of football. She is also, tonight, majestic. Harpsichord cradled in her arms, she is stick thin, wearing a white dress and seems, from my viewpoint, to have a crow on her head. 'The Last Living Rose' is brilliant, the whole set mesmerising with a song played from nearly everyone of her albums. Mogwai are an equally spellbinding festival proposition and makes me realise that 'Hardcore Will Never Die… is a very underrated album.
I catch a frantic fifteen minutes of Odd Future's set which seems like a lot of fun, but we rush over to see Animal Collective, then wish we hadn't. A self indulgent, noodly set is only brightened by 'Brother Sport' which has us jumping around like loons.
I cleanse myself with Holy Ghost's bite size pop gems then finish by dancing to someone called Kode 9, even though I have no idea who he is. It's 6 am though and I don't care.
Sunday is about recovering, stumbling upon Barcelona's victory parade and watching Mercury Rev play one of the best sets of the festival. I return to the UK with the melody to 'All Is Dream' playing over and over again in my head. It seems to make sense.