Ever wondered what inspires independent designers? How and where they make their jewels? I caught up with jewellery designer extraordinaire Jade Mellor to talk inspiration, where to find hidden treasures and of course, pizza…
What are you up to?
I'm just on my way back "Up North" after visiting the Ruin Lust exhibition at Tate Britain for inspiration. "An ideal of beauty that is alluring exactly because of its flaws and failures." I can certainly get on board with that! Finishes on Sunday, go check it out!
What have you been working on recently?
I've been researching the hidden treasures in the Natural History departments of Manchester Museum. They have so much wonderful stuff stored away, waiting to be rotated into displays! I will be showing how the collections can be used to inspire modern design and the pieces I have made in response will be shown in their study centre over the summer from June 4th. It kicks off with a 'show and tell' about the project on the same day called Designed By Nature, Made By Hand.
If you were a mineral, which would you be and how would you like to be discovered?
If I were a geological formation I would be an Ooid. They look like tiny, shiny yoghurt covered raisins. They're formed by being rolled around in the gentle waves of the shallow beach waters of a very warm mineral rich sea, like the Bahamas.
Where do you create your jewellery?
I do my making at Third Floor Studios in Manchester, which is an old textiles mill in-between Piccadilly Station and the Northern Quarter. It's a brilliant new place full of wonderful artists and makers of all types. Our crazy pirate ship of creative folk is thanks to the artist Emrys Morgan (or Captain Morgan as I call him) who on turning 60 took on the massive project of gutting and building the whole floor of studios from scratch.
What do you listen to in your studio?
I've been really enjoying catching up on Dave Rowntree's show on XFM. I normally miss it on Thursdays so having him chat about cat facts and play silly made up games with "Researcher George" is great company when you're doing lots of sanding and filing in a giant apron and latex gloves. Good songs too!
Who do you imagine wears your work?
I really enjoy seeing how people make the pieces their own. There's no single character in mind, but I imagine someone curious who likes to make new discoveries. A person who stops to look at a tree with a perfectly round knot hole, or notices that in the partly demolished building on their street there's layers of '60s wallpaper exposed in the crumbling remains of a half wall.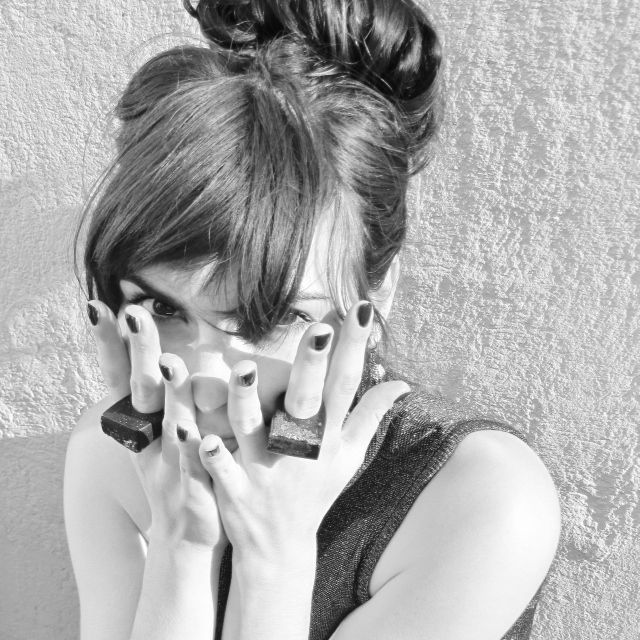 Where do you get inspiration?
My inspiration comes from everywhere and everyone. Being in the studio helps to share ideas and talking about them out loud helps you focus and think about what you're doing. By looking at how natural objects form and processes of creation or decomposition in the world around us informs my methods. Then it's all experimenting, trying out ideas and letting them evolve! My studio is usually very messy and covered in colourful splashes as I dash about like a mad scientist.
Do you have a favourite place and where is it?
Anywhere outdoors with friends and family and a bonfire. Good food and something delicious to drink.
If you had to choose between never eating chocolate or pizza again which would you give up?
Pizza is a top social food (along with curry) so I would be sad to miss out on sharing slices and choosing toppings dependent on my mood. Chocolate is a personal indulgence, so I would give that up (if I really had to) but my fudge and mallow consumption would have to triple.
Any plans for the weekend?
I'm gonna go eat some chocolate...