All photos by Ochi Reyes.
"You know how death metal bands always write songs about raping and killing women?" suggests Jill, the guitarist in Hate Fuck, in a matter-of-fact tone. She smiles, "Yeah, well we wrote one about raping and killing men."
The audience who have assembled in a sweaty basement in Dalston burst into cheers and laughter. It might have had a little more shock value were it not for the name of the band and the bone-crushing ferocity of their music. It seems misandry is a dish best served in 2 minute salvoes of screaming queer metal, fronted by a sweaty man in a gold sequin dress and black wig. He looks like he might pass out at any moment from over-abundance of rage. It might be heat-exhaustion though, I can't quite tell. I'm reminded of a George Bernard-Shaw quote: "The secret of success is to offend the greatness number of people." Well you can't find a more numerous group of people on Earth than men, I suppose. It's terrifying yet there is something overwhelmingly empowering about it in this context.
The band are performing as part of Bent Fest, London's very own Queer DIY punk festival at Power Lunches. Over the course of two days on the Easter weekend, 15 bands from the queer punk/feminist/grrrl/homo/sissy/freak scene take to the stage, alongside a Queer Zine Fest and a Queer Feminist Disco ("putting the 'disco' in 'discourse'"), plus DJs and karaoke after the bands finish. It's a festival that is explicitly and unapologetically conceived by and for queer artists and a queer audience and their allies ('queer' in this context is a political identity as much as it is an umbrella term for those who fall outside of the heterosexual/gender-binary norms). It's also a sell-out, which is quite ironic for a punk event when you think about it, but we'll let that slide.
Whilst queer punk festivals are nothing new, the existence of Bent Fest has become possible because of galvanising forces both within the DIY scene and external pressures faced by the wider LGBT community. Undoubtedly, do-it-yourself culture is experiencing a resurgence as bands, artists, zines, promoters and communities across the country and internationally go from strength to strength. What is also crystal clear having spoken to the bands and organisers at Bent Fest, as well as active members of the Queer DIY punk community and regular punters, is that homophobia, racism, misogyny, transphobia, hetronormativity - bigotry of all kinds - are still persistent problems. Couple this with closure of gay venues (particularly in London), the exclusion of female performers at mainstream music festivals and a government that has brutally cut arts funding, then you get what is technically known as a fucking shit storm of fucking shit. Or, to put it another way, it can feel like an unending set of obstacles being raised against an already marginalized section of society.
So what do you do when you're being thrown faeces from all sides? You build a castle and sling it right back. A couple of days before the festival we grab a pint with Georgina, one of the event organisers (along with her friends Collie and Andrew). Originally from New Zealand, she has been playing in London punk band Woolf alongside Collie for 5 years. She says the event was partly inspired by successful queer punk festivals like Nottingham Queer Festival and Queer We Go in Leeds, as well as being buoyed by the rude health of the London scene. "At the moment, it's so dynamic and it's so vast. [In London] I feel like its really come together. I don't know if it's because of having Power Lunches, somewhere which is just so cool and available, and queer in it's own way. Or if it has just come its time and everybody is in bands doing stuff, making records, making zines, djing, putting on club nights - it's great!"
The emergence a year ago of Power Lunches as a focal point for this scene is clearly a contributing factor, in addition to the closure of other small independent venues like The Grosvenor, caused by the rapid gentrification of London. Another contributing factor were the changes in squatting laws in 2012 which effectively put an end to squatting in residential properties, a vital space for queer artists who could not afford the astronomical rent prices that beleaguer the city. Estimates have suggested that 25% of gay bars and venues in London have closed since the start of the recession. That is a huge loss for a community which relies on safe spaces so that they can be themselves without the fear of bigoted behaviour, either verbal or physical, something that is still more prevalent than people think.
"It wasn't intended for a group of people because it's obviously there for everyone but I think the queers, riotgrrls and hardcore scene really focussed in on Power Lunches." She finishes in diplomatic style, wary of claiming any ownership over the venue, "I wouldn't say we dominate it but we make the most use out of it". The broader philosophy of the festival is that in spite of the challenges facing the queer DIY punk community, those challenges only serve to make the community more determined to resist being shut down. It has given them a greater sense of purpose and an even bigger commitment to the scene.
The inevitable criticism of these types of events is this: that they are too niche, pigeon-holing the artists and the audience. It's a view Georgina firmly rejects. "That sort of reeks and smacks of heteronormativity, doesn't it? Because every day and every festival is a bit of a pat on the back to heteronormativity - just being normal and seeing yourself replicated again and again and again, whether that be in movies or music, television or advertising. So why shouldn't we have our day in the sun? And there should be more days in the sun too."
And what a couple of days they are. The set up is small, just a dingy basement for the live performances whilst the bar upstairs acts of a sort of market stall for an array of queer zines, badgers, patches and records. The crowd are an eclectic bunch, a motley crew from the LGBT network, and more than any other festival I have attended, everyone is friendly and chatty. For two days strangers break with the unofficial law of London and strike up conversations with each other. There's also a high ratio of cis and trans women performers. In fact, there are only 3 all-male bands over the whole weekend which given the recent furore over the lack of representation of women at mainstream music festivals, this feels like a real victory. What's really interesting, to me at least, is the genuinely absorbing and diverse topics that the bands explore in their work. Their lyric sheets are bursting with ideas, often executed with great wit (what else do you expect from bands with names like Humousexual, Faggot and The Dykeness?!) but also with deep empathy, commitment and love for their community, unlike anything I've experienced before.
On Saturday, we're treated to a cornucopia of sounds and stories. Pop-punk kids Wolf Girl start the proceedings, veering between songs about anything from the enforced gender binaries in hair salons to more simple narratives like having a wank. Representing the German contingent are Friend Crush, a trans emo punk band who give an acerbic, politically-charged performance. It's an education as much as it is a show, with each song prefixed with the story of the song. They introduce one about the Berlin refugee crisis last summer that resulted in desperate refugees self-immolating in protest of their treatment. It causes a solemn silence in the room before they lacerate the air with fearsome gusts of screams, distortion and trashing drums. They even hand out zines they've made at the end with translations of the lyrics so people can read up later. There is a marked mood change later on as the rowdy satire of The Dykeness begins. "An intergalactic feminist cock rock band" dressed as guitar pumping bros complete with drawn-on beards and hair-metal wigs, except the backing singer who looks like an even more glamorous vision of RuPaul's Drag Race alumni Darienne Lake. They spunk out absurdist covers from the worst of the Dad Rock back catalogue (Aerosmith, Guns N' Roses, Judas Priest et al). It's worthy of any festival stage the Cuban Brothers have already played.
One band who embody this mix of politics and humour are three-piece punk band Kinky. Comprised of Mama, Kate and CJ, they've been playing together for over a year in their native North East (Durham and Newcastle). With song titles like 'Fuck You Straight Boy', 'I Don't Give A Fuck', 'You're Fucking Dead' and 'Everything Is Fucked' you can safely assume that they're not very interested in hitting the big time but the deviant titles belie the sharp, autonomous lyrical style, a sort of manifesto against fascism, homophobia and stereotypes of queer people.
They are also the nicest people you could ever hope to meet. After their set, I chat to them and their friend Daniel Stocker, one half of the Queer Punx Podcast and one whole of his solo project Daniel Versus The World. They all agree with Georgina's earlier comments that the queer scene is gaining in strength, marking out the three queer punk festivals this year as proof. Why? They say there is a domino effect at play whereby queer people are discovering bands and zines, which in turn give them confidence to come out and involve themselves in the scene. They also believe that DIY presents an alternative to mainstream culture which is particularly attractive to queer people.
"A lot more notice is being paid to DIY music because mainstream music has become boringly structured and people are looking for things outside of that" says Mama. "That's why the DIY community is strengthening and you are seeing more independent bands, independent promoters and things like that. Queer people are obviously more drawn to that because it stays away from really structured ideas and lets people have a bit more control and openness."
It was through the DIY/punk scene in the North East, Kate explains, that she was introduced to queer politics in the first place. "That was the starting point to develop radical politics. As I grew in my politics, I came more into contact with gender politics and queer politics. I feel like, for me, I couldn't have got there without the exposure to DIY."
A thread that is woven into the texture of most bands at Bent Fest is a critique of heteronormativity. As Daniel explains, as queers issues are becoming more prevalent in the news, heteronormative constructs like conceptions of gender identity or sexuality are suffocating queer identity. "There still needs to be a challenge to the ideas that we need to be sticking to really rigid binary ideas. The queer scene has really sprung up from people challenging that and going, 'Look, I've something important to say which isn't a part of the status quo.'"
When I catch up with Jill from Hate Fuck via email after the festival, I ask her why the band decided to explore such explicit queer and feminist themes, she touches upon a similar point to Daniel's. "I'm a long time metal nerd and while I love the music, I hate the sausage party and the macho chest beating bullshit that comes with that. Some bands' subject matter is really fucking repulsive as well. I wanted to subvert the lyrical cannon of extreme metal by turning it around, exaggerating it, and throwing it over shitty straight forward punk jams to show just how fucking ridiculous it actually is." It's not been an easy ride, she adds. "It's really quite astounding how resistant people are when confronted with the everyday realities of people who haven't been writing the dominant narrative. So many people are incapable and unwilling to step back and put themselves in someone else's shoes. I don't get it. Where is their empathy? Are their egos really that threatened? Those people suck."
There is a strong sense of catharsis involved for many here, an outlet for dealing with feelings of confusion, anger and a sense of injustice with the world, which for Kinky and Daniel, override criticisms of being 'too niche' or pigeon-holing themselves to a certain audience. CJ describes the small town mentality where he grew up as an impetus to write queer music, "[There is] the BNP and shit everywhere. It wasn't until me and Daniel moved to Newcastle that we found queer people and DIY spaces. We could learn about queer culture in these spaces and I felt empowered to identify as queer because I was very confused about it for a long time. To be able to play queer music is really empowering. It's just a really great form of expression."
It's a futile exercise to avoid criticisms such as this, Mama adds. "As soon as you put out a release people will say you sound like this, or say that you're angry and you just say fuck all the time, and yes we do, but every band - even James Blunt - gets criticised. You can't do anything fucking right. People just need to leave James Blunt alone. But at the same time we are not doing it to be on mainstream Radio 1. I will happily write 20 more songs about sucking dick."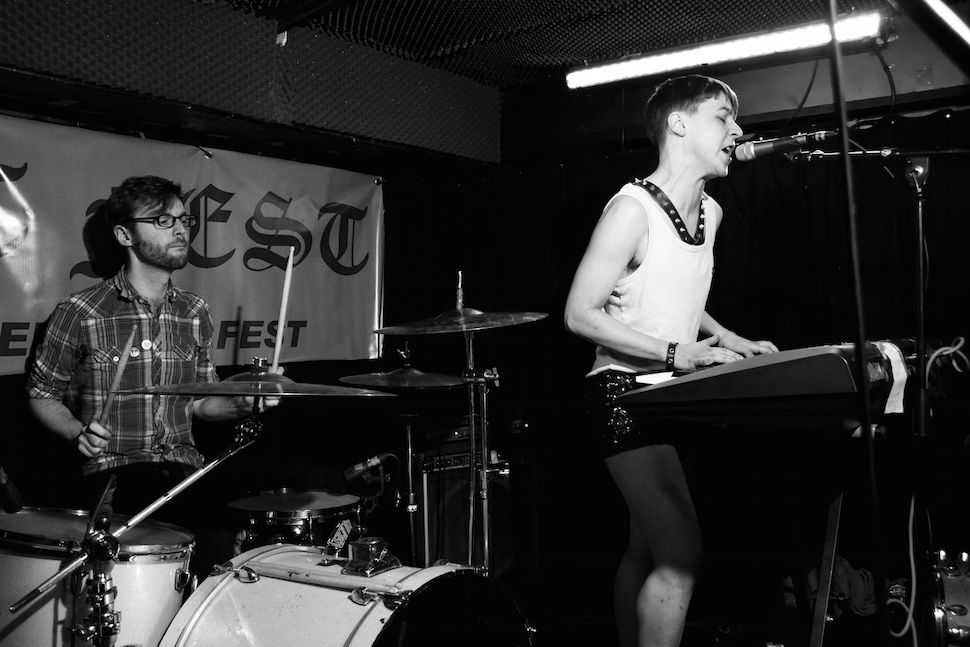 When Sunday comes around, more bands take to the stage to fly the flag for queer punk. An early highlight is post-punk four-piece Teenage Caveman who are already building a dedicated following in London thanks to their gritty live shows. Singer Simone Gray-Ritson throws herself around stage like Karen O's deranged little sister, whilst the band tear through tracks from their excellent Die Nasty EP. As Ondas follow up and provide a temporary respite from all the noise. A hypnotic whirlpool of reverberating surf pop, they write the kind of melodies that makes you yearn for a sunny beach, a pack of corona and a beautiful stranger to feed one grapes at regular intervals. Hate Fuck, on the other hand, would probably take those grapes and smash them down your oesophagus with a rolling pin. They're a brutal force of rage with a comedic twist. Their "summer hit" 'Fuck Off Lads' is a particular joy to the ears, as is 'Faggot Waltz', named so because, "I'm gay and it's in ¾" deadpans the singer. Such is the rush from their performance I feel the urge to run round the whole venue happy slapping everyone I can find. Obviously I don't because everyone is super lovely and by this point I know at least half of them by name but the thought alone was emancipatory enough.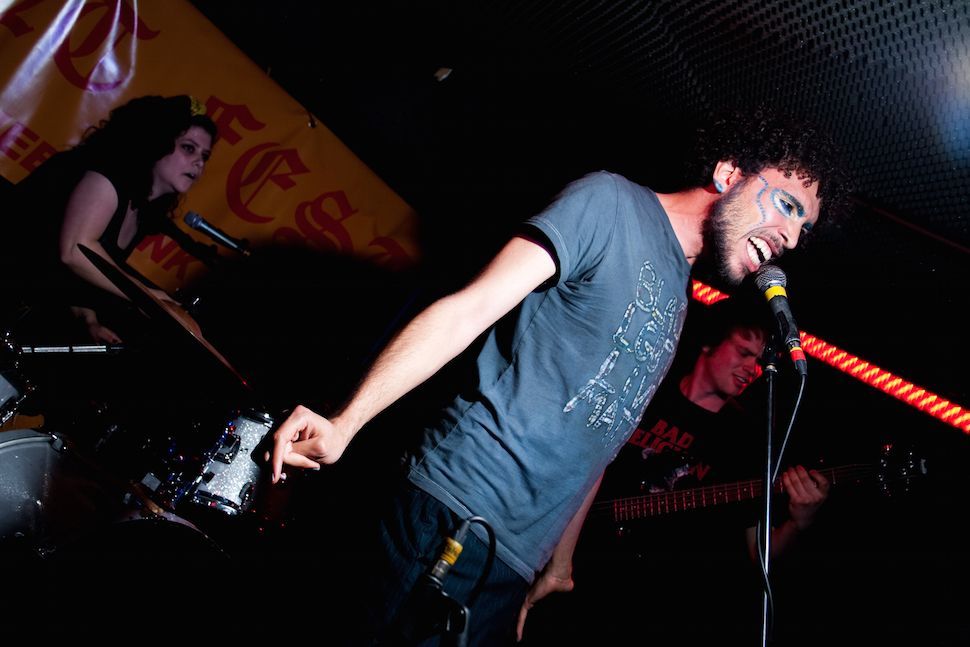 Another band who impress are Screaming Toenail. Despite the rather gruesome name, the four-piece from South London are a funky-punky delight. They perform without Naidzi, their guitarist, which makes it all the more impressive how they skip and prance through their set, with one eye on the dance floor ready jams of Le Tigre, the other piercing a heavy dose of retribution into the eyes of bigots the world over. The song 'White Saviour' is a stand out, a scathing reproach to patronising attitudes toward African countries (sample lyric: "Sierra Leone you better watch your behaviour/If you don't want to be a casualty/Liberia you better watch your behaviour/If you want us to see you free...You white saviour, White saviour/With your colonial mentality/White Saviour, white Saviour/Save yourself before you rescue me") When I chat to Jacob, Alice and Robin after their set, they explain that the song was written in response to the infamous television debate between Robtel Neasai Pailey (an academic originally from Liberia) and Ester Rantzen about the Band Aid single in 'aid' of the Ebola crisis, broadcast on that ever-authoritative political news programme, The One Show. "She was just treated like absolute shit on British TV. [Ester Rantzen was saying] 'Oh we won't give you the money you naughty little child'. It's like, we're talking about a continent, you disgusting woman! It made me and all of the band really pissed off" says Jacob, the bands singer and chief lyricist.
There is a strange dichotomy about political music in the music press. From their perforating paper towers, music journalists will blindly condemn the lack of political music being produced (the eternal quest to find 'the next Billy Bragg' is documented on the brilliant 'Where Is The Protest Music' Tumblr blog) but on the other hand, there is little effort to support political music unless it comes in an easily digestible package, let alone would they leave the internet for a single minute to find these bands playing in the 'real world'. Music that is anything other than high fidelity is considered 'overshadowed by its politics'. Too rough to be sold, too raw to be enjoyed. It's an issue that raises a lot of different opinions. For Jacob, there doesn't have to be a conflict of interest. "When I think about bands like Crass, Jeffree Lewis and Le Tigre, who are obviously a big influence on us, they were intensely political. Le Tigre are a great example of how a band can still be political and pop and kinda mainstream, in a way."
Daniel from the Queer Podcast doesn't see any problem with a political message being the most important factor. "It's not necessarily a bad thing. If the things that they were saying were really important and actually affected me and actually changed how I thought about things, then I think that's more important." Kate from Kinky adds, "You don't have to be a brilliant musician, you can still have your voice heard." This is all the more pertinent given the arts are increasingly becoming swamped by people from privileged backgrounds, whom are readily able to pay for studio time, rehearsal spaces and recording equipment. There is a real risk that other voices will ultimately get drowned out because of this inequality, a sentiment recently echoed by Shadow Culture Secretary Chris Byrant MP. More funding could be a way forward, Jacob suggests, "We should demand money from the Arts Council and from the million other funding bodies for art because Queer Punk is art. It's important and it should be funded."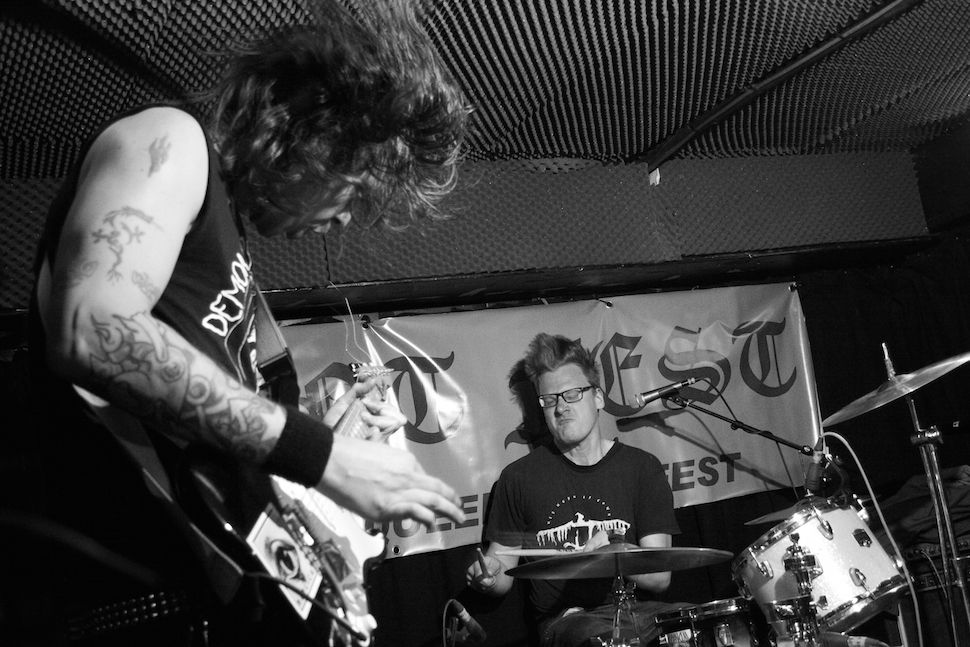 There is something reassuring about seeing these bands play overtly political music. In these apathetic times, it's good to see people haven't given up hope, people who are still willing to fight. Everyone I speak to agrees that the meaning is just as important as the music, adding value rather than detracting from it. Robin from Screaming Toenail summed it up well, "Music is a little like masturbation. If you can do it for an actual reason, I think it can be more important."
The overriding success of Bent Fest has been bringing together this community. Despite many of these bands living hundreds of miles away from each other, they rely on each other as a network for support, a safe place to express themselves, to talk about issues which are affecting them. Something which can't be guaranteed elsewhere. To break the mould of what is expected of someone who is queer, or female, trans etc., is also an added bonus. "There is a stereotype that the gays and women aren't strong" suggests Alice from Screaming Toenail. "Seeing gays and women hitting drums really fucking hard and screaming their guts out, that's really cool."
For Georgina, the ultimate goal is that the by making an effort toward a more inclusive and diverse scene, and being visible to others, will encourage others to come forward. "If something like that happened, say they stumbled across a Bent Fest flyer, and they felt like they could come to an event, and they felt like they suddenly had a community, that would be one of the best results for Bent Fest."
"For me, to boil it down to it's core," says Mama from Kinky, " You are not alone. It can be really fucking depressing growing up queer and not knowing anyone in your town who's queer or transgender and essentially for me, it's that. You are not alone. People will support you for who you wanna be."
With the faint echo of Michael Jackson's 'You Are Not Alone' in my mind, and a raging onslaught of tinnitus from Hate Fuck, I say goodbye to the inaugural Bent Fest for now, sad that it's over but feverishly excited for the next one. The only thing we need next time is you.