After a rainy Green Man Festival, team 405 headed to the land of Reading for a weekend of bands, beer and only a small amount of rain. Remember, Reading Festival isn't all about celebrating your GCSE results, they also have one of the most immense line-ups of the festival season. So sit back, relax and have a read of what Ryan Barham, Sophie Achillini and Matt Pinder chose as their highlights. Did someone say, Arcade Fire?
Photos by Naomi Goggin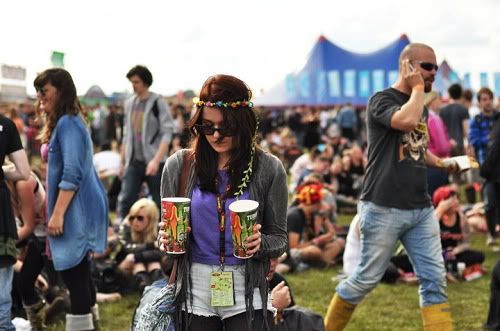 Sophie Achillini
Reading was brilliant this year; there were so many things that I enjoyed that it's hard to single out anything in particular that I loved any more than anything else. I finally got to see Surfer Blood, after missing them at ATP; jumping around to 'No One Knows' during Queens of the Stone Age was incredibly good fun; Fred Durst's banter, during Limp Bizkit's performance, was hilarious; Warpaint were just so cool; Arcade Fire finishing their set with 'Wake Up!' was awe-inspiring and sitting in the sunshine outside the Festival Republic tent whilst listening to Y(u)ck and Summer Camp just made me feel all warm and tingly inside. But here's my top five:
Blink 182's
set wasn't as amazing as I had anticipated, the guitars felt too quiet and they forgot some of the words, but it was still pretty darn good and they did manage to incorporate a bit of upside-down drumming into their performance, which was one of the coolest things I've seen in a while; Travis Barker, what a hero! On the Sunday, we were so late for
The Joy Formidable
and it was pouring down with rain; we ran through the arena as fast as our tired little legs would carry us and made it just in time to catch their final song, 'The Greatest Light is the Greatest Shade'. The swooping, alarm-like synths and elevating final refrains of 'happy for you' dispelled our hangovers immediately, leaving us uplifted and ready for the final few hours of the festival. I'm so gutted that I missed the rest of their set, but shall be making it along to their autumn tour for sure.
Weezer
completely stole the show on Sunday, performing hits such as 'Hashpipe', 'My Name is Jonas' 'Surf-wax America' and 'Buddy Holly' as well as covering Wheatus' 'Teenage Dirtbag', MGMT's 'Kids' and Lady Gaga's 'Pokerface'. For the latter Rivers Cuomo donned a blonde wig, before falling into a puddle of mud, then jumping into the crowd to give his onlookers a big hug. This was probably the most energised set I witnessed at the whole festival. I have loved
Ash
for at least the last decade (I had a massive crush on Tim Wheeler as a teenager). On Saturday night they played to the packed out Festival Republic tent to a crowd possibly as besotted with them as I am. I kept flitting between them and Arcade Fire, so I only managed to catch about three songs, but singing along and dancing around to 'Kung Fu' with my very drunk friends was the most fun I had for the entire weekend: I still haven't regained my voice.
The Libertines
have coloured my youth and ignited my passion for music. With their typical erratic brilliance they set about wowing everyone who had turned out to watch their reunion. With songs such as 'Time for Heroes', 'The Delaney' and 'Music When the Lights Go Out' their set was full of romance, glory and moments that I am sure will be cherished forever. The Libs will always have their critics, but more importantly, they will always have fans because of their poignancy, their intrigue and performances like this one.
Matt Pinder
Mumford & Sons
Mumford & Sons have a special piece in my heart for a couple of years now. Having played their debut to death and enjoyed their live shows just as much, the band never fail to disappoint. When they arrived at the NME/Radio 1 Tent they not only packed the tent but it was surrounded by hundreds trying to capture the performance. Despite not being able to see the band or even hear them over the crowd singing along I still had hairs on my neck shooting up. I felt quite proud of the most modest band around who could not have put more effort in. They were made for moments like this. 'Little Lion Man' had never sounded so perfect and the new songs were greeted with the same enthusiasm from the crowd.
Weezer
Sunday evening, there was a chill in the air, 'nu metal' pioneers Limp Bizit had been and gone, the heavy rain had done the same. American geek rockers Weezer brought the sun to the main-stage along with a greatest hits set. They are a band I would never choose the listen to but I wouldn't turn them off either. Along with the classics, 'Buddy Holly', 'Hash Pipe' and 'Beverly Hills' the old timers covered Wheatus' 'Teenage Dirtbag', MGMT's 'Kids' and Lady GaGa's 'Pokerface' where energetic front-man Rivers Cuomo sported a blonde wig whilst rolling about in the mud.
Mystery Jets
Mystery Jets have been knocking about for sometime now with a collection of pop songs that would give Simon Cowell's song-writing team a fright. Today wasn't just about the hits, it was to see if the band could work main-stage after a few appearances on the smaller ones previously. Not only did they get some sing-a-longs from the crowd but also got them dancing when Count & Sinden joined the band to play the party tune of the year, 'After Dark'. It wasn't just the stage that the band controlled as the lively band members spent a decent about of time amongst the crowd too.
The Libertines
2002, the NME.Radio 1 Tent saw Peter Doherty, Carl Barat, John Hassall and Gary Powell play their only Reading Festival together. Since then The Libertines have performed twice without Peter, and since the group disbanded six years ago they have all appeared under different guises. The main-stage witnessed the band play just their forth gig since their recent reformation. It was professional and energetic. I don't think I have ever seen the band play that well, they meant business. Talk was kept to a minimum whilst thrashing out tune after tune, they were unfazed when they had to have a quick break whilst the crowd calmed down. A tear was shed when Pete and Carl, hugged and kissed onstage, I had been waiting too long for that moment
Arcade Fire
It was Arcade Fire's last Reading Festival performance that really won me over but this topped that performance with ease. Win Butler lead the seven piece on a emphatic set that included songs from all three records but it was the material from their latest, The Suburbs that really had the wow factor. Words struggle to some up this performance, it was more than just music, more like a religion.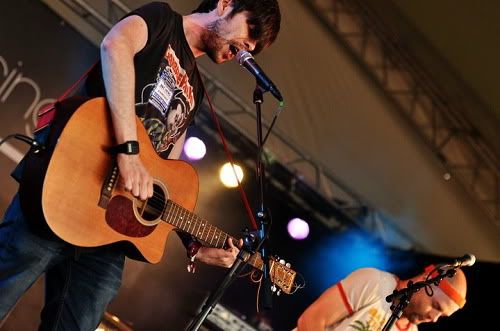 Ryan Barham
Reading 2010 highlights Such a strong lineup this year at Reading and rarely were you struggling to find something to see. In fact, you were often missing something equally good due to the number of clashes. The torrential campsite conditions did not put a dampener on festival-goers spirits, if anything it helped make sure everyone tried their hardest to ensure they had the best time. My top five of the weekend were:
Stagecoach
Playing the BBC Introducing Stage at just the perfect time for late arrivals and people grabbing some dinner at the back of the arena, our favourites came on to a decent-sized crowd that grew in size through their all-too-short set. With support in the audience from Alcopop!, Hold Your Horse Is and mistakes.in.animation, those of us familiar with the songs had a great singalong with each member of the band beaming from ear-to-ear and jumping around for their whole jubilant set. It was so nice to see a band having the time of their lives on stage, and not ashamed to show it. The closing echoes of 'Good Luck With Your 45' had even the passers-by singing along and the end of the set, with Matt running to the front complete with drum, felt triumphant.
Villagers
When Conor J. O'Brien shyly shuffled on stage with just an acoustic guitar, you could hear a pin drop in the crowd as he delivered a note-perfect rendition of 'Twenty Seven Strangers'. And this despite some muffled background noise of Dizzee Rascal's main stage slot in the background. Conor was then joined by his backing band for the next 25 minutes or so, and they added extra clarity to his perfect storytelling. The Villagers live experience is at times emotional and poignant and never less than captivating. The beefed-up 'Becoming A Jackal' gained the biggest reaction but the blues-led 'Pieces' (complete with full band freak-out during the howling finale) and sublime 'Ship Of Promises' showed why this is a truly special talent we were watching. Songs with true meanings delivered in a heartbreaking style.
Arcade Fire
'The Suburbs' may have hit number one in the album charts, but still everyone I talked to in the campsite said the same: "I've heard the name but don't know much of their stuff". I know, I couldn't believe it either. And coming on after The Libertines had delivered a brilliant high-octane set, it was clear they had their work cut out to show they were deserving of such a prestigious slot and they delivered perfectly. A super atmosphere in the crowd, with songs from the latest album growing every time you hear them and the old songs still sounding just as good now – lots of people clapped, danced and the joined in the occasional chant while feeding off the eight-piece's frenzied stage moves. The band were humble: "We're not sure what we're doing here, we haven't even had a hit single", and when Win Butler cheekily referenced the Black Eyed Peas with his feeling that "tonight, we're gonna have a good night", he wasn't far wrong. If anything, he understated it.