Today saw Nintendo streaming one of their more informative Nintendo Directs giving us many release dates for upcoming titles for both the Nintendo Wii U and 3DS consoles.
Sonic: Lost World for Wii U, originally announced prior to E3 in May, was fleshed out with some gameplay footage. One of the big features for this game is Sonic will speed through a variety of level structures such as mind-bending courses, colossal structures, inside, outside and upside down on his way to his goal.
Three speed levels will also be included so players can control Sonic more freely, making him suitable for all skill levels. New moves such as vaulting over objects and running along walls and unique powers will also be available to Sonic. The gameplay seems to be more in line and similar to the Mario series, while keeping its original 'Sonic' feel. The game will be available on October 18th via the Nintendo eShop and as a physical copy.
The 3DS version of Sonic: Lost World will also be available on October 18th, however there is a unique functionality between the two versions that sees the 3DS and Wii U versions of the game communicate with each other via Wi-Fi, allowing you to customise a radio controlled vehicle that they you send to the Wii U version of the game. This in turn can be used to support Sonic in the Co-Op mode in the game (collecting rings that are out of reach etc).
Next up, Rayman: Legends for Wii U was shown off, with a mix of already released gameplay footage and new gameplay we haven't seen yet. Players must discover the secrets of each legendary paintings (Stages) across 5 levels. Iwata stressed the traditional Rayman gameplay plus rhythm based stages will be playable across all the stages giving a unique experience for all gamers.
Unique Wii U GamePad functionality was also shown, where one player with the GamePad can support the main player traversing the level. All the game stages can be played with up to 5 players. However if you are playing solo, you can play the game with the off-TV mode. As you advance, many stages from Rayman: Origins will also be unlocked. Various modes such as invasion mode and online challenges were also briefly shown. If anything, the game is looking to be chock full of content.
Raymen: Legends can also allow you to play as costumed versions of Mario and Luigi. Rayman: Legends will be available on August 29th.
Art Academy: Sketchpad was next shown for the Wii U. Iwata demonstrated that you can post screenshots of artwork you create.
The title will be Available August 9th, however the Miiverse community will launch after the software is available on the eShop. Nintendo plans to highlight artwork from users in the Miiverse community and plans to develop art lessons via this title are also in development.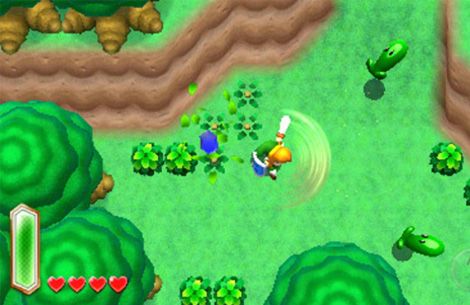 There was pretty much a massive drum roll in the collective minds of Nintendo fans for the next announcement: The Legend of Zelda: A Link Between Worlds for 3DS.
Satoru Iwata highlighted the game's logo with the Triforce, explaining its meaning and theme within' the game series. Mr. Iwata however was quick to point out the presence of a shadowy Triforce that alludes to a parallel dark Triorce that Link will discover on his travels.
More gameplay showing Link transforming intro a drawing/painting was shown in the context of puzzles that will allow you to progress through the adventure. Although the game looks similar to the older game, the dungeons and puzzles are completely new.
Interestingly Mr. Iwata announced that the game is set many years after Ganon was sealed in The Legend of Zelda: A Link to the Past. Instead, The Legend of Zelda: A Link Between Worlds is set far in the future where you control a entirely new Link!
The Legend of Zelda: A Link Between Worlds is set to be released in November.
Next up The Legend of Zelda: Wind Waker HD was shown. Gameplay was recapped by Satoru Iwata with the proud announcement that Nintendo released the original Gamecube version of the game 10 years ago, however the company believes the original game mechanics + the new HD graphics in this new version has helped resurrect the whole game with many optional new activities to do during the game as well. There are also adjustments such as fine tuning the collection event at the last areas of the game, quicker Wake action and faster saving.
The Legend of Zelda: Wind Waker HD will be released on October 4th.
The Windwaker news was also rounded off with another bit of series history with Mr. Iwata confirming the game takes place a few months before Phantom Hourglass originally released in 2007 for the Nintendo DS.
Iwata quickly recapped that 2013 was The Year of Luigi and showed off some new screenshots for Super Smash Bros. for Wii U and 3DS made by series creator Masahiro Sakurai. It is through this announcement that Luigi will be a playable character in those games.
The last announcement saw Nintendo's decision to open the new Animal Crossing Series community on the Miiverse for Wii U. To celebrate this, the in-game Mayoral secretary Isabelle will have a message about this new event (See video).
The Wii U will have a Animal Crossing Plaza that can be downloaded for free and will act as your main community page when you boot up your Wii U. You can see all the posts of what is happening in Animal Crossing: New Leaf, other users that are playing the game and events. You can import images of photos from the 3DS version of the game to the community plaza with the addition of posting messages with those images.
You can also directly scan QR codes that you find via the plaza. You can select your favourite animal and post about those specific animals or see their posts. If you want to see more posts, you can jump directly to the Miiverse Animal Crossing community. It's now available for free!
With that last announcement Satoru Iwata took his leave and handed over announcements to the European stream of the Nintendo Direct handled by Satoru Shibata.
Shibata started off his announcements continuing more news about Animal Crossing: New Leaf. A new promotion from August 7th - September 7th called the "Welcome a friend promotion" will allow owners of Animal Crossing: New Leaf to register their game on Club Nintendo. You will then get a recommendation code to download a copy of the game that you can give to a friend if they have registered a Nintendo 3DS XL system between August 7th and October 7th for a free version of Animal Crossing:New Leaf.
Next up, Pokémon Rumble U has been announced to be released August 15th for Wii U. In the game you don't control normal Pokémon, instead you will control toy versions that have got lost and need to find their way back to the toy store. More than 100 Pokémon can be present on screen at one time. Every Pokémon from the game series is in this game, however not all of them are obtainable through the game - Instead you need to unlock them through special passwords via special Pokémon related or Nintendo Wii U social pages that make period announcements for the game.
The KORG M01D Music Workstation was next shown for Nintendo 3DS. You can create MIDI data for electronic music through this application and can fully re-create even famous Nintendo game themes, such as this Legend of Zelda theme shown in the video by RangChang from Japan - Pretty incredible. You can export these MIDIs to work on later. Autumn will be the release for this app.
Steamworld shown for 3DS was next shown. The game is a Steampunk game focussing on a mining robot called Rusty who helps to restore a small town to its formal splendour by getting minerals and exploring a underground world. On your way you can upgrade yourself and find out about a terrifying evil hidden under the Earth as you go deeper - kinda like Terreria. The game is available now via the Nintendo eShop!
Super Mario Bros. 2 for 3DS was next shown with the announcement that it is now available via the Nintendo 3DS eShop in the Virtual Console archive section!
More downloadable exclusive games for Wii U were shown, such as; Cubemen 2, Festival of Magic, Forced, Giana Sisters: Twisted Dreams, Ittle Dew, Knytt Underground, March of War, Monkey Pirates, Nihilumbra, Pure Chees, Q.U.B.E Director's Cut, Scram Kitty and his Buddy on Rails, So Hungry, Squids Deluxe, Tengami, Teslagrad, TNT Racers, and Wooden Sen'SeY.
Etrian Odyssey 4: Legends of the Titan has been confirmed to come out on August 30th. With Shin Megami Tensei Devil Summoner: Soul Hackers coming out two weeks later on September 13th.
Shibata was chocked slightly to announce the sad news that Professor Layton and the Azran Legacy will be the last ever Professor Layton game ever. However the happy side of this news is that European players will be able to play the last of this epic saga on November 8th.
As the stream was about to be wrapped up for good a giant 'OBJECTION!' logo from the Phoenix Wright series appeared on the screen. As it disappeared, Shibata had transformed into Phoenix Wright. His announcement saw a short video were Phoenix Wright and Professor Layton team up for Professor Layton Vs Phoenix Wright Ace Attorney that will be released in 2014.
Finally, Nintendo has confirmed that a special Nintendo Direct will take place for the new Wii U game The Wonderful 101 on August 9th 4pm CET.
You can watch the entire stream below to see some of the gameplay of all the games mentioned here in action: