'Truth' is tattooed across the hand JoJo rests blithely on her effortlessly contoured cheek while leaning into the sofa-pillows in her commodious hotel suite. And by the casual assurance she immediately presents, I'm certain that truth is precisely what she's offering me, besides a spot on the couch beside her.
JoJo is grown. Beautiful, passionate and very much grown. It's been over a decade since she broke out onto the charts with smash debut 'Leave (Get Out)' at thirteen, nine long years since her last studio album and a strenuous two-year stretch since she initially filed a lawsuit against her former label Blackground Records, for "irreparable damages to her professional career," when she wound up confined in pop purgatory for the better part of her adolescence. Ill-fated industry woes held the now 24-year-old Massachusetts-singer hostage under a strict contract, which also denied her the ability to put out a new record. But JoJo is free now. And not all is lost. She still has that voice and we still want to hear it.
After finally unleashing three new singles this past summer, a delivery she calls her Tringle, JoJo and her unwavering fan-base now anticipate the release of her third studio album, set for delivery in 2016's first quarter. As pop's youngest veteran, Joanna Levesque has seen the best and worst of what the music industry has to offer young budding popstars, and her maturity reflects that as she sits beside me - poised, yet comfortable in an emerald green dress, sky-high lashes and sleek black heels - facing her own truth as it comes.
"My situation isn't unique, in the fact that we all have something to overcome."
Congrats on the tour. Finally! How has it been so far?
It's been so fun and it's been an exercise in fitting in sleep. It's been amazing to be in all these different cities and connect with people who supported me for a long time and see them singing the new songs is particularly special.
You're finally able to reconnect with the fans that have held you down for almost a decade and the people that have cheered for you in order to get back to where you are today. Has reconnecting with fans given you closure from your incredibly frustrating waiting process at all?
They've definitely been the ones to help me find the way to get out on the other side. I think it does bring some closure to it, because it was worth the fight and they made it that way. They made it all worth it. Certainly, I knew that my situation was wack and it was a bummer and I knew that I wasn't alone in it. I knew that people were going through their own struggles. Kind of having that perspective that I'm not the only person that's going through something, I'm not the only person in limbo, or whose voice is being stifled. That did give me the energy to keep going. My situation isn't unique, in the fact that, we all have something to overcome. And I think that spirit of wanting to prove certain people wrong or to prove it to myself that this is what I want to do for the rest of my life, I just couldn't let bullshit get in the way of that. I love this more than the bullshit.
You've mentioned before that everything you've been through and the obstacles you've overcome to get this far has really changed you and evolved you into a different writer and a different artist, so how would you describe who that artist is right now?
I'm emo. I think I'm a little bit more confident and raw. There wasn't really anything holding me back as a teenager, except for my age. I was scared to say certain things. But I've always been a little bit rough around the edges and that comes out a bit more as I get older. I think the evolution is just natural. I'm singing about things that are real to me. Love and sex are a part of my life and struggle and triumph and friendships and self-love and a lack of it. I'm just kind of finding myself.
You were finally able to offer up your Tringle this past year. Congrats on that. You said that you wanted to put those three songs out, because you were looking to make a well-rounded impact before the album comes out early next year. How do you think you accomplished that heading into 2016?
I think particular for the people who have supported me from the beginning and ones who were involved with the #FreeJoJo campaign, I wanted to give them more than just one song after so long. Thankfully, my new label was in support of that and wanted to do something different. I think that with the tringle and putting out videos for two of them so far, the third is coming the first week of January, I wanted to show that I hadn't forgotten my R&B soul roots. We were going to lead with 'When Love Hurts' as the single and I was kind of like, let's give them something else as well just to show that I'm not abandoning anything.
And I don't think you can. With that voice, it's hard to abandon anything soulful for surface pop.
Thank you. I'm not interested in doing anything surface-level for the long run. I want to continue to dig and be true in each moment.
I read a great point from you where you said "We're living in a time where artists are playing by their own rules." And we've really seen that this year, when it comes to Taylor Swift vs Apple or Adele choosing not to stream her album at all. What rules are you playing by that you've constructed for yourself now that you have the freedom to do so?
I know what I'm good at and my strengths as a performer, as a singer, as a writer, and then I also defer to people that know more than me in certain areas. So as far as rules, and as far as releasing an album, you can drop it any day. You don't need that long lead-up time. I'm actually getting ready to release a few songs on my birthday just for free to the internet. People said that we couldn't route this tour and that we couldn't do 24 cities. We sold-out most of them. We're just building brick by brick. Impossible is nothing. It's just inspiring to know that there is no formula.
You're getting ready to release your new album at the top of the year. It's your fourth installment of trying to put out the third album. So crazy. What about this music specifically that we're going to be hearing, is what we need to be hearing from JoJo now, label purgatory aside?
There were hundreds of songs that I've done in the past few years. Close to 200 songs probably. I started fresh when I signed to Atlantic and I just wanted to bring that release of energy and positivity and excitement into this. I didn't want to be closed off. I wanted to explore. I think that this is well-rounded. It's mature, while still having so much room to grow. At 24, I have some experience under my belt but I'm still a kid in a lot of ways. So it's finding that balance between girl and woman and writing through it.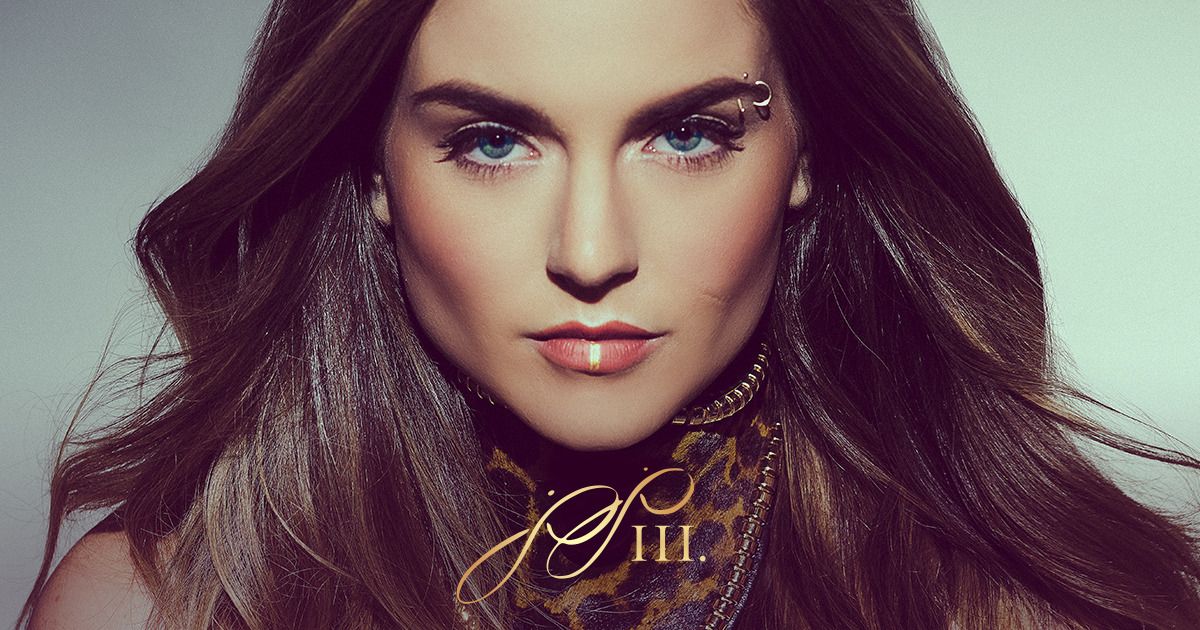 "There's going to be a lot of people that are going to want to influence you and there's nothing wrong with listening to the opinions of people you respect but take it with a grain of salt."
It's funny you mentioned balance. I read in a previous interview you had said that you don't want to harp on the past but you want to be able to harness all the energy from that experience on the new album. How did you find that balance specifically?
I just didn't want to write too many songs about, "Oh I feel trapped" or, "Oh, I'm in limbo." But I know that a lot of people can relate to those feelings of feeling powerless to something. That's where songs like 'Save My Soul' came from. So I wanted to have themes that were relatable and true to me while not getting too anti-industry or anti-label, because I'm not. I just wanted to talk about more things that interest me like love and boys and sex and all that.
Okay, so you wound of trekking to London and Sweden to record for the album. Why was the change of location so important for your growth this time?
Sweden is where incredible music comes from. It has since ABBA days, Britney Spears and Backstreet Boys. It's been an amazing factory. All the way up to Robyn and Lykke Li, who I just found out is from Sweden. There's an amazing pulse musically there and I heard some work from a production team called The Family and ended up going there and 'Save My Soul' came from that. We wrote some other songs and then I went from London from there and worked on that. I love soaking up the vibe of the city. That's why I'm bummed I'm only here for a few hours, because there's such energy and it's different. It's nice to have a change of pace.
It was dope to hear you worked with MNEK, who is amazing.
I can't believe how young he is. He's doing everything.
Coming from the youngest popstar to have a number one Billboard pop single...
Ya, but he's producing, writing and just really at the helm of everything. I don't produce, so that's amazing.
What did your collaborations on this project teach you about your craft?
You're not going to connect perfectly with everyone. When you get into the studio with a new producer or co-writer, it's like going on a first date so you're either going to have a second one or you're not. I tried a lot of different collaborations and some of them worked incredibly. I learned that it's not my fault all the time if we don't produce an amazing record from it. Also, if at first you don't succeed, dust yourself off and try again. If the first idea doesn't work, table it. I learned a lot about myself through co-writing actually.
It's been an amazing year for music and an amazing year for women empowerment in music. Your long-term fans have really stood behind you just as they're standing behind and supporting artists like Kesha and everything that's happening with her and her lawsuit. What gems do you have for the new fans that you'll be garnering with this new album that are the age now that I was when I became a fan of yours, about protecting their voice, not only creatively but in general, as a young female?
There's going to be a lot of people that are going to want to influence you and there's nothing wrong with listening to the opinions of people you respect but take it with a grain of salt. Not everything needs to affect you. Certain things, you need to let roll off. The opinions of those you respect, take it in and see if there's something you can learn from it. But there are certain things that are unwavering about me. I don't have a problem with the truth. I don't have a problem being real, because I don't have any gimmicks. I can't juggle fire. I'm not a great dancer. It's about my voice and what I have to say. Focus on that.
You've been through a lot this past year and have even more to look forward to heading into 2016. How are you heading into the New Year a different artist than the one you started the year as?
I understand the discipline of what being a female artist takes now. To be doing a show every night and to show my stomach. I'm in the gym every day now because I want to be strong and I want to feel confident. I'm taking care of my voice in a different way. I'm making sure I'm getting the right amount of sleep as well as having fun and being young and exploring and being with my friends. But the first week of January, I'm taking a week of silence. I'm going completely silent and I'm not speaking at all. I'm doing it for my voice and my mind, so I'm looking forward to that. I'm kind of scared to be alone by myself but I think some important stuff is going to come up. Time alone is essential.
This interview was conducted towards the end of 2015. Check out the video for 'When Love Hurts' below, and head here to listen to the greatest pop song of all time.