It was shaping up to be a barren week. The pervasive clasp of March's icy tendrils had not yet abated, retaining enough strength to ensure that Monday and Tuesday offered little of consequence. There was some news, of course - silly name's Ansel Elgort was confirmed as the star of Edgar Wright's Baby Driver, and Jay Basu agreed to write the long-in-production film adaptation of the video-game Metal Gear Solid - but nothing that you'd likely remember after closing the tab. It was a meagre yield, and March, it seems, was the month when basically fuck all interesting happened in the film industry.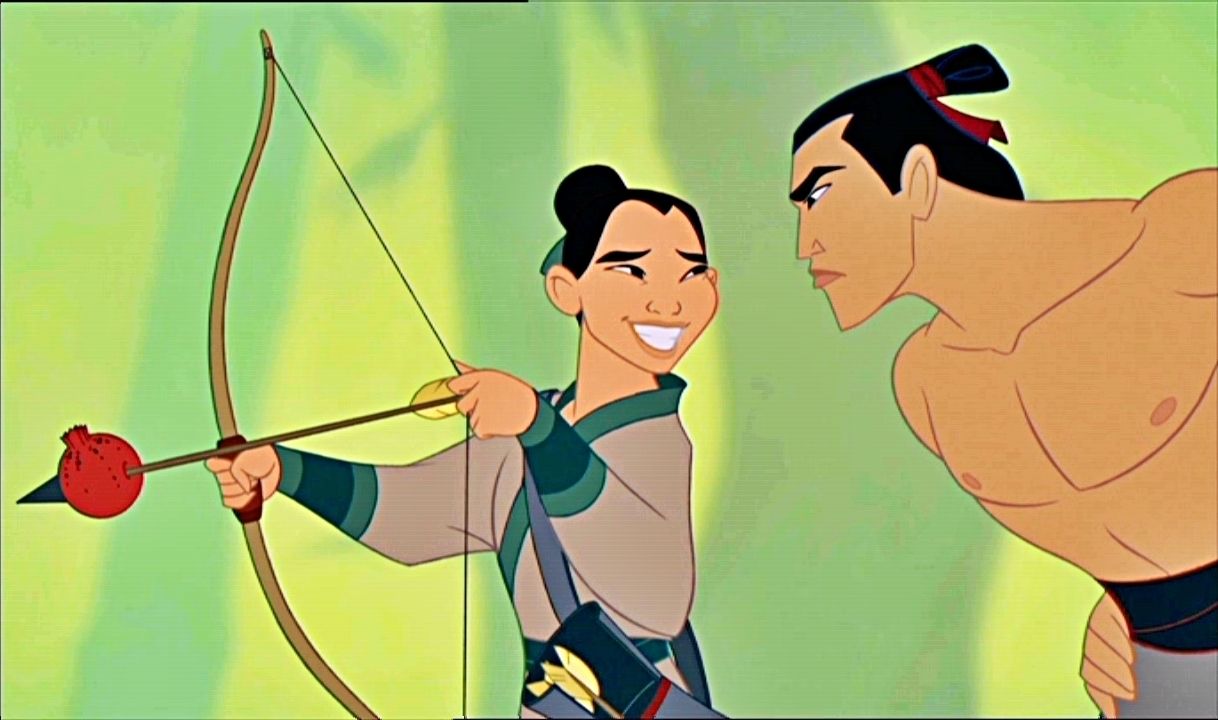 The only news of any note during those two days was that Disney purchased a script written by Elizabeth Martin and Lauren Hynek based on the legend of Chinese warrior Hua Mulan - meaning in effect they will be producing a live-action remake of their 1998 animated film Mulan. This follows Disney's recent trend of cannibalising themselves by producing (honestly, mostly unremarkable) lucrative live-action remakes of animated classics Alice in Wonderland, Sleeping Beauty (Maleficent), and Cinderella. It seems that Disney isn't simply content to make us relive our childhood, but would rather scream in our faces that it'll own us forever - evidenced by the fact that over the next two years Disney will also be producing live-action remakes of The Jungle Book, Pete's Dragon, Beauty and the Beast, and Dumbo.
Mulan, though, has the potential to be the most interesting of the lot. For one, it should inject some much needed diversity into Disney's slate of remakes. While Alice in Wonderland and Maleficent were broadly revisionist fairy-tale (Cinderella, on the other hand, remained stridently traditional), all three of their live-action remakes to date have been overwhelmingly white, while Cinderella especially perpetuated some fucked up gender roles. Likewise, all we know about Beauty and the Beast so far is that it will follow in kind (to be fair, with a voice cast that includes Idris Elba, Lupita Nyong'o and Giancarlo Esposito, The Jungle Book will be fairly diverse, but voice-actors do little to help representation on screen). So that Disney are developing a film about an Asian woman becoming a great warrior - and essentially remaking what is already one their most diverse animations - is encouraging for the simple fact that it'll give a large percent of the world's population a hero that, you know, actually looks like them - the importance of which cannot be understated. And, on a more superficial level, because Mulan isn't exactly the most iconic Disney animation, I'm hoping whoever ends up directing the film (nobody is yet attached, but we should definitely be calling for a female director) won't feel obliged to strictly adhere to what came before (Kenneth Branagh, I'm looking at you) and will thus actually takes some risks.
As Wednesday ushered in the warm embrace of April (and a load of fucking awful jokes), so came the video on demand release of Don Hertzfeldt's new short film World of Tomorrow - which you can (and should) rent for £2.99 - on the back of winning awards at both Sundance and South by Southwest. While this isn't exactly news in the sense of what I've written about so far, any new Hertzfeldt joint is something to be celebrated because, simply put, he's one of the most talented filmmakers America has right now. And yes, this is the dude that makes those short animated films with stick figures, and, yes, the dude that made that fucking terrifying Simpsons couch gag (the best thing to happen to that show in a long time), but hear me out.
Despite pushing animation to the boundaries of avant-garde filmmaking and displaying an incredible ability to exploit cinema's malleability, his earlier works were for the most part cynical and even slightly sophomoric; always compelling and often hilarious, but never particularly affecting. But with the three shorts Everything Will Be Ok, I Am So Proud Of You and It's Such A Beautiful Day - which were released between 2006 and 2011 and later edited together into one of the decade's best features also called It's Such A Beautiful Day - Hertzfeldt showed a maturity and an enthusiasm to go beyond cruel jokes and find something more tragic and humane in his subjects. That doesn't mean these films were necessarily less absurd than what came before - the absurdity of existence is one of his key themes - but they all expertly explored the heartbreak and melancholy that lies behind that absurdity. And, edited together, they form one of the most profound experiences I've had with a film. Yes, stick figures and all (you can watch it on UK Netflix if you don't believe me).
World of Tomorrow follows in kind, though it marks another step forward for Hertzfeldt: his first film made digitally. Whereas before he previously worked with a pen, paper and a 35mm camera, he's now taken to a tablet, and the results are expectedly extraordinary and expressive. He may have gone electric, but World of Tomorrow is a typical Hertzfeldt film in both form and content - which is to say, it's fucking outstanding, the product of one of animation's masters operating at the height of their powers. Because I want all of you to watch it, I won't wank on about forever and spoil it; it's basically about a the most adorable four-year-old girl receiving a mysterious message, it lasts seventeen minutes and covers more ideas than most feature films bother to, and does so with heart, eloquence and clarity of purpose. It's one of the best films I've seen this year (I've already watched it three times in the space of twenty-four hours) - beautiful and melancholy and darkly hilarious - and I only hope that (if you can afford it) you rent it immediately and then tell everybody how great it is.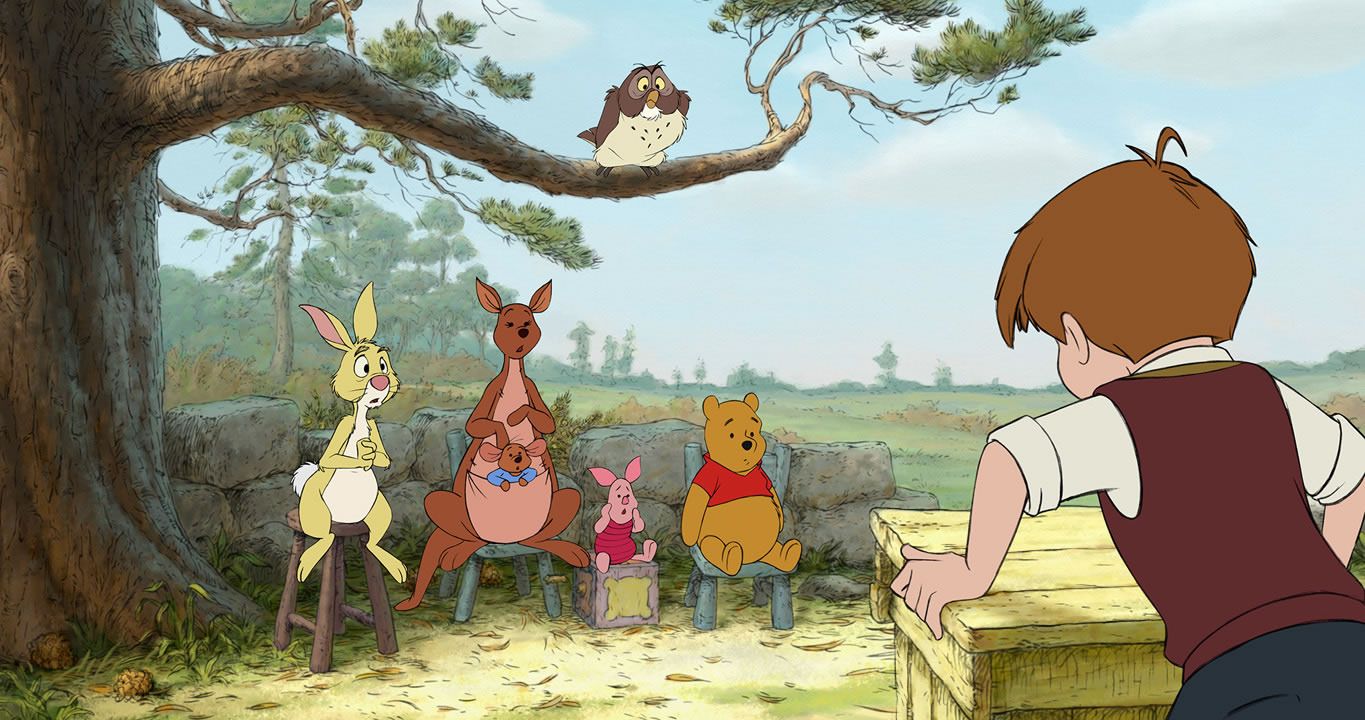 As good as World of Tomorrow is, however, the big news of Thursday ensured, much to everybody's relief, that I wouldn't have to wank on about it forever to fill space. This news being, of course, that Disney (yes, them again) have tapped Alex Ross Perry to write a live-action (yes, another one) Winnie The Pooh film in which Christopher Robin returns to Hundred Acre Wood as an adult. As we've established, they have control of our cherished childhood memories forever and want to make sure we know it. Still, while a live-action Pooh film makes sense both in the context of Disney's upcoming schedule and in a post-Paddington world, if you're unaware of Perry's work it may be difficult to appreciate how truly fucking weird this story is (like, weirder than the time Noah Baumbach ended up co-writing Madagascar 3). Admittedly, I've not seen any of Perry's films for the simple reason that they've not yet been distributed in the UK - though his third feature Listen Up Philip will finally hit UK screens on June 5th through Eureka Entertainment (though it initially premiered at last year's Sundance Festival). But from all I've read and heard about his films, he typically works on a register that's at once caustic and sardonic and really fucking bleak - he's a single-minded independent filmmaker and basically the last person you could imagine being accepted into the house of mouse this side of Michael Haneke.
I'm not saying that because respected up-and-coming indie filmmakers don't migrate to Hollywood, they do it all the time; but when they do, they're typically hired for something vaguely similar to their previous work (see: Monsters director helming last year's Godzilla). That's not to say he can't and won't write an intelligent and wholesome family film, I'm just baffled that anybody would even consider hiring him to do that - again, not because he can't, but because he's working on the complete opposite side of the spectrum. It's like getting Thomas Vinterberg to write a Teletubbies film, or Charlie Kaufman adapting Fairly Odd Parents for cinema. It's just weird. Then again, Disney also recently hired the director of fancy Terrence Malick pastiche Ain't Them Body Saints, David Lowery, to write and direct their live-action Pete's Dragon remake (which is due next year), so this kind of move is far from unprecedented. The reasoning is probably that these independent directors are cheaper than their Hollywood counterparts despite being established talents, and they're also presumably easier to reign in. But even so, we can still hope that Disney are also consciously heading in a more compelling direction while they constantly remind us that they'll basically own our souls to infinity and beyond (fuck). Because you know, it's much better to be owned by an interesting corporate monolith than a tedious one, right?
The Weekly Regurgitation:
- Safety not Guaranteed and Jurassic World director Colin Trevorrow has signed on to direct Book of Henry for Sidney Kimmel Entertainment, based on a script by Gregg Hurwitz. (The Hollywood Reporter)
- Arrow star Stephen Amell will be playing Casey Jones in Teenage Mutant Ninja Turtles 2, because that's apparently a thing people care about. (Variety)
- The film adaptation of Pride and Prejudice and Zombies starring Cinderella's Lily James and Doctor Who's Matt Smith will be released February 2016. As I alluded to, it's been a really slow news week. (Coming Soon)
- Fans of cult and trash cinema were saddened to hear of the death of Robert Z'Dar - real name Robert J. Zdarsky - on Monday following a cardiac arrest. Z'Dar and his infamous jawline starred in films such as Maniac Cop, Tango & Cash, and Hell Comes to Frogtown II and was starring in films until his death. Our thoughts are with his family. (Variety)
- The world's oldest active filmmaker, Manoel de Oliveira, died on Thursday at the age of 106. Not having seen any of his films, it would be unfair of me to comment further, but our thoughts are also with his family. (Variety)