Rolo Tomassi
have never been the types to pander to anyone but themselves. This confidence (not arrogance) has catapulted the band to dizzier heights and with the arrival of their latest release,
Cosmology
, the band have taken on a level of maturity that definitely surpasses their collective age. We caught up with James Spence to talk about their new album and Metal bands being geeks.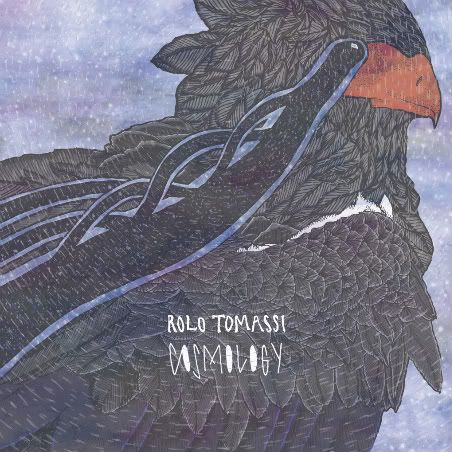 I mean this in the nicest possible way as I'm a big fan but you guys are surprisingly accessible and well-known in the alt. scene despite being heavy as fuck. Can you account for this!?
Haha well thanks for the compliment. I really do have no idea as to the reason behind it. I think more than anything because people have access to so much music at the click of a mouse peoples tastes are constantly expanding. Music that may have previously been shocking and put within the confines of a specific genre or scene is now available for everyone and it's thoroughly exciting. Hopefully more and more interesting music will be made as a result of music being more accessible in general.
I would guess at tracing your sound to bands like Into The Moat, Sikth, Dillinger etc. Is it fair to say you're the new breed of scatty metal core or do you have contrasting influences?
All those bands were certainly an influence when we started out and I think that's definitely noticeable on our earlier material but over the years everyone's tastes have broadened individually and we've all kind of gone off at our own tangents. I'd say our taste's now are thoroughly contrasting, although there are bands we all agree on still. It makes for a broader creative pallet when writing.
Another band famous for having a growling female vocalist is the excellent Arch Enemy. Are people ever surprised when that sound comes out of Eva's mouth?
Of course. I think Eva is a lot less intense and metal looking that Angela Gossow so it does seem to bowl people over if they're not expecting it.
I read an incredibly flattering interview with you guys a while ago; it claimed you're all mature, amiable and close. How much truth is there to this?
Haha! Well, I'd certainly like to think we're amiable and having been friends for almost 15 years I think we're close. As for mature...
For a band so apparently down to earth, your new album is called Cosmology. Why?
Cosmology
, as a vague definition, is a study of the universe and our place in it. A lot of the lyrics are centered around self assessment, looking back at what we've done and our experiences from the last year and a half of touring. When we were writing this record we became so enveloped in it that all we did, breathed and dreamed was the record. It felt right. Plus it sounds prog-rock.
A lot of metal bands are secretly geeks (Architects claiming to be from Midgar for example) - do you have any geeky confessions?
Personally no, but some of the others really got into the game
Talisman
which from what I'm aware is pretty geeky.
What are the best and worst things about being on tour for you guys?
The best things are playing shows, travelling, seeing friends and not really having the responsibilities of the real world. The worst would be coming home and those responsibilities smacking you in the face.
A fan comes up to you at a gig and asks for a lock of everyone's hair. How do you respond?
Politely decline.
Any insight into the origin of your name?
I wish there was a back story that was deep and full of meaning but unfortunately that's not the case. I watched LA Confidential and made a note of the name, a reference in the film, because I thought it sounded cool.
Finally: Do you hate interviews? What's your favourite/worst question you've been asked?
I don't mind them. As long as people have reasonable questions that need answering it's cool. My least favourite parts of interviews are when we're asked questions that could easily be answered by looking on Wikipedia or any of our online facets. I'ts just lazy.
You can visit Rolo Tomassi by going to www.myspace.com/rolotomassi
Cosmology
is out now.