Ryan Bubnis'
clean yet chaotic style has been described as "urban folk." Through his paintings, he comments on themes relating to the human condition. Vibrant, abstracted shapes and faces radiate joy and optimism while they float in and out of rich, multi-layered realms. Working intuitively he incorporates a range of mediums that include found objects, paper, wood, canvas, spray paint, acrylics, cel vinyl, sandpaper, pencil and India ink. He draws inspiration from life, graffiti, Saturday morning cartoons and outsider art from a variety of cultures.
Bubnis
has spent the last several years developing a respected following among collectors. Born in California in 1975, he received his BFA in illustration from the Pacific Northwest College of Art in 2006. His work has been shown extensively throughout the US, Taiwan and Canada. He has been featured in publications such as
Nintendo Power, Clout, Vapors
and
Juxtapoz
magazines.Some of his clients include
KidRobot, Nike, P.N.C.A., Ooba, The Portland Mercury, Hasbro, Gama-Go, ABC
and
20th Century Fox
. He currently resides in Portland, Oregon with his wife Cecilia and their cat Mr. Boo.
Ryan
took some time out to talk with
The405
about his work. Check it out!
When did you first realize that your artistic ability and creations could possibly become full time career for yourself?
Well, it's something I'm still working towards. It's a hard fought struggle. I still feel like I am an emerging artist fighting to get my work out there to larger and different audiences. It's both frustrating and inspiring at the same time.
What were you doing before all of this?
I was skateboarding, doing graffiti, partying, going to see shows, basically just fucking around with all my friends.
I personally find your art work to be very happy, chirpy and docile, as apposed to being incredibly dark or grim. Would you say that Is this a reflection on your own life?
I would say so. I mean I definitely have my ups and downs like anyone else but I try to keep a positive and optimistic outlook on life. Although lately, and without realizing it, I have found myself painting and drawing this somber looking, frowning character, over and over. Something about the character's face makes me think about pain, sorrow, hope, and optimism all in the same instance. I guess it's fitting considering the current state of the world right now.
A lot of the designs seen in your pieces that include various faces really remind me of those seen on Aboriginal and African tribal masks. Is this something you have studied in the past or been influenced by?
Aboriginal and African tribal masks are a huge influence on my work. I love their use of line, color, patterning and specific techniques like dot painting. There is a meticulous craft as well as a certain mystique associated with their imagery. I have always been fascinated with foreign cultures, Shamanism, folklore and things of that nature.
It seems like everyone in the "art world" these days is branching out into creating their own line of vinyl figurines. You currently have your own mini series out at the moment. What made you want to become a part of this trend? What was the design process like compared to that of your other work? Are you happy with the way they turned out?
I was introduced to the owners of Kidrobot through a friend and after meeting with them we discussed doing some projects together. A few years later they asked me about creating a mini series based on some of my characters and of course I said yes. It was a great opportunity to get my work out to a larger audience and to make some rad toys in the process. The design process was different for me in the fact that I had never done any 3D design work before.  I had messed around with Adobe illustrator a little bit before but in the process of doing the mini series I really learned a lot about the program. It's been rewarding to see the series come to life and go through all the stages from the initial sketches, to illustrator, to the sculpting process, the painting, to the point of being distributed in stores all across the world. Kidrobot did a great job of interpreting my work from 2D to 3D and I'm very happy with them.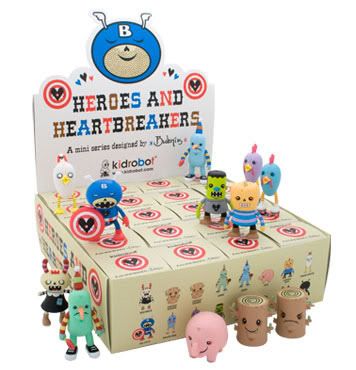 You've probably created thousands of different characters, each one more unique then the next. Summarize the process you go through in order to make a new one?
It really depends. Some are characters I have been doing for years while some just magically appear out of nowhere. I'm constantly drawing, doodling and trying different variations of characters until I come up with something that stands out and then I incorporate them into my painting. Other times I will just throw down shapes and colors and then just start pulling figures, faces and characters out of those shapes.  It's sort of like looking up at the clouds and seeing animals and faces staring back at you.
Do you ever see the possibility of our work appealing to a younger audience because of your drawing style? Was this a conscious decision or have you always made artwork with the intention of it being for all age groups of people to enjoy?
I think that with my earlier work it definitely appealed to a younger audience. The work was cartoon based, often comical, less painterly or abstract. My work has changed drastically over the years and I think the current work has the power to appeal to a much broader audience, both old and young. I got to a point with my work where I wanted the images to say more, to mean more than just funny one-liners. I want to create images that have magic and mystery to them, images that invite the viewer to discover new things every time they look at them. I think the new work is more timeless, at least I hope it is.
What is the key to keeping your work fresh and not getting mentally/physically burnt out by what you do?
The key for me is to constantly experiment and take chances within my work. I'm always searching out a new medium, trying out a new technique or an entirely new way of image making. Some things work out well and others crash and burn but it's worth the time and risk. It's all about changing directions, growing as an artist and a person. Don't get too comfortable or the work becomes stale. Travel has always been a great asset to my work. To get away from your normal work habits and to look at what you are doing from a different perspective is a useful and powerful thing.
I've also seen your art appearing on electrical pylons and trees. What was the idea behind this?
I had done graffiti for years before I started to pursue a career in fine art and it was really just another way to get my work out into the public without having the constraints of the gallery setting.  It's interesting to see the interaction with the work once you've put it into the public space. Does it disappear the next day, or does it stay up for years? Do other artists add work to the surrounding area, or does it get tagged on? It's definitely not a new idea but one I had fun with for a while.
Finally, where do you see yourself in 5 years time, in regards to you work, new projects and any other general aspirations that you have in life?
Continuing to push myself and my work to new heights. I just want to keep experimenting, improving and incorporating new ideas, techniques and themes into my work. I want to go bigger, better and stronger for the future. I want to create art with purpose and integrity. Be sure to check out more of
Ryan's
art work by visiting his Official Website
here
-
Aaron Hunt