It is ominously grey when I finally cross over the Severn Bridge and shoot down the M4 into Cardiff. Memories of last year's Swn Festival come flooding back; feelings of excitement interspersed with visions of me dashing through the rain and watching bands with dripping hair and extremely soaking shoes. I made a pact after last year's festival that I would definitely be back for its fourth incarnation and so armed with the festival programme, a purple 3-day wristband circled tightly around my wrist, I head to Y Fuwch Goch for the Big Scary Monsters' showcase. The first band I catch are
Stagecoach
, a entertaining and riotous quintet from Surrey who have sort of gatecrashed the showcase by way of their own label Alcopop!'s affiliations with BSM. Not that anyone's complaining. Watched on by a sizable crowd, Stagecoach fill the venue with their infectious blend of pop and indie, the likes of which seem slightly incongruous in a Welsh bar and restaurant that is not usually associated with live music, especially the loud and catchy offerings that Stagecoach play. Mixing older songs such as 'Break' and 'We Got Tazers!' with songs from their latest EP
Crash My Ride
, Stagecoach smash through their brand of stomp pop anthems before descending into the crowd during 'Hieroglyphics', adorning one obvious fan with a mandolin, and ending their set with the guitarist crawling and playing on top of the bar, much to the bewilderment of the bar staff.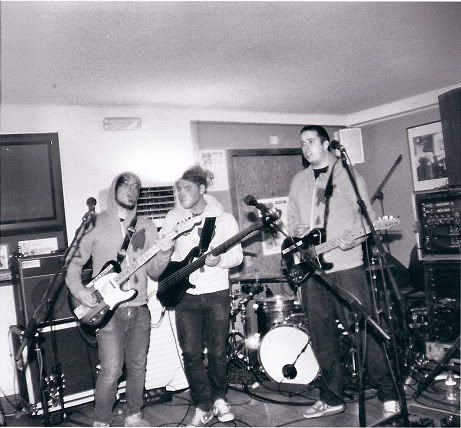 Next up are
Mimas
, whose Danish origins mean that their inclusion in such shows are scarce and therefore treasured. This is the first gig of their UK tour, and after Dad Rocks! (Mimas front man Snævar Njáll Albertsson's solo side project) has started off the showcase the four-piece regroup for what is certainly a highly-anticipated performance. Taking to the stage wearing matching hoodies in fetching shades of yellow and purple, the band perform a lot of material from their new album
Lifejackets
, such as 'Application' and 'Manflu', the live performance demonstrating the musical progression of the band since their debut was released in 2008. With smatterings of brass instrumentation, double drumming and moments of complete captivation when all four sing acapella in songs such as firm favourite 'Cats On Fire', the band certainly live up to the high expectations. I only wish that I'd managed to get there earlier to witness Dad Rocks! and savour the moment of watching two great acts that rarely tour the UK.
Listed in the official Swn programme as 'Swn favourites',
Tall Ships
pull in a crowd that sees the sizable venue become somewhat cosier. That's not to say that the band aren't able to attract a large crowd without the aid of Swn's favourable summary: the band have been garnering plenty of attention this year with the release of two pioneering EPs, an onslaught of gigs with the likes of Tubelord, 65daysofstatic and Maps & Atlases, and a Radio 1 session with Swn Festival founder Huw Stephens. Starting their set with the soft subtleties of 'Snow' from their new EP
There Is Nothing But Chemistry Here
, the track's gradual addition of instruments and louder dynamics sets the scene for the rest of the synth-heavy set that includes newer tracks 'Chemistry' and 'Plate Tectonics', scattered amongst older live songs such as 'Books' and 'Beanie And Dodger'.
The exhibition of new material coupled with the band's constant instrument swapping make for a spine-tingling show, and despite the lack of the usual crowd chanting when the band end with 'Vessels', the set ends on a high, and the audience seems captivated.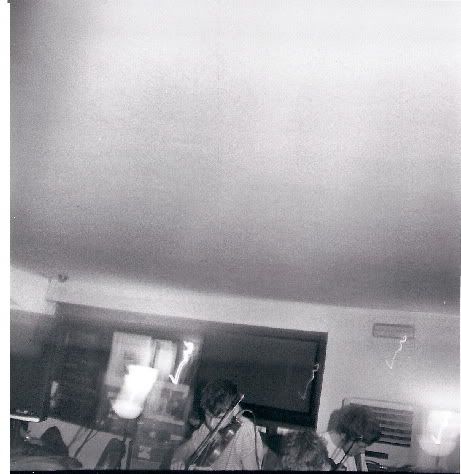 By the time
Talons
are due on stage the venue is rammed, and rumours abound that a multitude of people outside are being turned away. BSM's Kev Douch tells me that he has had to trek to the toilet at the nearby Wetherspoons as the venue is so busy that battling past the stage towards the ill-placed toilets is impossible. My well-meaning plans to try and catch bands at Barely Regal Records' and Shape Function's nearby showcases in between band breaks are cast aside, and I settle myself behind a wall of Talons' friends and family who have come down from Hereford to watch them play. With this in mind, I spend most of the set unable to see, but fully able to absorb the aural awesomeness of Talons.
"...gets beaten up by a midget dressed as a smurf, and then pukes down himself. What a way to end the night"
Three parts guitar, two parts violin and one part drums, the instrumental six-piece are not your average mini-orchestra by any means, and even a quick listen to Talons will smash any unfounded preconceptions that anyone might have that instrumental music is dull. Starting with the distinctive crescendo of 'Commiserations Buff Orpington', and continuing with their latest single 'Trevelyan', Talons' take on atmospheric post rock soars through the venue and batters my eardrums in the best possible way. Particular highlights include 'Anthropods' and 'Peter Pan', a track taken from their forthcoming album
Hollow Realm
. My only disappointment was that I was secretly hoping that they would also play new track 'Iris', but it looks as though I shall have to wait until they tour in November to catch that one live. Talons end the evening on a suitably thunderous note, and whereas most people at the festival decide to be sensible and retire to bed early in preparation for the two days of music ahead, Talons don't. Instead they head over to Dempseys with the rest of the BSM crew, where one of them (who shall remain nameless) gets beaten up by a midget dressed as a smurf, and then pukes down himself. What a way to end the night.
Friday
One of the great things about Sŵn is the proximity of the 10 venues scattered around the city, making dashing to and from venues a thing of ease. The exception to this is Chapter Arts Centre, which in comparison is a lengthy walk from the city centre ('lengthy' seems even more apt when, like me, you get lost several times on the way). With this in mind, and the fact that Chapter hosts two separate stages curated by BBC Wales, I decide to station myself here for the entire evening. I arrive in time to watch
Bastions
, a hardcore band that hail from Anglesey and certainly help to exhibit the pool of Welsh talent that the festival aims to emanate.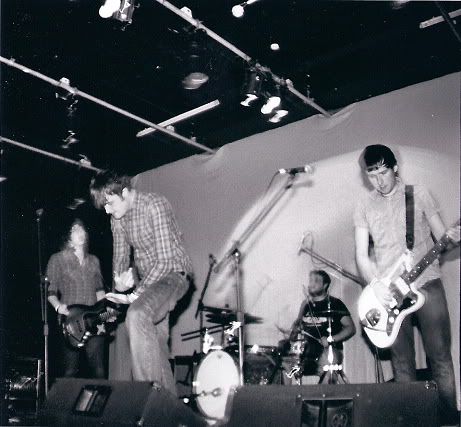 The large venue makes the audience size seem comparatively small, and those watching are perhaps more static than the band are hoping for. Front man Jamie switches between windmilling around amongst the audience, and clambering about on the stage, his voice deep and raw.
"Bastions are brilliant and brutal, and so fucking loud that I make a mental note to finally invest in a pair of earplugs as soon as possible"
The band note that the last time they played a gig, Jamie dislocated his shoulder. With this in mind, and the fact that although the audience seem gripped by Bastions they remain rooted to the floor, the band seem disappointed that this show isn't the riot that they were anticipating. Blasting through 'Matriarch', 'The Great Unwashed', 'Island Living' and ending with an extended version of 'Soar', we watch as drummer Danny throws his drums off the stage, then bashes his head against the wall. I'm left wondering whether this is all part of their hardcore front, or whether it is a display of genuine frustration. Regardless, Bastions are brilliant and brutal, and so fucking loud that I make a mental note to finally invest in a pair of earplugs as soon as possible.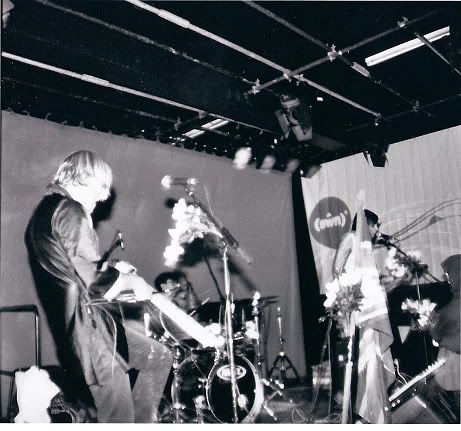 My ears ringing, I scramble up the stairs to catch
Victorian English Gentlemens Club
. Despite a relatively recent line-up change (as drummer Emma has now left and formed Islet – more on them later) the Cardiff natives command the audience. Their stage set up resembles a premature Halloween party; front man Adam is wearing a child-sized knight costume, flowers creep around the microphone stands and displays of British flags are permeated with a disturbing model of a child in the middle of the stage. Photographers have flocked into the venue, obscuring everyone's view, but VEG Club's brand of experimental underground pop, exemplified best in songs such as 'Parrot', 'Bored In Belgium' and 'Periscope Envy', ensure that everyone has a good time regardless.
Back down in the studio
Young Legionnaire
have filled the relatively empty floor space, and you can feel the sense of anticipation at the prospect of witnessing a band comprised of ex-members of yourcodenameis:milo, The Automatic and Bloc Party. Having recently purchased their EP
Colossus
, Young Legionnaire are one of the bands I am most looking forward to watching over the weekend, and they do not disappoint.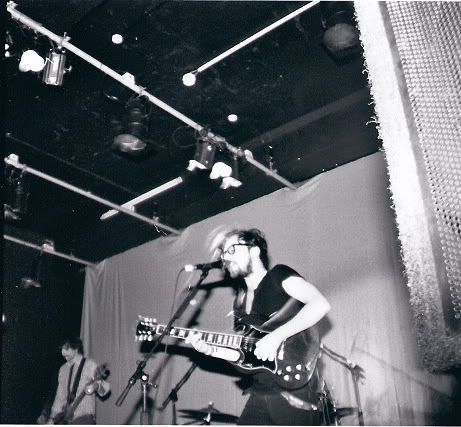 Both strident and witty, the band storm through an impressive amount of songs, the best of which are 'Colossus' and 'Iron Dream', and put on such a forceful display of drumming that the drum kit collapses a few times mid-set. Although a band still in its infancy, Young Legionnaire are impressive and are definitely a band to keep an eye on.
Chapter's premise seems to be that the noisier bands play downstairs (I missed Drains earlier in the evening, but apparently masked singer Daniel's thrashing about under the stage was a sight to behold), whereas the more delicate bands perform in the rafters of Chapter.
Peggy Sue
are a beautiful blend of folk and pop – but minus the twee element that you might expect from a girl-fronted duo who mix accordions and acoustic guitars. Some moments of their set are loud; dual drumming and guitars full throttle. Other moments are so soft and subtle that the mass of photographers remains motionless, afraid to disturb the aura with a click or a blinding flash. Despite the occasional slips when this unspoken appreciation lapses (such as when three drunk men at the front decide to order beers very loudly during one such moment) Peggy Sue's mixture of delicacy and upbeat delights are a perfect way to end the evening. My ears thank them for it.
Saturday
Saturday afternoon rolls around far too quickly, and just as I am about to head out for 10 hours of bands, Twitter informs me that Throats have pulled out of their early set at the last minute. We use our newfound free time wisely and head to Spillers Records at its new location in Morgan Arcade in search of earplugs. We are unsuccessful, but still have a nosy around the shop before buying some in the less exciting aisles of Boots. We arrive at Jen Long's Flux=Rad showcase at Buffalo just as VVolves are exiting the stage.
London-based
Still Corners
are on next, and knowing nothing of the band I put in my earplugs before realising mid-song that this is probably the one band of the weekend where they will not be required. Soft songs bathed in tranquil loveliness thrive, while singer Rachel Gosswell stands stationary at the front of the stage, never wavering throughout the whole set. Her beautifully ethereal vocals pierce the organ keys and muffled drum beats behind her, and despite hiding away behind her hair it is impossible not to look at her. Songs such as 'Endless Summer', 'Don't Fall In Love' and 'Wish' present a gorgeously retro feel within their music, and emit a level of lo-fi perfection that matches the likes of Beach House. Still Corners are simplicity at its best.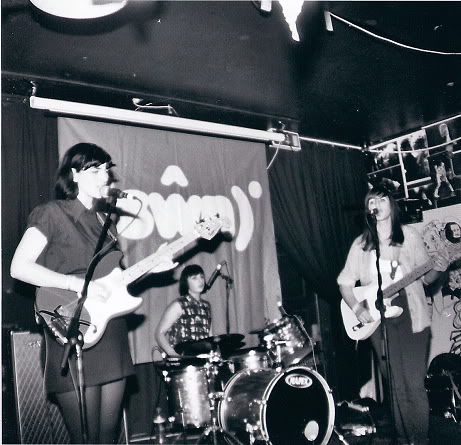 Buffalo becomes noticeably emptier as female trio
La La Vasquez
take to the stage, and unfortunately this trend continues throughout their set. Their modern take on riot grrl, coupled with matching retro haircuts do not seem to be to everyone's taste. Being a fan of Be Your Own Pet and Le Tigre I want to enjoy the set, but their awkward stage presence and samey sound start to drag a little and there is almost a collective sigh of relief when their set is over. I wonder whether the diminished amount of people in the room has anything to do with the fact that it has been recommended that if anyone wants to go and watch the highly-anticipated Perfume Genius later that night, then they should get to the venue three hours in advance. However, as soon as Birmingham's Calories arrive – all three decked out in sunglasses – the venue is busy and buzzing again, so perhaps not.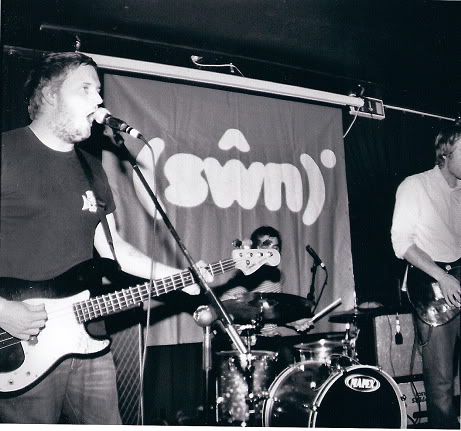 Calories
kick off their set with 'FFWD', the loud and catchy single from their latest album Basic Nature, that sets the pace for the rest of their highly-charged performance. Playing the likes of 'You Could Be Honest', 'Adventuring' and 'Mortal Boys', Calories punctuate their set with amusing anecdotes – and in the case of singer John, hilarious dancing involving his pair of sunglasses – which, welded with their gang vocals, distorted guitar riffs and demands for more beer during their set, charm the audience and even draw in those who were idly hanging around the bar at the back of the venue.
Due to the fact that Pull In Emergency have split up just days before Sŵn kicked off, surprise guests
My First Tooth
are reeled in at the last minute. The alt-folk act have certainly benefitted from their recent expansion from a two-piece to a permanent foursome, and this is evident on both their new release
Territories
and when they take to the stage. The band play the title track 'Territories' and the audience watch with awe as Sophie spends the set swapping between vocals, violin, guitar, bouzouki and a snare drum, and likewise when singer Ross attaches his harmonica to his head with what looks like a strange torture device not unlike something from the Saw films. The upbeat 'Orchards', 'Sleet & Snow' and 'Typewriters' are other highlights, all of which illustrate how, not unlike Peggy Sue, My First Tooth's blend of folk-fused pop is injecting new life into the modern folk genre.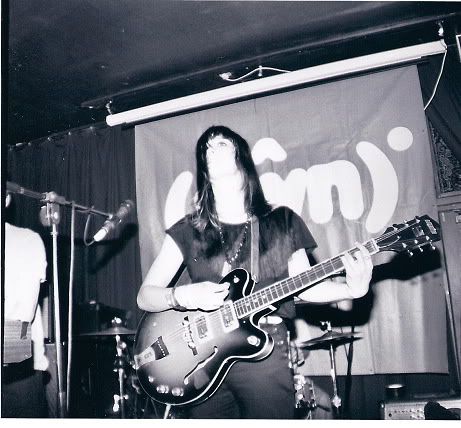 As is typical in Cardiff, the rain sets in at the most inappropriate of times, and as half of Buffalo's acts are supposed to be playing outside, their relocation to upstairs means that the Flux=Rad show is running later than advertised. By the time that headliner
Cate Le Bon
battles her way through the packed audience and onto the stage it is nearer 9pm than 8pm, something that worries me slightly as although Islet are not playing until 11.15pm, I want to get to the venue before the masses.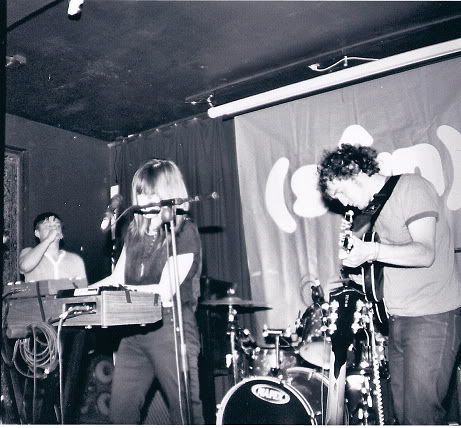 Although her album
Me Oh My
is primarily a solo acoustic affair, in Sŵn's live environment Cate Le Bon is joined on stage by a guitarist, drummer and keyboardist. These additional instruments bring out incredible new dimensions to her songs, particularly 'Sad Sad Feet', and 'Eyes So Bright', and the synth keys in songs such as 'Me Oh My' sound more powerful and pulsing than on record. It is wonderful to hear her Welsh accent filter through her vocals and lyrics, and the range and tone of her voice is incredible; haunting and deep when she sings low and rich and beautiful when she hits the high notes. Cate Le Bon's show is so mesmerising that we end up staying for far longer than we had planned to, and it is only when she announces that she will only play two more songs that we manage to tear ourselves away and rush towards The Model Inn.
When I get there and see the sheer size of the queue I'm glad that I sacrificed those two songs: it is apparently one-in, one-out and there are about 40 people ahead of us. Unlike Swans, Clinic and Perfume Genius,
Islet
have not been billed on the Sŵn posters as headliners, yet everyone we have spoken to all weekend have been hailing Islet as the must-see band of the festival. We queue in the rain for well over an hour, listening to the entirety of Beach Fossils' set from outside the venue, gaining hope from those ahead of us giving up and leaving the line. When we finally get in we have the chance to quickly grab a pint before Islet take to the stage and prove that the wait was worth it.
"The fact that Islet are not just any band but a local one truly demonstrates Sŵn's manifesto for showcasing the best of Wales' home-grown talent and creates a flawless end to the festival"
They smash straight into their set with 'Iris', its atmospheric drumming intro the perfect start to the show. From there, the band play the likes of 'Holly' and 'One Of These Worlds' from their incredible debut mini-album
Celebrate This Place
, and also 'Powys', 'Horses And Dogs' and 'Ringerz' from their latest release
Wimmy
. During songs the band constantly swap instruments, Alex creates makeshift ones out of light fittings and starts drumming the ceiling, while Mark crashes into the crowd and rolls around on the floor.
The Model Inn is a small and sweaty venue, and every single body packed into the room spends the 45 minutes Islet are playing in a constant state of movement. As Cardiff natives this is a homecoming gig of sorts and as the band end with 'We Shall Visit', its primal chants and schizophrenic drumming true testament to Islet's unique sound and talent, the audience transform what on record is soft wailing harmonies into a chorus of primeval howls that continue long after Islet have finished playing. Watching an audience so clearly captivated by the final band of the weekend that they can't even leave the stage is a special moment. The fact that Islet are not just any band but a local one truly demonstrates Sŵn's manifesto for showcasing the best of Wales' home-grown talent and creates a flawless end to the festival.