There's little I liked in the movie Donnie Darko; I am, however, rather fond of rabbits, so I couldn't possibly pass up the opportunity of interviewing one of them. The mastermind behind the ethereal music project from Denmark known as
Sleep Party People
had a chat with me about dreams, Elizabeth Fraser, nature, the Antlers and - obviously - rabbits.
Tell me a little about the magical universe of Sleep Party People.
Well it's a blend between an organic and a digital world. It's all pretty dreamy and shoegaze-ish. Sometimes it can be very sweet and heart-warming, but at times it can also be very creepy and dark. Sometimes it's mellow, quiet and fragile, but some parts of the album are also noisy, loud and powerful. I'm not a human or a robot on this album: I'm a combination of both.
Your debut has been labelled "hazy" and "dreamy" by the press. I find it strange and surprising, a bit like a distorted reality. Do any of you ever write your dreams down?
Oh, I like the term "distorted reality". That's just spot on, really. I don't write my dreams down and I've never done that before, although some of the lyrics on the album are based upon some of my dreams. These are just dreams that are stronger and therefore easier to remember; dreams that mark you through the day. Dreams you don't have to write down in a book first thing in the morning. One of the lyrics on the album is about a dream I remembered throughout a whole week. The dream could easily be a scene taken from a David Lynch film, so strange and yet so near and present. I just wanted to capture the feeling I got from that dream and write it down and use it lyrically on the album.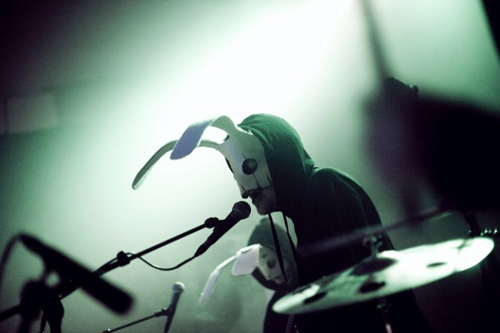 How was your experience of By:Larm this year? I love the vibe there.
Oh, I really loved it, it was two magical days. Freezing cold, but magical. The whole vibe and atmosphere were amazing. I also think we played two very good concerts and the crowd seemed very satisfied and so did we - me and my dear bunnies. Unfortunately I didn't see too many concerts myself and I totally blame the weather. I'd love to go back there next year or so.
And what about Spot On Denmark in Austria? How was it different to other festivals you played?
Spot On Denmark was an extremely successful evening. I enjoyed every second on stage. But the fact that you were aware of all the "important" business people who had been invited gave me a chill down my spine. That's the main difference between an ordinary festival and a showcase festival like Spot On Denmark. A regular festival doesn't have these business people standing in the crowd. But I love the fact that you have the opportunity to get your music played in front of important people from the Austrian music business; I hope to have the opportunity to go back soon.
Last year, you toured with the Antlers. How do you relate to their music and, objectively, do you think it was a good pick to have you as an opening band?
Yeah. I think we have a lot in common. We both record our music in our apartments and we both have this huge love for lo-fi productions and melancholic melodies and grandiose song arrangements. That was the impression I got from touring together with these amazing guys. We supplied each other in the best way ever. Sleep Party People was the perfect opening act, that's for sure. By the way, I'm a huge fan of The Antlers and their album,
Hospice
. Absolutely love it.
I find some of the sounds, especially on tracks like 'A Sweet Song About Love' or 'Our Falling Sno'", quite organic. How does nature inspire you, if at all?
I was born on a small island called Bornholm and we lived right next to a giant forest, so I've been surrounded by nature my whole childhood. I find a lot of inspiration in the nature. When I'm visiting my parents I often sit in the garden near the forest and write songs on the acoustic guitar, especially in the summer time where it all blossoms. The nature comforts me in a good way and therefore it's a huge inspiration.
Why the rabbit masks? (I love them, by the way) Are rabbits better than people?
When I created the vocal sound I thought it sounded like a talking bunny. I know it sounds weird, but actually I felt that way. So I instantly googled "bunny-masks" and found what soon would become my front cover for the album. The picture shows a boy standing in a hallway wearing a bunny mask and this picture is very haunting, almost ghost-like, which really suited my SPP universe. Well, I decided to write to the person who had the copyright for the picture and I got permission to use it as my front cover. Lucky me. Afterward I started to think about a visual concert concept and thought about the bunny masks. And here I am! The thing I absolutely love about the masks is that they don't show any emotions. We don't show any facial expressions when we're on stage because our faces are covered, We just deliver music we love and hopefully we have the power to invite the listener into a special place. The rest is up to the audience.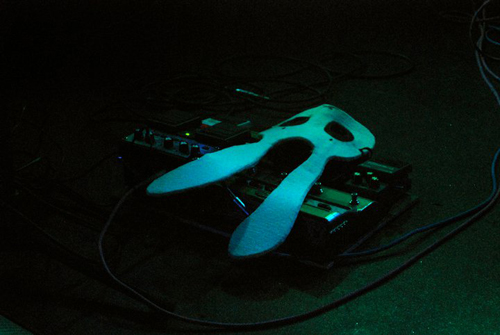 Are you more interested in song lyrics as such – the meaning of your texts, telling a story – or in the sounds that voice produces? I ask this because it's quite hard to make out your words in most cases, it feels like they are only a secondary part in your music.
Hmm…I must admit that I have my struggles writing lyrics, but that is maybe because I want them to mean something important to me. I want them to be personal and I want them to tell a story of a certain time or a dream. So yeah, the meaning is important, but the sound is also very important. My own real voice is a bit boring and that's why I wanted the sound of my voice to be something special. I don't have this great singing voice like many others, but now I have something special that only can be compared to Sleep Party People. I've got my own sound, like Tom Waits has his. I'm also very inspired by Cocteau Twins and especially Elizabeth Fraser. In most of their songs she sings in her own language... She sings sound-words and that's a really beautiful way of using your vocal. It makes it sound more like an instrument than a regular vocal. I love that. That's also why I love it that you can't hear all the words I'm singing. The difference between me and Elizabeth is the fact I write lyrics.
What are some of your main influences, musically? You've been compared to both Cocteau Twins and My Bloody Valentine and I couldn't help but think of Metallic Falcons (the Coco Rosie side-project)
Oh I don't know Metallic Falcons. Have to look them up though. I know CocoRosie, but I'm not inspired by them. As you mentioned I listen to a lot of shoegaze and ambient stuff. I love the early Brian Eno and yeah, I love Cocteau Twins and My Bloody Valentine but the truth is that I'm in general a big music-lover and I listen to a lot of different genres. I for instance love Erik Satie, Debussy and Arvo Part but I also have a huge love for avant-garde stuff like Nissenenmondai, Deerhoof and Liars. I love folk, indie, electronic, noise, classical, jazz, pop, ambient and so on. So nothing specific. But my all-time favourite artist has to be Scott Walker. I admire all his records. Love him.
What's in store this year for SPP? Any secrets you want to unravel?
I'm going to play a lot of concerts outside the borders of Denmark. My management are closing some deals right now, so hopefully the album will be out in some parts of the world in 2011. I've got an EP coming out soon. It's called
SPP – Remixes
. It includes remixes by The Antlers, Trentemøller, Troels Abrahansen (VETO), Mikael Simpson, Hellrasierten and many more interesting artists; I don't want to reveal everything now. In the meantime I'm planning to record my next album. Hopefully it will be done this summer, but that's just a guess though.