XOYO – London's most talked about new venue – is a lot smaller and less glamorous than the promo chitchat makes it out to be. However, once the bands start playing, you realise that the intimacy of a gloomy venue with a knee-height stage and a meagre 450 capacity is what will make for some of the most memorable, atmospheric gigs this year.
Who better to support US trash pop giants Sleigh Bells than our very own home grown female-fronted
Teeth
? The Dalston trio – made up of Veronica So (Vocals), Ximon Tayki (Electronics), Simon Whybray (Drums) – sit somewhere between a nastier Yeah Yeah Yeahs and a subtler Melt Banana. There are some moments of sheer electro brilliance, especially on the dreamy 90s dance feel of See Spaces, but there are occasions when Veronica's howling can teeter dangerously on the edge of unbearable.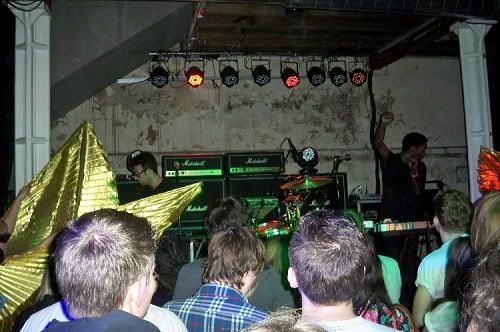 If Teeth came to prepare us for Sleigh Bells, then
The Knocks
are here simply to get the party started. With a number of impeccable and high-profile remixes under their belts, Ben 'B-Roc' Ruttner and James 'J-Patt' Patterson are fully aware of what sounds make the crowd go crazy. Tonight is no exception. Treating us to a sample frenzy mixed with plenty of rumba infusions and a brief mash up of The Killers, Imogen Heap and Will.I.Am among others, The Knocks boast a streak of bizarre originality, causing the crowd to be too busy dancing to ask themselves what the hell is going on. 10.15 and the bells are ringing. There's a torturous heavy metal track playing over the PA and the crowd are already sweating in anticipation. Alexis Krauss used to be a primary school teacher. Tonight, she is the new Queen of Noise and the audience are clambering towards her like a fleet of brainwashed minions. Move over M.I.A, you have some very stiff competition in the form of this super-cool Brooklyn duo.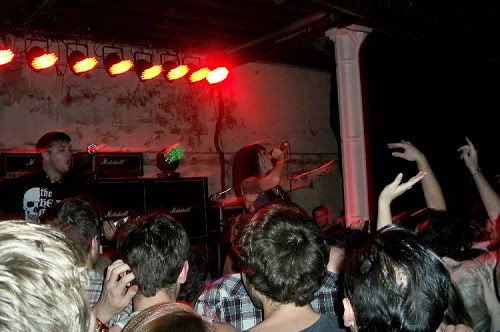 There's nothing festive about these
Sleigh Bells
; it's all gunshot mash ups, penetrative bass drums and Alexis Krauss' harsh, sexy, melodic vocals. There's sweat dripping off the walls and someone is probably bleeding somewhere because this is some insanely violent noise. The secret ingredient however, that makes this band stand out above every other Crystal Castles rip off out there, is simple: POP. Sleigh bells might be riotous, noisy and hard to stomach for the mainstream but they have mastered the art of being incredibly catchy with the sort of guitar and vocal hooks that have earned them a place on Radio 1 play lists. Even though the band are playing over a backing track (with Derek Miller spewing out some amazing guitar riffs) the incredible atmosphere is caused by some frightfully intense live sound that cannot, and won't be ever, felt on a record or the radio. Four hundred and fifty people practically crawled out of XOYO last night, covered in beer and sweat, feeling the after effects of some out-of-this-world, mesmerizing noise pop. Sleigh Bells are without the doubt, one of the best things to happen to 2010.