The highly anticipated launch of Nike's Air Yeezy 2 'Red October' edition trainers now seems imminent. As images of Kanye West's latest sneaker collaboration infiltrate the internet, it's time to take a look back at the rapper/entrepreneur/god's collaborative style history.
Kanye rapped onto the scene with the release of The College Dropout in 2004. Not only did the album catch the imagination of listeners for its unique use of sampling and overall alternative take on hip-hop, but Mr West's style also caught our eyes as he preferred rugby shirts over throwback jerseys and Louis Vuitton backpacks over fitted-caps. However innovative Kanye has always been, his first sneaker collaboration didn't make it to retail. Take a look at the very rare Kanye West Nike Air 180 (2006) which only the man himself, his friends and family and some lucky auction bidders got their hands on:
The leopard printed Nike Air 180's - eukicks.com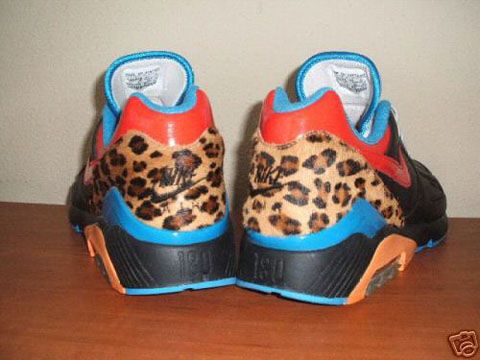 2007 saw Kanye go all electronic on us as he worked with Daft Punk to create smash single 'Stronger'. Not only did he arguably change rap forever by defeating 50 Cent's 'Curtis' with his sales of 'Graduation' but Yeezy even managed to make Venetian sunglasses trend. These Kanye West Bapesta fs 001 trainers would make it to retail in the same successful year:
Kanye West Bapesta fs 001 - (2007) - flightclubny.com
Suits, bowties and an infamous afro-mullet were up next as '808's & Heartbreak' represented an experimental time for the Chicago rapper in every sense. 2008/2009 introduced, amongst acceptance speech interruptions, a string of Louis Vuitton shoe projects including these Mr Hudson inspired boat shoes:
Mr West and his Mr.Hudson's (2009) - klawsss.com
After the VMA incident, Kanye escaped to Europe and focused on fashion. After an internship at Fendi and more work with Louis Vuitton he returned with the launch of his nickname inspired Nike Air Yeezy's in and followed their high fashion popularity by scrapping his street wear line Pastelle:
Nike Air Yeezy 1 colorways - thisislavie.com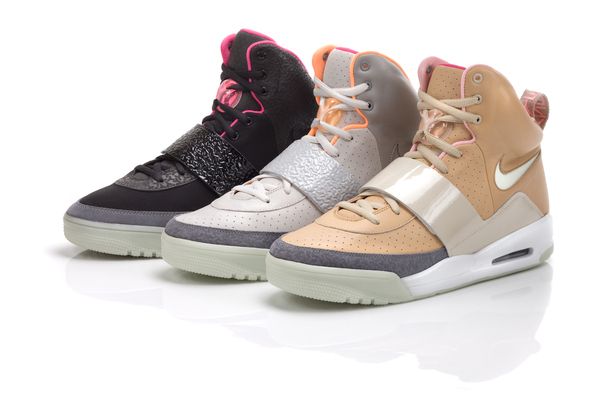 The release of 'My Beautiful Dark Twisted Fantasy' in 2010 and his short film 'Runaway' re-introduced us to a more refined, artistic Louis Vuitton Don and saw Kanye reborn as a strictly high fashion guy who teamed his new Air Yeezy 2's with Phillip Lim suits and Givenchy kilts. Definitely kilts, definitely not skirts.
A new street goth look soon developed for Kanye in the aftermath of his G.O.O.D Music 'Cruel Summer' release and on his following tour he reached that next level where you can wear Yeti and diamond masks on stage and make it look good.
Nike Air Yeezy 2 (2012) - theshoegame.com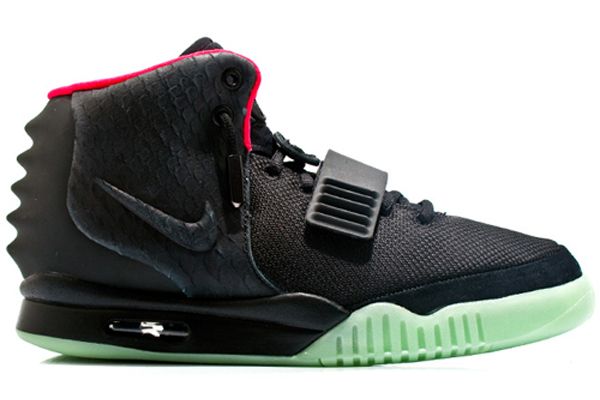 There's no doubting that as far as the commercial success of Yeezus' style goes, last years Yeezy 2's take the crown of thorns. They sold out instantly and now don't go for less than a thousand dollars online. The next challenge for Kanye comes with launching his own clothing and shoe collections for mass retail without the backing of the corporations he berates in tracks such as 'New Slaves' . Whenever the Red Octobers do drop though, you can expect them to enjoy the same cultural recognition from collectors and fans alike.