When Stéphanie Sokolinski, aka Soko, left school at 16 and moved to Paris to pursue acting, I doubt she would've predicted her career turning out that way it has. Now one of France's finest dream-pop provocateurs, Soko has sold out gigs all over Europe, been in the Billboard top ten, and 'We Might Be Dead by Tomorrow' - from her 2012 debut - was featured in the viral 'First Kiss' video. It's not just music either. She's set to star in four feature films this year, including the lead in Nina Ljeti's Things You Missed While You Were Gone, the director of Soko's music video for 'Ocean of Tears'.
Soko hasn't always had the easiest time though - frequent panic attacks and industry worries led to a musical hiatus in 2009, however, coming to accept her demons, Soko spent the last year putting her thoughts down on paper for her second album, My Dreams Dictate My Reality. Admitting the album is focussed on accepting these inner demons, dreams, fear of death and her childhood, she agrees that since the arrival of her first album she feels lighter and happier as a person. "I'm still completely scared of growing up and still have a major fear of commitment. But I'm more in tune with who I am I guess," she contemplates.
That is why working with Ross Robinson, the legendary producer behind albums for The Cure and Korn, Soko was able to fully affirm herself in the studio, pushing her doubts to one side and embracing her failures in the process. Knowing the sounds she wanted for this album - which features a grungier, goth side - Soko had half of the songs recorded before working with Robinson. Those who adore the dreamy world of Soko have nothing to worry about though, she likes to keep a balance of genres: "What I care most about is that things sound real and heartfelt."
Also, in true Soko fashion, she decided to release this album on her own label Babycat Records, inviting fans to donate via Pledge Music in exchange for some mighty fine rewards, from the album to a home-cooked dinner date with Soko.
Detailing here progress as a musician (and human), we talk to Soko about the album, smoking weed, the duet with lo-fi pioneer Ariel Pink and how she came up with her amazing Pledge rewards.
Your new album's called My Dreams Dictate My Reality, how do you normally set out to achieve your dreams?
I have such an intense conscious of mortality. I'm constantly driven by the fact that I want to make memories for life, do everything I've always dreamt of, thinking everything is possible as long as you work hard for it with all of your heart and soul.
What did you have in mind when recording this album?
I never have an "album" in mind. I just write songs as they come. I was purposely writing songs that were a bit more upbeat and made me happy. It was too hard for me to stay stuck making songs about being depressed and inviting that into my life too much. The lyrics are still super dark, personal, vital and honest, but the music lifts up my spirit a little more.
Was there a story you wanted to tell?
I mean, I wanted to make a whole record about dreams, fear of death, childhood and shine a light on all my demons, accept them, and grow with them instead of being scared of them for life.
You've said you smoked weed when writing some of the album, like 'Ocean of Tears', how did it influence/develop your songwriting?
I think it helped me dig into my past with fewer fears and accept where I was as a person when I wrote it by being OK with my past. I was finally able to write about my childhood, and all these scary dreams I had, and all the drama I've had to face. Before, these doors where completely shut down and weed helped me loosen up and be a bit more fearless. I still mostly smoke just when I make music though.
Some of your earlier stuff, like 'First Love Never Dies', is more dreamy and seemingly innocent. Is your more post-punk grungy sound now something you want to stick with?
There are a lot of dreamy songs on the album: 'Monster Love', 'Visions', 'Keaton's Song', and 'I Come in Peace'. I like a good balance of it all. What I care most about is that things sound real and heartfelt, but I do enjoy a good upbeat post punk vibe yes.
How do you feel you've developed as a songwriter (and human!) since the first record?
Haha... I'm still completely scared of growing up and still have a major fear of commitment. But I'm more in tune with who I am I guess. I definitely feel a lot lighter and just overall happier if that makes sense. I still have panic attacks mind you... but a lot less!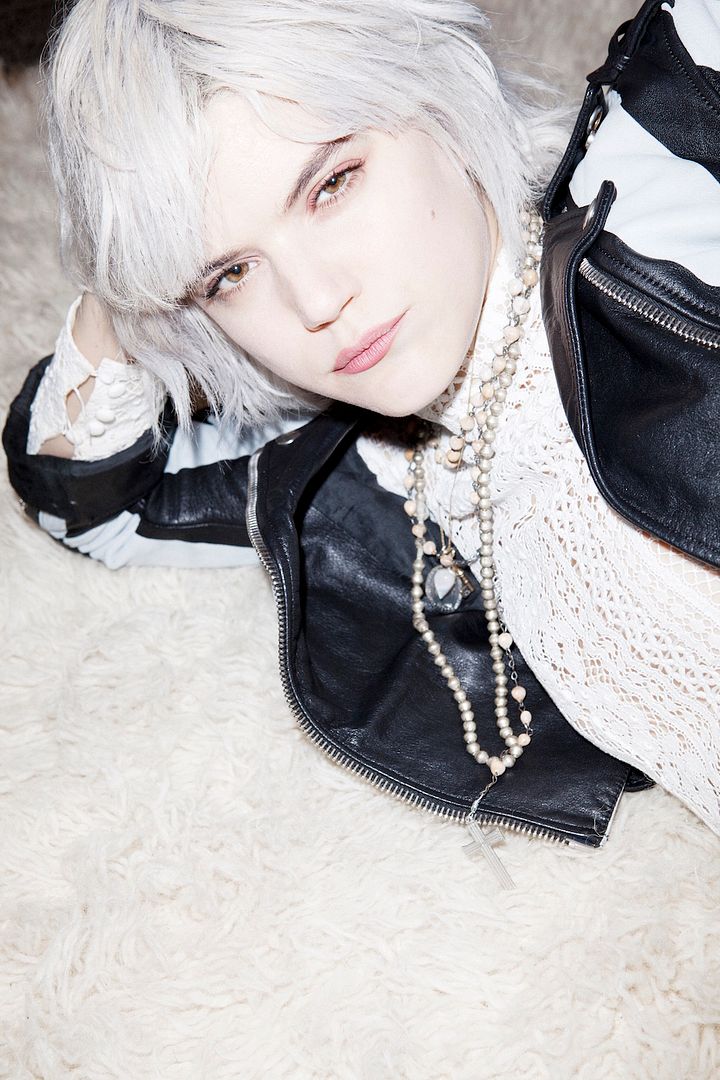 You decided to go fully indie with this record and set up a Pledge with rewards to fund it - has this been scary, releasing on your own record label?
It's coming out in 2 weeks, and I still have no idea how that's gonna go. I'm terrified, and wish I had found the right label partner to put it out. But oh well we will see - hopefully it works out for the best.
Also, amazing choice of rewards! What made you come up with them?
Haha! Well, I tried to respond to all the weird requests I get on social media! There's a lot of "Be my wife", "Will you marry me?" "Come watch a movie with me," "Eat vegan ice cream with me", "I love your style, where do you get your clothes?" type of things, so we thought we'd try to please everyone by making these quirky fun things available somehow!
You also post a lot on Instagram and Tumblr, do you feel it's important to interact with your fans?
I love social media. I like the instant contact with people. It's just really entertaining and fun.
How did the duet with Ariel Pink on 'Lovetrap' happen?
We've been collaborating together for a while now. At first, writing songs for each other on our respective albums, and then I did some vocals on Pom Pom, his latest album, and we wrote that song together about our relationship that is completely doomed!
What was it like having Ross Robinson produce the record? Are you a big fan of The Cure?
I love The Cure yes... they're my favourite band. Ross is totally a Cure-Head too and also the sweetest, most caring and passionate human being. I came to him with about half of my songs already recorded, that I produced myself and had a very clear idea of which sounds I wanted, and he helped me complete this in the best way possible. He pushed me to be always more on it and connected, and got super raw performances out of me... embracing all my failures, and doubts and panic attacks and fears all at once and making the studio a safe environment for me to be free to be as creative and crazy as I wanted.
You've taken a step into the acting world - the voice of Isabella in Her, Augustine and you're due to play a part in one of Nina Ljeti's films - is acting something you've wanted to and want to keep doing?
I started acting when I was 16. I actually started making music at 20 because I was bored of acting! I'm going to be starring in four feature films this year. Nina Ljeti's one is so amazing - one of the most emotional scripts I've ever got to read. I'm so excited to play this character. It would be my first lead in an American film too and my friend Jena Malone will play my sister in it. I'm so happy to finally get to work with her.
What's the best thing about being an artist in comparison to being an actor?
I love doing a bit of everything. I make all my artwork too and videos and I write a lot. I just love challenges and learning new skills always. Acting challenges me even more and helps me learn things that I never thought I'd be capable of, which is always amazing because it helps you discover more about yourself than what you already know you can do!
Any other jobs/creative processes you'd like to try?
Well, I just want to do a lot more directing.
What song best describes your life?
'Unloveable' by The Smiths.
Soko's second album My Dreams Dictate My Reality will be released on March 3rd, 2015.