Portland, Oregon: the city where perfect partnerships are born; where Kurt met Courtney, and, more recently, where Brian Vincent met Randa Leigh...um, yeah.
Brian and Randa met whilst at college - ironically where neither of them were studying music-related subjects - and formed alt-R&B duo SOS but quickly learned that they came from completely contrasting musical backgrounds. Randa grew up immersed in music, beginning to sing and learning to play the piano at just three years old. "Music runs in my family deeply. I grew up singing in church things and my background is very much in gospel and soul music," said Randa. Brian, on the other hand, doesn't come from the same kind of heavily-influenced musical background as his bandmate. "I kind of fell in to making music when I was in college. I'm definitely one of those people that just sat at a computer for hours and hours until I finally figured it out," said Brian.
The pair bonded over mutual musical influences, such as Michael Jackson, Prince and Kanye West, and decided that they wanted to make music together; but honing in on their sound took them a lot longer than they anticipated. "I think we were really trying to identify what it is we wanted to be as a group and how we wanted to leave a mark sonically and we just didn't feel connected to several of the places we were starting with," said Brian. It was during the difficult process of producing their debut album that they finally managed to settle on their musical direction, with a little thanks to some experimentation while putting together a Lykke Li cover. "We started making it in different directions probably three or four times. We just weren't really connecting to it and it finally just all clicked - I would say 6 months before it actually was finished," added Brian.
The duo have released two singles from the album so far - the latest being 'She Wants', following on from debut single, 'Youth in Decline', which they believe to be indicative of the sound of the rest of the album. "The reason we started with that song is because we felt it was kind of a snap shot of the sound of the album and the journey that the album goes through from start to finish," said Brian. Operating completely independently, the pair are self-releasing their album digitally and are only pressing a limited amount of vinyl copies to be sold online and at their live shows. "It's challenging because you're essentially a really small business and the music industry is used to operating as a really big business so finding great people to work with sometimes takes a lot longer I think for us than artists who are on larger labels or have more resources, but we really love it because we get to retain our creative freedom and take the direction that we want to visually and musically," added Brian.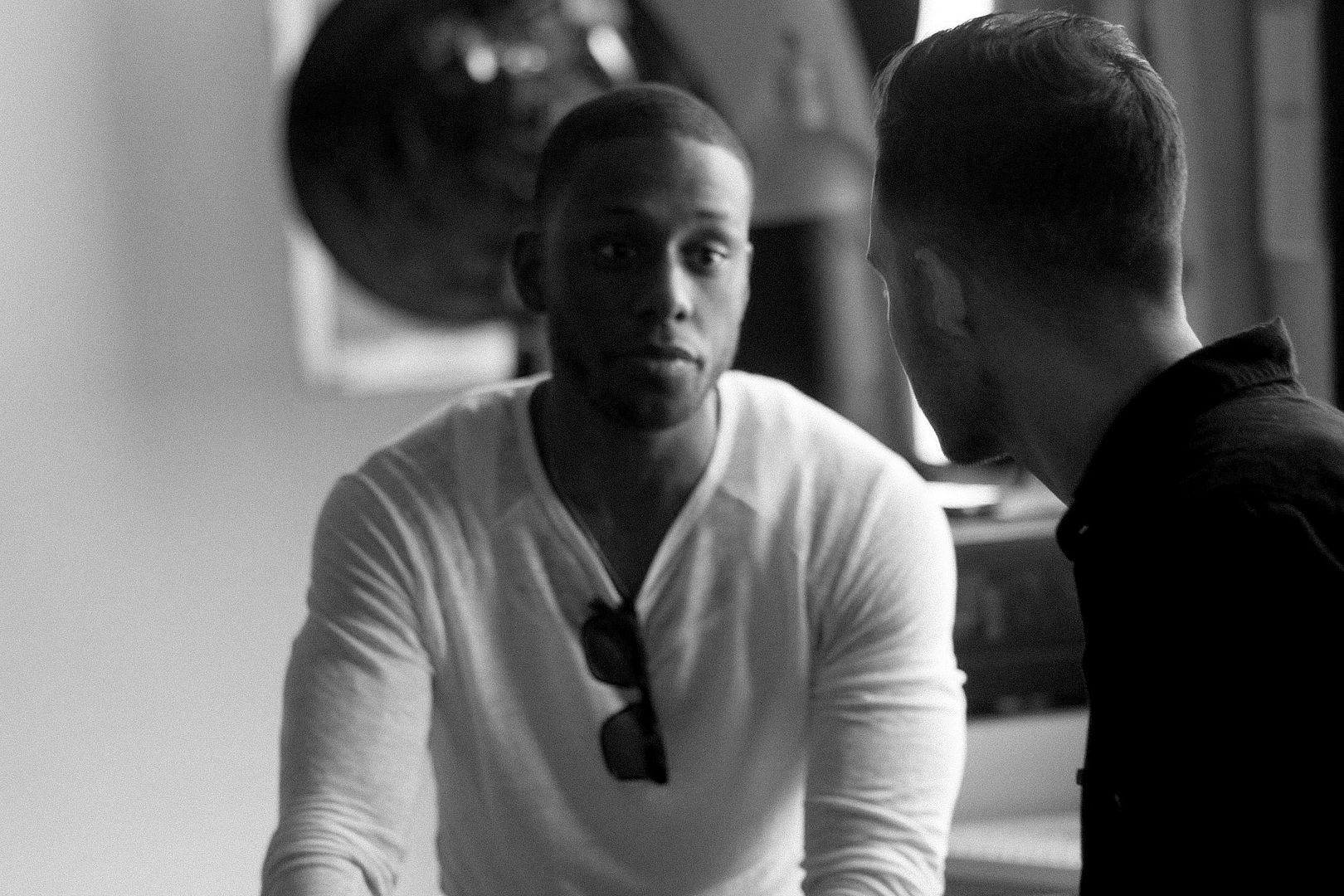 Although they are often referred to as 'singer Randa and producer Brian', the pair don't follow a strict process when it comes to writing and producing and, instead, both dip their toe in to either side of things. "We try to focus on curating the best ideas instead of setting up our boundaries on who's gonna write what or who's gonna produce what. It's kind of just a cohesive thing," said Randa. Rather than drawing influence from specific artists or genres, the pair focus more on the intricacies in the kind of music they like and take these elements on board when it comes to making their own music. "It could be something as simple as we really like the kick drum on a Katy Perry song and really like the guitar sound on a song from The xx but that doesn't necessarily mean that either of us are particularly in love with the whole song," said Brian.
The band have also made a stretch in to the world of beauty, with Randa being announced as the face of, cosmetic brand, Ardency Inn's summer campaign a few months ago. "The CEO heard our music like a year ago and they were looking for someone to be their new ambassador, because they like to have people who are musicians be their ambassadors, so I guess when they heard our music they contacted us and that was that," said Randa. The brand have previously featured musicians, including singer-songwriter Seasick Mama and Rosanna Munter, of London-based band, K.I.D.S., in their previous campaigns. "It was just kind of a perfect fit, especially for the sound that we're moving towards. I think their brand really fit that new direction for us and then our new direction really fit their new direction for their brand," added Randa.
Despite their lengthy trial and error self-discovery process as a band, SOS, unlike Kurt and Courtney (yes I'm still rolling with this), stuck by each other through the hard times and proved that a little patience never hurt anybody.
The band have kindly provided us with a photo diary to accompany this piece, of which Brian said: "We had a photographer who was following us around the time we were finishing up the album and shooting our album cover and things like that. He followed us in New York, around Portland and in LA so it kind of documents a really cool time for us in terms of everything finally coming together and getting ready."