In their own words, Speech Fewapy was founded so the members of four-piece band The Traps and brains behind the Birmingham based record and clothing label could "release their own EPs without the added constraints of external pressures forced upon them by music industry types or by God himself."
It remains to be seen whether the Cosmic Controller himself has ever undertaken the kind of promotional activities Speech Fewapy do so brilliantly, like courier biking over copies of a free EP to twenty different music fans across a city or printing t-shirts with logos inspired by the Stiff Records mantra of "If it aint Stiff, it aint worth a fuck".
It is entirely possible though, given a bit of notice, that the innovative minds behind Speech Fewapy have the skills and imagination required to create Earth in seven days, or at least the cool bits of it like trees, breasts and innovative digital releases.
Like many DIY collectives who start small, the label was initially a self-serving vehicle, one with invention and ingenuity at its core. "There had been interest in The Traps but like a lot of bands - out of frustration waiting for something to happen - we thought let's just do something ourselves." Nick Berry, who alongside Jim Minhas, Daniel Webb and brother Jamie Berry, plays in the band and co-founded the label, explains. "We set up the site as a way to distribute free downloads, then after producing a Speech Fewapy t-shirt, people seemed to like what we were doing and started sending in designs so we set up a monthly limited edition t-shirt range."
Over the next eighteen months, the original three releases by The Traps were to be joined by new EP's from synth-pop funkster Greg Bird and Flamingo Flame, singer-songwriter and mad-scientist Tom Peel, experimental duo Waler and more recently young beatmaking talent Sigmund Frued and punked up noisesters Black Heart Generator.
"Myself and a couple of other guys in the band all work in the creative industries, advertising etc. Aside from that, we're just very interested in seeing how other artists do stuff, like Radiohead with their newspaper or Ash's A to Z series" Nick goes on to say. "We're very conscious that we wanted as much input from the artist we work with as possible. Its not like we're saying 'we're the record label so this is how you're gonna do it'- yes we are a label but we are still learning every step of the way and it feels like more of an adventurous project to work together to come up with something new."
Digital exploration underpins much of Speech Fewapy's ideas, from making secret tracks or live recordings available through QR codes, to using the location based social network Foursquare as a means of delivery for extra goodies and bonus material. "Foursquare invite people to help them better their model – we approach Speech Fewapy the same way, ultimately it comes down to community spirit and a shared approach."
To access a release by charismatic one man and his guitar act Tom Peel, who uses a vintage reel-to-reel tape player and TV in his live sets, the label created an online game where plugging in all the bits correctly to Tom's tape recorder completed the puzzle and unlocked EP TrippleClick It for download.
New projects include another web-based game where members of the crowd get to hurl a pint of beer at a band. Nicks enthusiasm knows no bounds as he describes it. "You know those things you play when you're bored at work, button-bashing with the arrow keys? Its just another idea – the band in question are quite up for it! Also we're going to be starting to publish a two monthly newspaper called Learn to Talk that we want to be delivered by Speech Fewapy paper boys and available at venues. We're always quite conscious that we do all lots of different things and people might not necessarily be aware of them all so hopefully this will tie it in all our activities together."
Dispelling the myth that somehow the Speech Fewapy team are actually godlike with their many talents, Nick admits,"It's not completely or solely our work - we'll come up with the idea, the essence and how it will work, but we do have a friend who is a developer and who actually makes the magic happen, makes our site look great and so on...he's like the George Martin of Speech Fewapy, the secret fifth member."
More recently, Speech Fewapy set up a Tumblr blog called Fuck Yeah Frued inviting fans to donate pictures of the famous pyschoanalyst along with one of his quotes. "They might all go towards a montage of animated gifs for Sigmund Frued's final release.. The idea came from Ross Kemp Folds...so many people are going to share stuff like that because its so visually powerful. So yes, Ross Kemp is a big influence on Speech Fewapy!"
In the last month or so, physical Speech Fewapy CDs have been going into retail outlets across the country including Rough Trade London and in Edinburgh, Bristol, Leeds and Oxford. The band and friends celebrated Record Store Day over the last two years, teaming up with Danielle Perry from Kerrang! Radio and performing outside Birmingham record stores like Polar Bear and Swordfish.
These innovative ways of releasing and distributing music gained the label a profile in Artrocker magazine and interest from a whole host of blogs, as well as attracting plenty of interest from artists and designers. New commissions have also come about, including to design a chef's uniform for Soul Food Project, a cooking collective inspired by the Deep South and who work out of two Birmingham independent venues, The Hare and Hounds and The Victoria.
Speaking of the city that provides both a home and inspiration to Speech Fewapy, Nick says "Here there are exciting bands that I go out and watch like Calories, Young Runaways and Malpas. It doesn't seem like there is so much of one thing any more, with bands like Tantrums drawing everyone in and bands of different genres all appreciating each other - the ingredients which help to make it all work I guess."
Inspiration for label activity comes from further afield too, as Nick cites other established bands like the Dandy Warhols and companies like Topspin who work with both artists and labels to try out new ways of distributing music. Having connections in Virgina, Montreal and Edinburgh who contribute to monthly podcasts also helps to drive online traffic and encourage growth of fanbases globally.
And of Speech Fewapy's future, Nick is pretty positive in his outlook. "I thought the DIY process would go out of the window when we started doing CDs but we've come back to the idea of how we maintain a style through freebies and packages - it's all about getting something extra for your money, something special."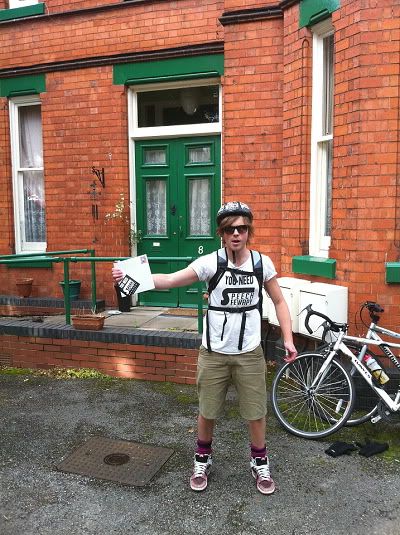 You can visit the label by heading to www.speechfewapy.com