If you'd had told me a month ago that the hardest part of being on tour would be the breaks, I'm one hundred percent sure my immediate response would have been to ask what you'd taken that morning. And yet finding myself, with three weeks of intense touring, five countries and almost four thousand miles under my belt, sat alone in a rented room in Stoke Newington with no plans, no schedule, no show or soundcheck to prepare for was a pretty unpleasant experience.
We flew back to UK for a week of rest, romance and relaxation and whilst in the evenings I was occupied by drinks with friends, great meals and adventures around a side of London I've never really visited much, the days stretched out, empty save for the feeling that I should be somewhere else, with a long drive ahead or lines on my face from sleeping in something uncomfortable. I feel ashamed to say it but jetting back to Basel to pick up our van before the long drive through the Alps to Italy and the next leg of the tour I felt like my time in London had been like being away not visa versa. A short holiday that had left me (and the rest of the band) eager to get back to work.
As a group of people we're all fairly neurotic in own ways, constantly paranoid that we've forgotten something, always over-analysing each performance and review and more than anything, unbelievably anxious about playing in new places. Still, as we headed towards Italy, we were temporarily distracted from our neurosis by the awe-inspiring views around every corner. Snow-capped peaks, sheer cliff faces, alpine forests and glacial lakes, it was all pretty spell-binding and before I knew it we were rolling into Milan and I'd spent five hours staring out of a window.
The weather in Milan was abysmal, the type of rain that seems to penetrate your clothing in seconds and drips mockingly from the end of your nose. It didn't help our nerves as we sat soaked in a cafe, munching a real Italian pizza, drinking real Italian coffee. Bad weather often means poor attendance in the UK so we all heaved a sigh of relief as we emerged from our cafe come storm shelter to clear skies. The venue for our first ever Italian show was an art gallery with high ceilings and perfect white walls. A space that usually plays host to installations and displays gradually filled with a crowd so well dressed they could be installations themselves, the atmosphere was incredible. The night over, merch signed, drinks consumed we returned to our instruments to jam with the wonderful Ryat who had opened the show. Special vibes and a great first night back on the road.
The next morning we rose, feeling collectively a little less than fresh, and head east towards Trieste. So far east in fact that we were almost in Slovenia. Trieste is on the Adriatic coast but if you swam out on a perpendicular from the town you'd actually hit the leg of the Italian boot. It's a beautiful place but not exactly one of the most famous cities we could have picked to play. Surely gig crowds would be stronger in Rome, Venice, Naples? Every single time I've turned up for a show feeling personally pretty pessimistic about the night ahead, I've been punished (or rewarded?) by some of the most unforgettable shows of the tour. Trieste was another middle finger to my expectations. The venue, Tetris, was packed to the back but despite the lack of space, as we ventured from the stage to squeeze ourselves in amongst the crowd for Carrier you could have heard a pin drop. We drank into the night and stumbled back to our beds for a few short hours of sleep.
The next night we found ourselves in Padua, sitting in the van on what was looked like a sleepy residential street whilst our Manager Chris insisted that he had not made a mistake with the address. Sure enough, minutes later the promoter turned up and lifted some shutters to reveal the hip-looking bar that would play host to that night's acoustic show. As with the previous two nights, it was once again rammed for our unplugged, stripped back set. Having said that we arrived in Italy filled with the paralysing self doubt that we'd be playing to empty rooms, things couldn't have gone any better. We left Padua the next day bound for Germany with the sincere hope that we'd be able to return to Italy soon.
The German leg of the tour is something we've been looking forward to for a long time. It's not necessarily that the country has better fans, better venues or better landscapes per se, but having toured the country twice before there was the promise that we might feel the benefits of crowds that had seen us before, brought friends, knew lyrics.
Our first destination? Munich and my first experience of the fabled 'band flat'. In case you're wondering, a band flat is exactly what it sounds like, a flat somewhere in the venue complete with kitchen, bathroom and bedroom(s). It's not exactly glamorous but it has it's perks. You can effectively fall off stage into bed or else into the kitchen for some drinks without having to worry about driving or annoying the neighbours. And that's effectively what we did, after a great first show with a mixture of old fans, old friends and those to whom Spring Offensive is still a reference to the First World War rather than five skinny guys from Oxford.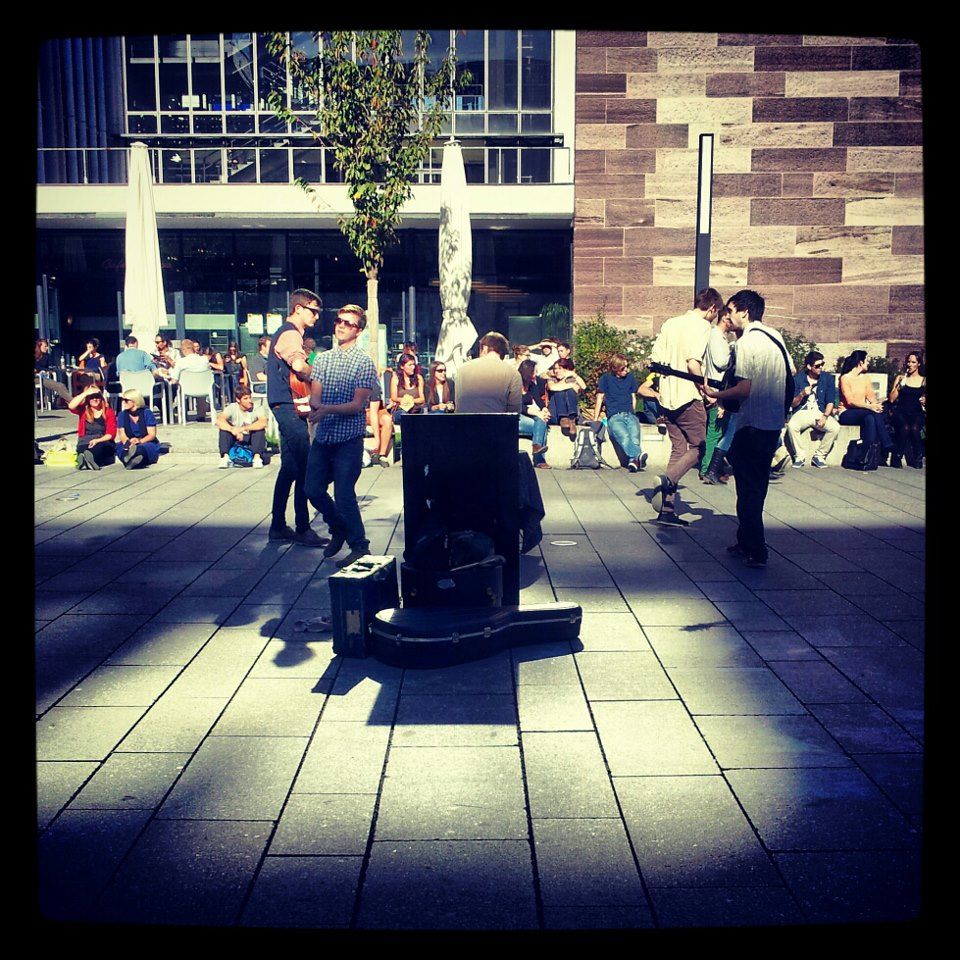 The next night we were in Freiburg on what has to be the nicest October day I've ever experienced. We arrived early to meet the promoter and do an impromptu street show in the middle of a University square. Hoping that we'd won over a few of the people basking in the late October sunshine we grabbed some lunch and headed to the venue. The Great Raeng Teng Teng is a grimy looking basement venue with a pretty basic sound system and a layer of smoke permanently floating inches above the crowd. It doesn't sound like anything special but with a wall to wall crowd and people standing on the stairs to see from the back it felt triumphant. Encores are a difficult thing in Germany. On the one hand they're pretty much a status quo, it's not unusual for a band in a small venue to get an encore from a crowd. But what is unusual is to get two encores and where this becomes difficult is when you've already played every song you have. Standing backstage waiting for the applause to die down reminded us all why this is without a doubt the greatest job in the world. In the end we headed back out to play an older song which I'd learnt a few days earlier and played through maybe twice, it went down well but I'm pretty sure at that point we could have detuned all our instruments and played one note for three minutes and the crowd that night would still have applauded.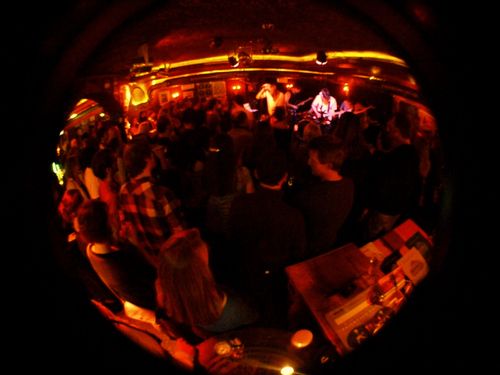 I'm pretty sure we're the least rock 'n' roll band in existence right now. But that night when we meandered back to our accommodation, a band apartment above a punk venue, we found the punk band that had played that night already tucked up in bed and fast asleep. Score one Spring Offensive.
The next morning we travelled to Stuttgart to play another show with the same promoter, Jan from Between the Beats. He treated us like royalty and after another awesome show in another basement venue named Kellar Klub we partied Spring Offensive style (by which I mean we had a few beers with Jan and talked at length about the state of modern football). Satisfied we stumbled back through the streets of Stuttgart, picking up a kebab on the way home. Kebabs in Germany are just so much better than back home.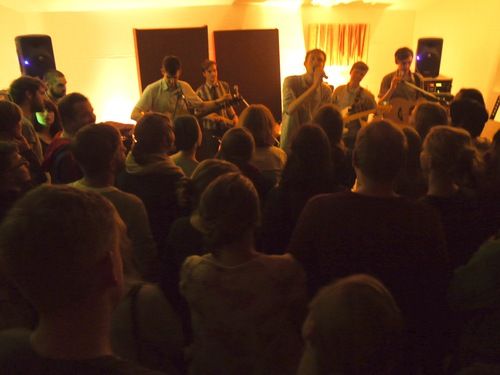 We rose the next morning feeling distinctly hazy and drove on to Darmstadt, a small industrial town with a strangely American feel. It's all blocks and wide roads with big streets signs hung overhead. The show that night was a break for us, a stripped back acoustic set organised by the guys at Bedroom Disco. Eighty people crammed into a live room with a few more watching a live feed on a TV down the hall. To make things more surreal, support that night came from Liverpool based experimental folk songstress, Nadine Carina, who enchanted the audience with a crazy cool mix of loops, reverberating vocals and gently plucked acoustic guitar. Having lived in Liverpool for the last three years we quickly got down to the 'so do you know...' and 'have you met...' and it turns out we have a lot of friends in common. Europe is a surprisingly small place. Earlier in the day we wandered out to the woods with the Bedroom Disco guys to film a session. These guys really know how to film a beautiful session so we all felt really privileged to be asked and the final results are so well put together. You can check out the final video here...
There are some harsh realities to the life of a touring band. I'm not complaining. There are downsides to every profession right? Well with touring the downsides are as follows. First, there is ALWAYS a queue for the shower, and being the newest member I'm usually at the end of that queue. Second, regardless of whether or not those stereotypes are true, you know...the ones about being surrounded by girls, drinking loads of beer and sleeping late (they're not), in fact you spend pretty much 24 hours a day with five other guys, awake or asleep you're usually in the same room. Third and finally (though this is by no means an exhaustive list), you smell. Thirty five dates in Europe, under hot lights in hot bars tends to mean that eventually all your clothes are unwearable, you're on to your emergency pants and the odour emanating from your luggage could gag an ox.
We arrived in Dresden the next day in dire need of some clean clothes and spent the first few hours in the city in a laundrette. The glamorous life of a touring band.
Anyway, back to more interesting topics. Dresden felt like some sort of strange time-warp when we first arrived, like we'd just stepped back sixty years and found ourselves in the mid-twentieth century. Perhaps we just found ourselves on a particularly decrepit part of town or perhaps it was that the venue for that evening was either really well designed to be a kitsch fifties throwback or it just hadn't been changed since Elvis Presley was the hot new act in town. Either way, it was weird. Having said that, the crowd that night certainly seemed pretty up to date, all sporting Bombay Bicycle Club t-shirts and talking about Ben Howard and Lucy Rose. The gig itself suited us down to the ground, maybe because the backdrop suited out attire down to a t. The brownish curtain backdrop on the stage matched Matt's amp, Theo's guitar and most of our shirts. The crowd was immense, even if they were hidden under another layer of smoke (I still haven't been able to work out what the smoking laws in Germany really are). We slept that night on a sort of five person bunk that felt uncomfortably like a coffin.
The next morning proved that all our misconceptions of Dresden were completely unfounded. The city was all but destroyed in the Second World War but since then a lot of the old structures have been painstakingly rebuilt to the original designs and as a result the city centre is spectacular. Did I mention we're the least rock 'n' roll band in existence? I did? Good. We visited a church before heading off for the next show.
Leipzig was our final destination before reaching Berlin where we'd be staying for a grand total of four shows. By this point I think we were all ready for a break. In Berlin we were due to be joined for a few days by our girlfriends and had all booked into separate accommodation. With no travel time to worry about we'd have a few days of sightseeing and relaxing before each show and the prospect of that was playing upon all of our minds. Add to that the bout of colds that had been steadily making its way around the band and a band apartment that smelt like an old people's home and you'd probably guess that we weren't feeling all that positive when our stage time came around that evening.
I guess what's great about this job is that it's so easy to lift your spirits when you're feeling downbeat. Walking out onto the stage to a small but eager crowd, I couldn't help but smile inside and out when those in the front row began silent mouthing lyrics. Less than six months ago that was me, watching Spring Offensive play to a packed room at Liverpool Soundcity, silently singing along to ever verse and chorus. That thought alone is enough to make me feel a wave of gratitude that I get to do that every night now, and from the stage not the floor.