Click here to read part one.
Playing in new places is surely every artist's dream right? The opportunity to see new countries, to play in unfamiliar places, meet new people, maybe even make a few new fans is probably the holy grail for any musician. For that reason, starting the tour in Holland, Belgium then Luxembourg, unchartered territories as far as Spring Offensive are concerned, was an incredible experience. But as we made the epic eight and a half hour journey from Brussels to Geneva, there was a sense of excitement in the van to get back to more familiar waters. Switzerland has already thrice played host to the band this year and our Swiss booking agent, Dominic, not only has a knack for picking the best shows but was also our most gracious host for most of the week long tour amongst the foothills of the Alps. The prospect of sleeping in the same bed for more than one night at a time and of playing shows to faces both new and old was enough to keep us buzzing on the long journey South.
Our first destination was Geneva where we were booked to play a club night on the outskirts of the city. Geneva wasn't what I was expecting at all. Perhaps this is my unforgivable ignorance rearing its ugly head but in my head the city would be all straight roads and unnaturally tidy streets, pristine apartment blocks, jewellery shops and cute little bakeries looking out onto Lake Geneva. Maybe in places it fits that stereotype perfectly but it wasn't long after we pulled up at the hotel that we realised we were staying next to the seedy red light district where a couple staying in the same hotel instructed me I should not look at anyone unless I wanted to buy drugs and that I shouldn't walk anywhere alone at night. Not exactly what I had expected from our first stop in Switzerland.
The venue itself seemed to be in the middle of nowhere, a dark club down a quiet side-street, surrounded by offices on one side and a police station on the other. Our stage time was midnight and by the time we sheepishly walked out onto the smoke-filled stage, we were by far the most sober people at the party. I wouldn't exactly say that our music is dance-floor friendly but credit to the inebriated audience members who tried their best to bob along enthusiastically to the slowly building crescendos and occasional odd time-signature. Amongst the crowd that night was a American basketball player who plays in the French league. Despite his kind words after the show, I think we remained more in awe of him than visa versa.
The show couldn't have been much better in all honesty but our night quickly took a turn for the worse as we suffered possibly the most awkward taxi ride that there has ever been since the invention of the taxi concept in the seventeenth century (I'm not making that up by the way, the Hackney Carriage Act 1635 was the first legislation introduced to control the hire of horse-drawn carriages in London). I digress.
Evening over we all piled into a taxi. That's six guys, five guitars and a case of vinyl, tote bags and t shirts perched precariously on manager Chris' lap in the front seat. Unfortunately, Chris' lap companion hid the fact that he had his foot on some sort of mile counter hidden inexplicably in the passenger side footwell. When the driver suddenly pulled up after about a hundred metres, walked briskly round the car and brazenly instructed Chris to get out to reveal a broken reset button on the carelessly placed meter things got pretty cold, very quickly. Lucas has a degree in French but Chris, sat next to the driver whilst he let loose with a tirade of french swears, does not and had to resort to apologising profusely through Lucas whilst he translated what I'm sure only amounted to half of what was spat in Chris' direction by the inconsolable driver. Either we had literally ripped out a vital piece of the car's engine which would prevent it from ever being driven again or the driver went a bit overboard with his criticism but whatever the consequences, we all slept a little uneasy that night.
From the seedy side of a bustling city we headed North for a very different kind of show. Switzerland is a small country, the longest journeys are short by comparison to anything in the UK and as a result, only really the major cities are treated to the cream of the crop of touring musicians...and then us. But on our second day in the Swiss hills we headed off the beaten track for a special show for some very special people in a small town called Porentury. Forget stages, clubs and sound-checks, this show was in the front room of Alexis and Jamie, two of the nicest people we've had the pleasure of meeting on our European adventures to date and a couple with great taste in bands if their previous front room guests are anything to go by (This Town Needs Guns, Mimas, Dad Rocks!, Cats & Cats & Cats to name a few). The audience, a mixture of friends, neighbours, family and a few fans, were among the most appreciative of the tour and the whole evening was an unforgettable experience.
Switzerland is a country of extremes, so far we'd played on the edge of an industrial estate and a living room and the following night we found ourself underground, in a sort of cellar venue in Bern. The rest of the band have all visited Bern before, earlier this year on previous tours, and being new to the band I had been fully prepped to expect something extraordinary from the town. Fair to say, it outdid my high-set expectations. The only was I can really describe the old town is this. You know in the first Shrek film, when Shrek goes to find the Prince who's taken his land and they get to this fantasy city Duloc that's comically clean, with all these fairy-tale medieval buildings, cathedrals and cobbled streets? Yeah. That minus the humorous welcome message but with a couple of bears in a big enclosure by the river. You need to see it to believe it.
The show itself was just as spectacular, as much because of our surreal surroundings as the wonderful crowd who piled into the dark cellar room with high ceilings and thick stone walls. We stayed late that night, chatting to the crowd, celebrating with Dom and soaking up the atmosphere of the place. The party carried on in the van as we headed back to Basel to sleep.
The next morning we rose early and drove out from the suburbs of Basel into the countryside for a photo-shoot. The location was a taxidermy museum in the middle of nowhere which, we were reliably informed, holds around 2,500 stuff animals in various display cabinets and roped off areas. We wandered around the neatly ordered displays with some animals frozen in action poses whilst others sat motionless on a branch or rock. Eventually things got weird and we found the section reserved for hybrids fashioned by the taxidermist. Have you ever seem a fish with webbed feet, a swan's neck and a rabbit's head? Trust me, you don't want to. We huddled down between some lions to pose and pout for an hour or so then moved hastily on towards the nights show, in Baden just outside Zurich. The scenery on this journey was unbelievable and the crowd that night were just as good-looking.
We've now visited Basel more times this year than any other city outside Oxford or London which is pretty incredible when you think about it. As we headed back to Dom's hometown there was a sort of unspoken 'this is it' mentality amongst the six of us. It's one thing to play in a new place where a portion of the audience will always be those just curious to see a British band that has the tenacity and confidence to venture onto the mainland. But when you play in a city so regularly the pressure increases. Will the people who came to see you last time make the effort again? Will they bring friends? Will it be bigger, better, more well-attended than last time? There's a sense that momentum is needed, some sign of previous successes. The size of the venue didn't exactly help our nerves. If I said it was the size of a warehouse that wouldn't be an exaggeration, mainly because it was a warehouse. The space is a multi-use venue, one day an art gallery, the next a club, the next a gig venue and as a result it's constantly changing. As we loaded in we were greeted by a hoard of staff busy constructing a bar out of old pianos and bookshelves, it was pretty surreal.
We were joined in Basel and Zurich by a Swiss band called John Caroline, a great group of guys who produce an electro racket somewhere between Yeasayer, Local Natives and Friendly Fires. Being only the second time on the tour we'd had a bone fide support band, watching the six piece breeze cooly through a set of clattering percussion, soaring synth lines and a sense of unrestrained, totally infectious euphoria was a joy. Not least because for the first time we walked out on-stage to a crowd already riled up, applauding before a note had even been played. For easily the biggest indoor venue of the tour so far it felt strangely intimate as we wandered out into the crowd mid-set for an unplugged performance of Carrier in the midst of a hushed audience. All nerves dissipated when we were called back up to the stage not once but twice for encores and the atmosphere in the van that night as we made the short journey back to Dom's was one of elation rather than trepidation, contentment rather than self-doubt. We topped the night off with copious amounts of cheese and whisky and awoke the next morning feeling like broken men.
Shaking off the demons of the night before we piled into the van and headed for Zurich, the largest city in Switzerland and another hotel in the middle of the red light district. I'm starting to think there's something on our rider that needs to be taken off (the place we were staying was in fact a converted brothel). The venue that night was, once again, scarily big and played host to a techno night straight after the show. Perhaps some of the crowd had just arrived early but considering we've never been to Zurich before, there was a healthy crowd come stage-time. After blasting through the now well-rehearsed set, we packed down and settled outside for a few drinks with our Swiss team and a few members of John Caroline. We've met so many people on the first two weeks of tour but it's all so fast-paced. I've found myself spending an hour talking to someone, enjoying their company, getting to know the person in front of me. You seem to develop micro-friendships, lasting just an evening with no assurance that your paths will ever cross again. For that reason, just seeing the same people for more than a night at a time is comforting. By the time Zurich had come around we'd spent almost a week with Dom, long enough for nicknames to be penned (I became nojoe every time I made an error that previous bassist Joe would have avoided) and it felt good to be sharing personal jokes, reflecting on the weeks show with him and fellow Radicalis booking agent and namesake, Dom.
After a disturbed nights sleep in amongst the hustle and bustle of the part of Zurich that never sleeps, we drove South in the direction of our final gig in Switzerland in a small town called Wil. The journey was short and, for the first time since our break in Amsterdam, we had some downtime to be tourists for an afternoon. Taking Lucas as our guide we went to look at the Rheinfall, the largest waterfall on the continent. It was pretty impressive.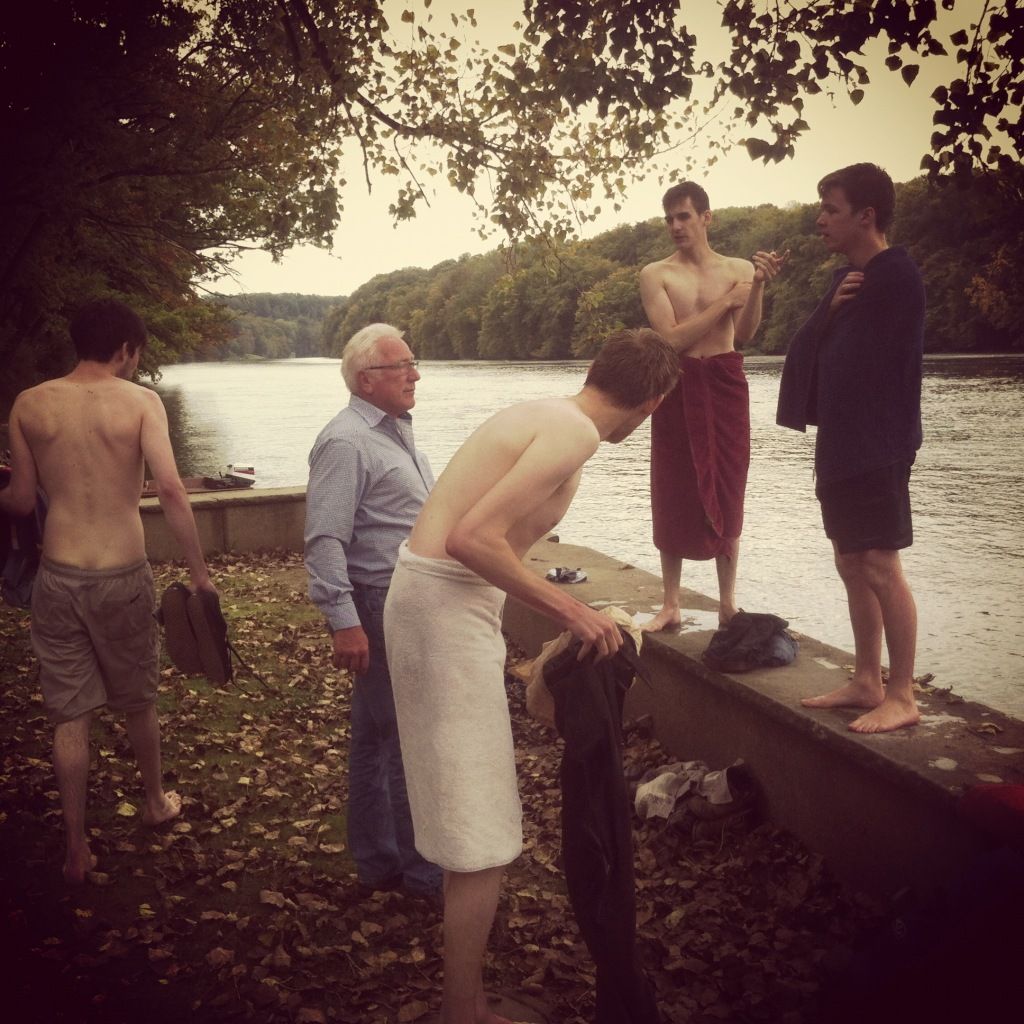 You can't be near all that water and not want to swim. It's a primal instinct. So that afternoon we found a secluded (or so we thought) bank just down the Rhine and proceeded to strip down to our underwear. It wasn't exactly Baywatch. We're all skinny framed, ghostly pale, undernourished, under-exercised musicians. Just as we were preparing to throw ourselves into the icy cold water a boat chugged into sight packed with tourists off to see the Reinfall. As if to add to our humiliation the boat stopped parallel to our jump zone, the passengers turning and pointing in our direction, then clapping, shouting, urging us to make the plunge. I'm glad we're natural entertainers on and off the stage.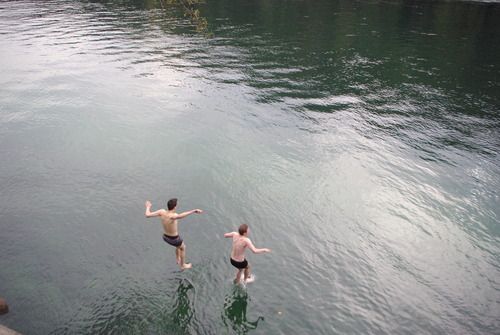 The gig that night was like a time-warp, the hotel stuck sometime in the early 1970's, the venue at the end of some disused train-tracks behind a grain-silo. Luckily for us, the Gare-De-Lion is supposedly the only club in Wil and so by the time we wound our way through the crowd to the stage there was already a strong audience waiting patiently for us to arrive. I doubt many of them knew who we were but you can always tell how well you've gone down by the amount of merchandise that gets sold that night and on this occasion sales were healthy. Success and the end of our Swiss tour! We celebrated with drinks literally forced on us by the wonderful bar-staff and staggered back to our creepy home for the night.
We're back in the UK this week for some rest, some romance and some band related admin (it never stops). Next week will find us in Italy for the first time and we're suitably excited at the prospect...
Currently on our Van Playlist: Peter & Kerry, Dad Rocks!, Bon Iver, Dan Croll.