It's no secret that we love
Someone Still Loves You Boris Yeltsin
. Their blend of indie/pop/rock is sublime and with the release of their latest record,
Let It Sway
, the band have proved that nobody does better than them. We caught up with Phil Dickey to talk about the new record, baseball theme songs and screenplays.
Hello! How are you today?
Hi. I was having a great day until I realized my bank accidentally put all my money in the wrong bank account. Someone in Branson, Missouri has all my money right now.
Your new album is released today! On a scale of 1-10, how excited are you about it being out there?
Definitely a 10. Sorry I can't think of a funnier number. It feels like we've been waiting forever.
It's been a while since your last full length record came out. Why the wait?
We thought it would be a good idea to take our time and only release the good songs. But I don't want to wait a long time for the next one. Hopefully we can write a new album and put it out next year. That's easier said than done.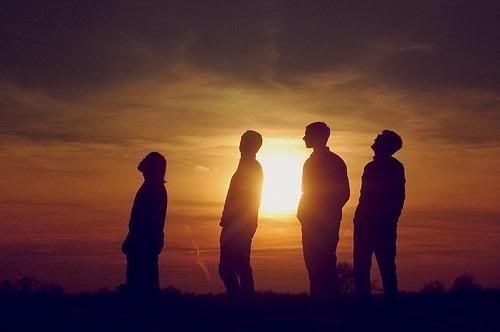 How do you feel 'Let It Sways' differs from your previous releases? Personally I think your sound has gotten a lot bigger. It seems 'Cardinal Rules' paved the way for that to happen to a certain extent.
Our lives have changed so much since
Broom
. It would be impossible to make anything the same record again, especially if you're trying to keep an eye on the future. 'Cardinal Rules' was a new direction. We tried all these classic rock things that we've always avoided and it still sounded like a Yeltsin song. That helped me realize that we could do anything we wanted as long as the song is good.
You're about to embark on a pretty lengthy tour in support of the new record. Are you excited to be playing live again? I expect a pretty special London show!
Yeah, touring is one of our favourite things. If you'd like to make eye contact with us, you should come to our London show.
I know this question gets asked to every single band in every single interview ever but how do you feel about downloading? I'm pretty sure there's links out there to download the new record, which must be frustrating.
I worry about way too many things, but for some reason illegal downloading doesn't bother me. If it did I would probably be in the hospital. It's just one of those things you can't stop.
Back to the 'Cardinal Rules' track. How did that come about and how fun is it hearing your song being played at games?
I used to be a janitor for the Springfield Cardinals. I would clean all their bathrooms after all the baseball games. Sometimes I wouldn't get done until 4am. Anyways, I wanted to write a song about the baseball team because it seemed like a fun project. So I wrote a Springsteen-esque riff and the rest of the song wrote itself. They played it at the fireworks show after a game once and I'm pretty sure no one at the stadium knew it was SSLYBY song.
I think we interviewed you guys almost two years ago now (or near enough). What's been your best and worst experience in that time?
The best experience involved writing the lyrics "I'm never breaking up again." The worst experience is something I don't want to talk about on the internet. My current bank situation could turn into a terrible experience.
What is 'Phantomwise'?
I borrowed a really famous poem by Lewis Carrol and wrote a melody for it. Then I added some of my own lyrics. All the lyrics contradict each other, which I really like. The demo was really slow and moody. The album version is pretty heavy.
Lastly, what does the rest of 2010 have in store for you?
Hundreds of hours in a van. I'm trying to write a screenplay, but I probably won't finish it for another decade.

Tour Dates
9th October - TBA, Oxford 10th October - The Forum, Tunbridge Wells 11th October - Hoxton Bar & Kitchen, London
http://www.myspace.com/boris
MP3:
Someone Still Loves You Boris Yeltsin - Banned (By The Man)
Let It Sway
is out now on through Polyvinyl Records. Click
here
to buy it.