WANNA GET TAZERED?
ENTER The405/STAGECOACH COMPETITION!
On October 5th, Stagecoach release their debut EP, "We Got Tazers!" through Alcopop! Records.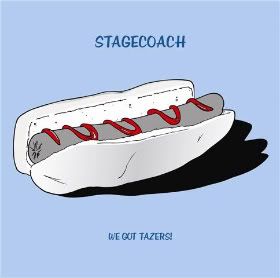 To celebrate we've got 5 copies of the EP to GIVE AWAY. For your chance to win, just tweet us something that YOU think The405 and Stagecoach BOTH LIKE. You can be as descriptive or as monosyllabic as you like. At the end of each day we'll all pick our favourite correct answer, and a copy of the awesome "We Got Tazers!" EP will wend its way to the lucky winner. (p.s. GIRLS, HOTDOGS and STAGECOACHES are all far too obvious to win)...
Stagecoach Twitter (Stagecoachuk)
The 405 Twitter (The405)
Good Luck!
Links
Stagecoach Myspace
Alcopop Records
Tour News + Video!
Stagecoach are having a launch party to celebrate the release on Saturday 10th October at Notting Hill Arts Club. Stagecoach will play live plus a range of sweet cherry-picked acts chosen by the band. It's an afternoon gig, 4pm to 8pm and it's FREE ENTRY! If you are on Facebook, here's some more details:
Facebook Link!!!
We Got Tazers! from Helsinki Films on Vimeo.