Whether it's
Starfucker
, Pyramiddd or the profanity free STRFKR, Joshua Hodges and company sure know how to write a good song. The band recently signed to Polyvinyl Records, so we decided to find out how it came about, the names changes, Portland and what the rest of the year had in store for them.
Hello, how are you?
Very good, thank you for asking! actually very busy getting ready for tour and trying to finish up the new album before we leave in 3 days. It's been a hectic month or so...
You've just signed to Polyvinyl, how did that come about? What made you decide to sign with them?
I don't know how it came about, but we're immensely grateful and excited as all hell to be working with them. Seth from Polyvinyl came to a couple shows of ours in San Francisco and we just hit it off. We all love Polyvinyl and have been fans of them for a while, it was a very natural pairing.
Your first release under Polyvinyl is the Julius EP, which is great. What should we expect form the next album?
12-15 songs about death and the end of the world. Some lo-fi, some hi-fi sparkly. I think the goal is to make something more like the first album, the self titled album. More diversity in styles and not just all dance music, but def some dance music as well.
I'm sure you're sick of answering this but what's the deal with the name changes?
I ended up firing everyone in the band because they ate my complimentary vegetable platter at our show in Olympia and I was really hungry. For Pyramiddd I hired these pro musician guys but got really sick of our studio drummer's 17 piece drumset taking up the whole stage. I hired the old dudes back and we reverted to Starfucker.
As regards to your music, how would you describe it? I've read you like to put the emphasis on people being able to dance.
Live, I think it's good to play music people can dance to. for me personally, if I go to a show and i'm not that into the music but can still dance to it, I can still have a good time. I think it works the other way around too. Dance music you can listen to...
What's a Starfucker show like and do you have any plans to come over to the UK?
We try to just have fun playing. We want everyone to have a good time and be able to escape reality for a little bit, and let go of all the bullshit in their lives. We like to wear stupid clothes a lot too, which usually comes off as a anti fashion statement and of course there's the drag. And Yes, we really want to come tour the UK and Europe as much as possible. We want to play everywhere! No solid tours set yet, but we'll definitely be over there sometime in 2011.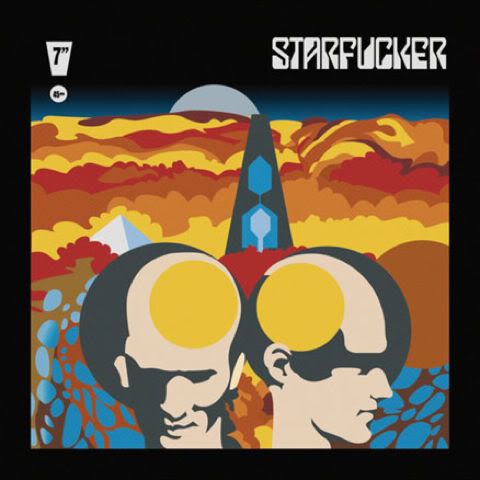 How do you feel about the Portland scene? The PDX Pop Now! projects seem to suggest it's pretty healthy!
The Portland scene is maybe too healthy. It's actually amazing. PPN! is such a great festival. Portland has a lot of band member swapping going on too. Everyone's in 3 bands.
If you could tour/record with anyone from Polyvinyl (old or new), who would it be?
Kevin Barnes, for sure! He's a genius and the band Casiokids would be really rad to tour with. And XBXRX.
Lastly, what does the rest of 2010 have in store for you?
Touring all through Fall and doing the final touches on the record and then starting on the next record too!
You can visit the band by heading to http://www.myspace.com/strfkrmusic
MP3:
STRFKR - Julius (Painted Palms Remix)