Some bands are fun.
Still Flyin'
are not. They somehow reach the next level in smile making and leg shaking. Basically, they make the word 'fun' seem like a gentle walk through a cemetery. Hailing from the depths of
San Francisco
, this 8-15 (depending on where you see them) strong band can easily take the tag of 'best soudcheck band ever'.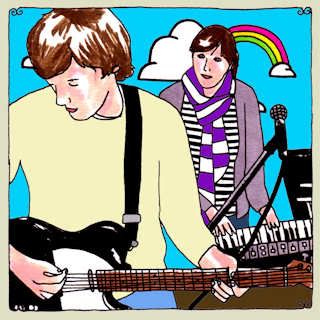 Seriously, I've been to a few sounchecks in my time but theirs was a thing of beauty. You might be thinking that this is a rather strange angle to take when talking about a band you like but I assure it's relevant. Basically I went down there to film them but wasn't able to stay for the actual performance. Gutted, right? Yes. Thankfully another member of The 405 family stepped in but I still feel a slight pang of pain to my sides when looking back at the footage.
Filmed at Proud Galleries last week, this video - although a little ropey (Proud = worst venue in London) will hopefully back up what I've said so far.
Their new single, 'Runaway Train II', was released Monday the 8th February to coincide with their UK tour. Still Flyin' will also be showcasing new material on the tour (which has it's final date tonight) with a new EP scheduled for release in May.
Upcoming UK dates:
10th February – Hamptons, Southampton
Still Flyin' Myspace