Precariously perched on the arse-end of British "summertime" as it is, there is nonetheless a definite charm to the village-fete style set-up of Leicester's Summer Sundae Weekender, which, alongside the usual watering holes, boasted art installations, comedy, and some wonderful activities for the kiddies (and childish adults). For example, an entirely alcohol-free children's area, which was largely full of languishing parents enjoying the chairs and filter coffee, while their kids could watch a Punch and Judy show, create recycled jewellery or take part in some Hula Hooping. I even had a crochet lesson, the results of which were added to a 'Wall of Knit'.
All photos by Davoud Davies (Flickr here)
My first band of the festival are the Incubus-y
Rugosa Nevada
, one of many less "famous", but still spectacular, bands at the Last.fm Rising Stage. One thing this weekend guarantees is a large dose of fantastic local talent, and above and beyond the major acts it is the underground and up-and-coming who inspire some truly memorable moments.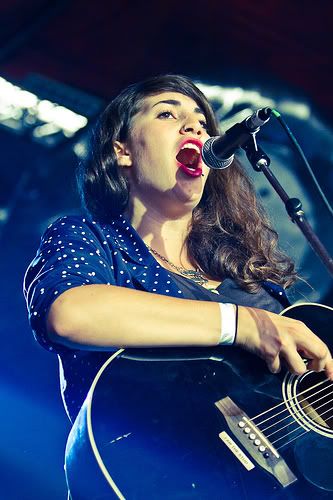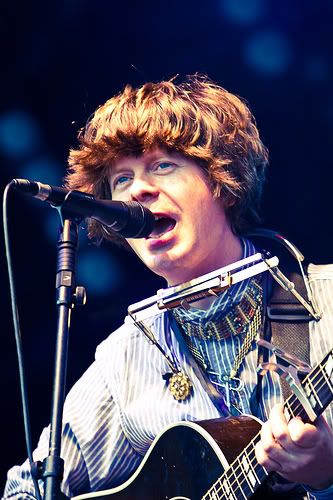 I managed to catch
Peggy Sue
, thankfully in the shelter of a tent, who have arrived in such a rush they haven't even had the chance to take their rain macs off. I then get to see and hear
Fionn Regan
performing some newer, rockier stuff alongside his classical Old Country-tinged finger-picking on the Main Stage, before having to duck inside again.
After the heavens have opened several more times, the sun peeps out with apt timing for ridiculously happy
The Sunshine Underground
. Hideously, though, I miss out on
By the Rivers
, a Leicester reggae act who made an appearance due to a line-up change, and ended up lauded by the
Besnard Lakes
among others as the best act of the weekend, lucky buggers. My day ends with
Seasick Steve
in the chill rain: his blues-rooted, compelling narrative magic holding the entire crowd spellbound despite the grim weather.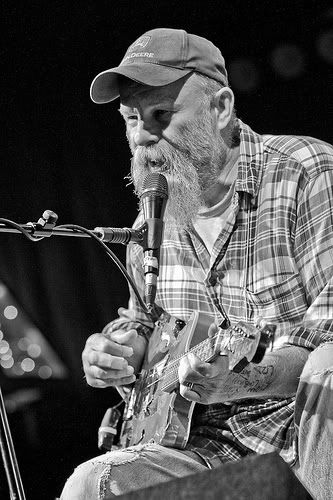 Saturday
I will hear two separate acts describe one of their songs by announcing 'this is about death' (although one of them followed that by saying '...the death of sadness!!!'). First off I catch the fantastically weird
Black Carrot
, followed by the moving and orchestral indie-pop of
We Show Up on Radar
. This does mean I miss another local band,
Dog is Dead
, whose jubilant tunes, I am told, charm everyone present. Today Brighton acts appear in force, as
The Moulettes
simultaneously rocked and swang the Main Stage, while
The Leisure Society
blew away a rammed Musicians' Tent with their final festival set of the season (and apparently their last performance of 'Cars' – I don't believe you, guys).
The Indoor Stage played host to
Laura Veirs
, a lyrical songstress to be reckoned with, followed by UK folk electronica gang
Tunng
and Canadian 'dance' outfit
Caribou
, whose combined weight of ear-blasting aural experimentation had me almost in tears. I popped outside, the weather having improved dramatically, to see
The Go! Team
being suitably exuberantly insane over material from their soon-to-be-released, unnamed third album. Back indoors again I watch an impassioned performance from Mark E Smith in the latest incarnation of post-punk icons
The Fall
, still a powerful voice after over thirty years performing. Finally there's the viciously brilliant
The Whip
, tearing apart those old rock vs electronica boundaries one more time. While others (ie 'the yoof') head to the silent disco, I discover a showing of Ian Drury documentary Sex and Drugs and Rock and Roll happening in the Cabaret Tent, and then collapse into my rain-dampened sleeping bag.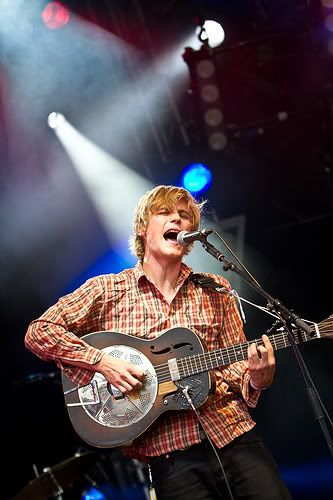 Sunday
I'm rudely awakened by dustmen, but the skies have finally fully brightened and we're facing a blissfully warm and sunny day. I hit the Musicians' Tent for free coffee and some acoustic loveliness from
Peter Wyeth
, followed by the bluesy (yes)
Blues Demons
. Then opening the Indoor Stage are Little Night Terrors with their sleazy, brilliant pomp rock. Back to the Main for Pete Molinari's accomplished harp and syncopated rhythms, followed by
Johnny Flynn and the Sussex Wit
, a further example of the growing power of the folk rock scene. Indoors again, providing the more intense sessions of the weekend, I hear the charming Olga of Besnard Lakes announce 'It's not really bass if there's not blood, right?', followed by the Scottish electro of
Errors
thoroughly perforating the relative peace of the Sunday afternoon.
Today is the day most have been waiting for, and the central field rapidly becomes more packed under the azure skies: it's
Mumford and Sons
time. But not yet: there's still The Low Anthem, Los Campesinos!, The Local Natives and El Pussycat to fill the jam-packed afternoon. Finally, night has fully fallen, and the entire field in front of the Main Stage is standing-room-only. To rapturous applause, the four young men appear, and proceed to storm through, well, all of their material. Towards the end frontman Marcus is apologising for the fact that they are a headline act with only one album, and asks sheepishly if they can play some new songs. The response is emphatic, and they provide the giddy high to end a magical weekend.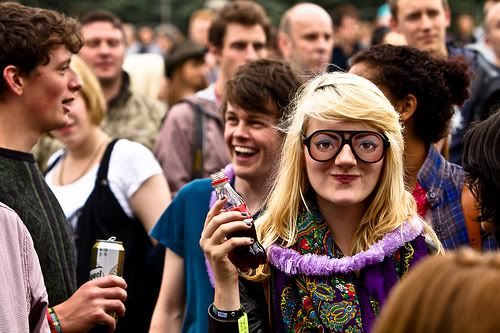 It's the mixture of close community activity and incredibly diverse music that make this festival a brilliant time and an enduring hit with the locals, at the very least. Admittedly there are no fires, no wild bacchanalia and everything closes by half 1 at night, but your day is so jam-packed it's almost a relief. The spacing of acts with half-hour intervals and the small-ish festival site means you can see a huge variety of bands with time to spare, or just chill out and enjoy ale, comedy, or even 'gong therapy' on the Healing Field (I didn't). Aside from some terrifying merchandising (can you say 'oppressively giant navy blue and chrome Pizza Express wagon'?) this is a truly green and family friendly festival.