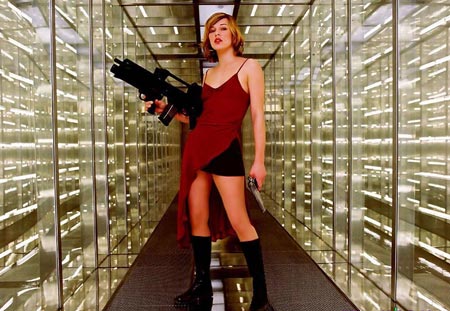 For avid gamers 'Resident Evil 4' is a positive, nay hallowed phrase. That is until you remember one name. Paul W. S. Anderson.
Resident Evil: Afterlife
, the fourth movie adaptation of the Capcom game franchise is due to hit our screens in September 2010, again penned by Anderson. The powerhouse director of classics such as
Soldier
and
Alien vs Predator
took up the director's chair for the first Resident Evil film, but has been writer-only ever since. Let us not forget, this is the man who gave us the live action
Mortal Kombat
movie back in 1995. Just when you thought it was safe to hang up your shotgun. We can also expect the return of Milla "deer-in-the-headlights" Jojovich (that expression is literally all she's got).
I feel bad for Brandon Routh. The poor boy had some massive shoes to fill as the Man of Steel back in 2006's
Superman Returns
. Replacing the much loved Christopher Reeve in a reboot of the series that made the late actor a star was no tall order. Despite positive reviews and earning almost $400m worldwide, the film was not the success Warner Bros hoped for. Apart from a memorable if fleeting cameo in
Zack and Miri Make a Porno
last year and his upcoming role in
Scott Pilgrim
, Routh has been off the radar and the Iowan actor has now revealed that his contract with Warner Brothers for a follow-up has expired. Routh confirmed that his contract with the studio had expired, but did say that he would come back if he was asked to reprise the role.
What happens to a Time Lord when he is a Time Lord no more (well, almost)? He ends up making movies with members of Girls Aloud. Doctor Who star David Tennant will play the villain in St Trinians sequel,
The Legend of Fritton's Gold
(pause for reaction). The Scots actor joins Girls Aloud's Sarah Harding, Gemma Atherton and repeat offenders Rupert Everett and Colin Firth. As a Rab C Nesbitt viewer, reading the words "David Tennant" and "schoolgirl", I was immediately transported to his often-overlooked and intensely disturbing cameo as transsexual barmaid Davina back in early nineties. An image that would not leave me, and which I am happy to inflict on you all.
Transformers: Revenge of the Fallen
has beaten off competition from
Ice Age 3: Rise of the Dinosaurs
at the US box office to stay on top of the charts. Michael Bay's blockbuster took $42.3m over the weekend in the US, narrowly beating
Ice Age 3's
$41.7m. The movie is also on course to hit the $600m mark faster than any film other than last year's Summer smash, The Dark Knight. The movie has so far grossed $293.4 million in the States and $300.5 million from outside the US.
Dark Knight
went on to gross $1.1 billion worldwide. Based on current figures, Transformers is predicted to hit $800m.
Stephen Norrington is working on a
Blade
prequel trilogy. The British director has revealed plans for a potential trilogy of movies, focusing on the Daywalker's nemesis from the 1998 movie, Deacon Frost. Actor Stephen Dorff, who portrayed Frost, has been credited with the concept (looking for at least one movie's work I should imagine) and Norrington has suggested that he will start work on the project after he's finished on The Crow reboot. Norrington has only recently returned to directing following the woeful
The League of Extraordinary Gentlemen
, the movie which has the dubious honour of encouraging Sean Connery to retire from acting. Wesley Snipes' involvement is in doubt, but if his tax bill is anything to go by, he may be back on board sooner rather than later. The cast and crew of
Harry Potter and the Half-Blood Prince
paid tribute to murdered actor Rob Knox at the film's premiere in Leicester Square. As a mark of respect, the cast and crew wore white ribbons on their wrists. Knox, who played Marcus Belby in the latest movie in the Potter series, was stabbed in Sidcup, London last year, defending his brother. His attacker, Karl Bishop, was jailed for life in March this year. Co-star Bonnie Wright, who plays Ginny Weasley, said that the cast wanted to show solidarity with all knife-crime victims. Wright said: "It's going to be quite a traumatic experience for his family, who've been very supportive of him."
In a move that will see fans up and down the land sliding across the bonnets of cars in celebration, 80s cop show T.J. Hooker is heading to a cinema near you. Chuck Russell (The Mask, The Scorpion King) is attached to direct, and William Shatner himself is to appear. Casting news non-existent at the moment but so long as Shatner's in the mix, fans should be kept happy. Plus it might make up for Shatner missing out on a cameo in JJ Abrams
Star Trek
reboot. Shatner has said that he has since made his peace with JJ Abrams decision to keep him out of the Star Trek movie, but that kind of hurt stays with an actor.