So, it's that time of year again. You know, the one where anyone with any remote link to music migrates to Austin to live off Mexican vendors and not sleep for a week while those who can't go divert all emails with "SXSW" in the body straight to the bin and claim the entire festival is just a massive corporate orgy anyway psha.
If you're out to get loose in the Lone Star State this year, especially if it's for the first time, don't panic - I've scouted out some of 2014's most cool looking showcases and parties so you don't have to. Hopefully it will save you at least one timetable-related emotional breakdown. And if you're not going, well, here are some things you can call rubbish on Twitter through a very thin veil of jealousy.
Head here to visit The 405's SXSW 2014 hub.
1) Media Temple (SXSWi Closing Party) - Tuesday 11th @ Pelon's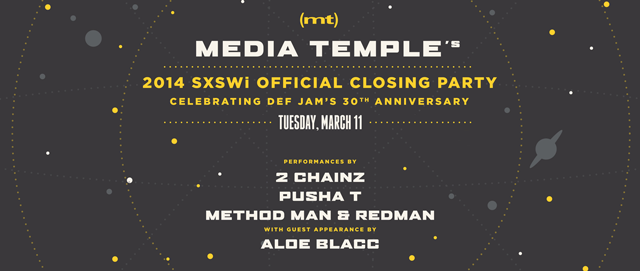 Here you will have Method Man & Redman, Pusha T and 2 Chainz performing one after another in celebration of Def Jam's 30th Anniversary. If you need me to spell out why this will be a clusterfuck of amazing then you don't deserve to go. Please go to the iTunes showcase headlined by Coldplay and save this space for those more existentially turnt.
2) NPR Music Showcase - Wednesday 12th @ Stubb's
Among others, this showcase will bring you Damon Albarn of Blur fame, St Vincent and Kelis all in one room! A blue moon occurrence such as this is surely the reason we all live for music. However, if cosmic justice isn't enough to impress you, each of the artists will be playing material from their new or forthcoming albums, all of which are nothing short of spectacular.
3) Jansport & Noisey Bonfire Sessions - Wednesday 12th @ Cheer Up Charlie's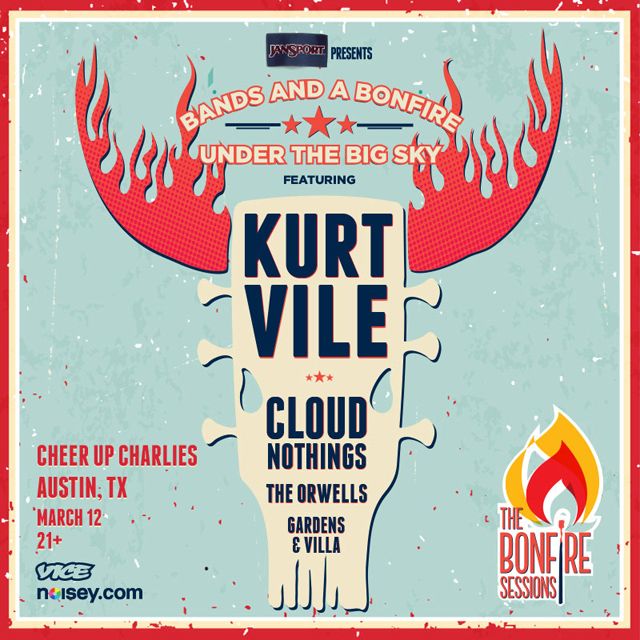 Everything about this sounds unusually wholesome for a party organised by Noisey, but you'll have to be the judge of that. With the aim of bringing the same vibes as "classic friend-filled bonfire under the stars", Kurt Vile, Cloud Nothings, The Orwells, Gardens & Villa will be performing in an intimate space. So go grab yourself some free drinks and snacks (read: s'mores!) and have a cuddle.
4) Under the Radar SXSW Party - Wednesday 12th @ Flamingo Cantina
We're starting to enter true party territory here. Sponsored by Drowned in Sound, Under the Radar parties will run throughout the week, but they've certainly gone for a "start as you mean to carry on" approach rather than saving all their best for last. Enter: EMA, Pains of Being Pure at Heart, Casual Sex and Future Islands on day one. Way to potentially burn-out everybody before they're even half way into the festival, you guys.
5) Stereogum Day Party - Thursday 13th @ House of Vans at The Mowhawk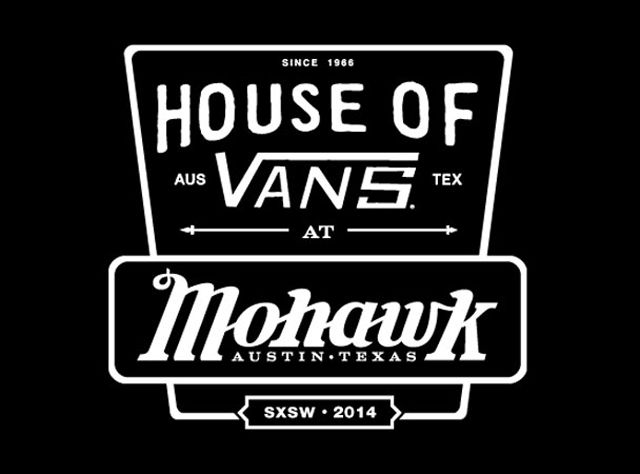 Bringing you the absolute cream of current scrappy indie bands, this Stereogum party will definitely provide some of the most raucous fun you could ever have to a melody. The line-up features Cloud Nothings, Fucked Up, Speedy Ortiz, Perfect Pussy, Woman's Hour, You Blew It!, Mutual Benefit... Do I have to carry on or are you there already?
6) Impose Presents: The 2014 Austin Imposition - Wednesday - Friday @ The Longbranch Inn and Saturday @The Grackle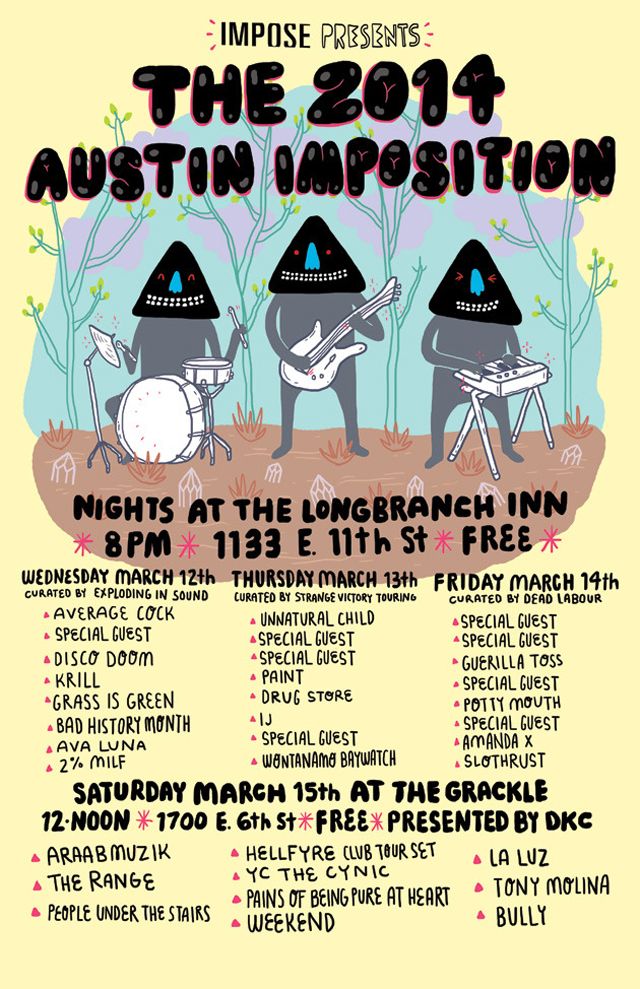 Impose have nailed it so hard this year that I literally couldn't pick out which of these four showcases is the best, so I've chosen all of them. The line-up still features some "special guests" who have been listed as riddles, but be sure to check out "hyper intellectual post-punk" trio Krill on Wednesday and wicked-tongued riot grrrls Potty Mouth on Friday.
7) The A.V. Club Presents: "Rainey Day Party #12 & 35" - Friday 14th @ Blackheart Bar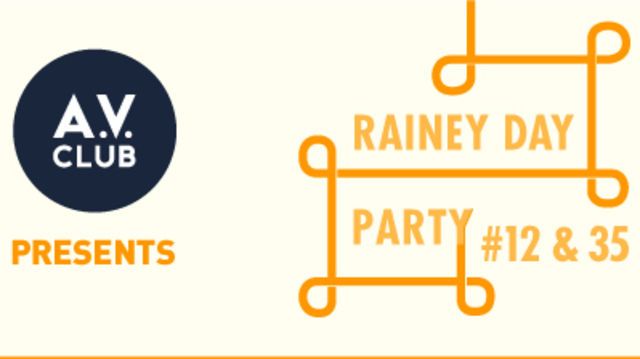 A lot of the bands playing this are playing a bunch of other times (as is usually the case with SXSW) but after much consideration I reckon this is the most solid line-up. Bob Mould, Eagulls, Wye Oak and Speedy Ortiz are some of the bigger names on this line-up, each refreshingly different to the last but with enough of a definitive common thread to maintain cohesion. Leeds post-punk outfit Eagulls just dropped a blistering debut full-length and will definitely be worth catching whenever you can. Also I've literally never seen the singer perform in anything less than a parka, so if still that holds up in 50 degree Texan heat I wanna know about it. Tweet me pictures.
8) Portals Showcase - Friday 14th @ The Owl
I'm really excited about this and I'm not even going. Relentless supporters of the underground and up-and-coming that they are, the beloved folks over at Portals have put together a line-up so fresh you could brush your teeth with it. Empress Of, Beat Culture and Julie Byrne? Oh lawdy! Make sure you get down early to watch Saint Pepsi, though, who just came out with the most genius electronic release I've heard in a long time besides Ricky Eat Acid's Three Love Songs.
9) Thrasher Converse, Death Match - Saturday 15th @ The Scoot Inn
I normally try to avoid any kind of event that self-predicts how "brutal" it's going to be, but in this case I'll make an exception. Let's face it, it's probably the only time you'll ever get to see Perfect Pussy and Lil B on the same bill.
10) Neon Gold Showcase - Saturday 15th @ Empire Garage
This is hands down the most vibey line-up of the entire week. Miami Horror, WET and MØ will each bring the kind of pop-based diversity we should be seeing on mainstream radio. Brooklyn-based slow-burners WET are new to the Neon Gold roster and still fairly new as a band, but their "big beats, big hooks and big problems" will tug at your heart strings in ways your mother didn't prepare you for. A perfectly emotional way to end your week.
Head here to visit The 405's SXSW 2014 hub.