It's a weird feeling. I'm sat in my hotel room in Austin, Texas; my third visit in three years to one of the friendliest, most down to earth, creative and fun cities in the US. It's SXSW 2014 and I'm here for the music, the BBQ and the margaritas.
The night before I left the UK I witnessed a hit and run around the corner from my house. I found a guy by the side of the road left for dead by a Porsche driver who subsequently burnt out the vehicle and made off. After 20 hours in transit and a few hours at the festival, I found out yesterday that the young man died. My first full day at SXSW was fun as usual, but tempered with the sadness of that news. I lasted until about 11.30pm and then I decided to call it quits for the night and head back to my hotel. A decision that may have saved my life.
I didn't realise the gravity of the situation until about 2am. My phone kept beeping in the night. Whilst that's not necessarily uncommon when visiting a different time zone, there was something just not quite right about it. It was then I read about the incident outside the Mohawk. A car evading Police, driving two blocks down a temporarily closed road scattering pedestrians onto the tarmac in its wake before mowing down a moped and its two passengers, who sadly lost their lives.
Until five minutes ago one of the dear friends I had shared a drink and experienced some new music with just yesterday was off radar, with his roommates saying he didn't return to his room last night. Thankfully we've heard he's ok and he's currently praying to the laptop gods (i.e. replying to a gazillion messages saying I'M OK!). My friends have been brilliant at checking in with each other to make sure everyone is ok, but my thoughts are with those that aren't.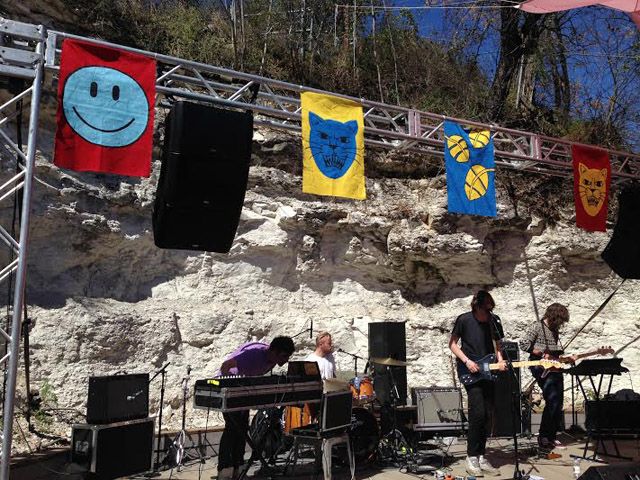 SXSW is such a commercial animal these days that the queues can be overwhelming, so for the last few days or I've been relatively off piste. My music tastes don't necessarily conform fully to the commercial and I kind of like it that way.
I landed on Tuesday at 9pm and by 10pm was checked in at the hotel and sharing a brisket plate with a friend. By 10.30pm I was sat in a church for the Bella Union showcase watching and listening to the breathtaking voice of Agnes Obel whilst nibbling on some peanut M&M's. This is the life. My eyes and ears were thundered back awake by Manchester babes and old time friends PINS who ripped the church apart! Drummer Sophie was on fire and Lois cheekily wandering into the front pews of the church was a real crowd pleaser. New song 'Oh Lord' was truly mesmerising.
Back to Sixth Street to catch New York self proclaimed 'doom grunge' band GHXST playing some of their new material at a showcase at the Lit Lounge. I stuck around to hear the soundtracky sounds of My Education before bailing. The thing about Austin is, a short walk takes longer than anticipated as you bump into so many people you know along the way. After 25 hours awake, sometimes you just have to admit defeat.
After a pilgrimage to Magnolia's (who serve the most amazing breakfast and breakfast cocktails) I was ready to kick off my first full day at SXSW at where else but the British Embassy! Dinosaur Pile-Up from Leeds starting me on my way with their own brand of grunge rock - the free Margarita wasn't too shabby either. A lucky ear encounter saw me stumble into Cheer Up Charlie's outdoor stage to hear Painted Palms, a band that I'm increasingly drawn to. :et me tell you it's love. UK mark my words, you're going to hear lots from these guys in future.
Angel Olsen's latest album is probably the best record I've heard in the past two months and I was pretty excited to witness her live. There wasn't much movement on the stage or in the crowd, well frankly there wasn't room to swing a cat in the Mohawk Indoor stage due to demand! With a voice that is two parts Sharon Van Etten to one part Caitlin Rose, she's so dreamy.
Dum Dum Girls' 'Rimbaud Eyes' had me in a spin on the main stage at the Mohawk before I squeezed into the rear patio of Swan Dive to see hot tip Lucius. Their debut album gets a worldwide release on the 31st of March and I've high hopes for them after witnessing this packed out show full of upbeat vibes.
A snap decision to head back to the hotel (it's colder than anticipated in Austin this year) saw me stumble across a Connan Moccasin show. It kicked off with two small children playing percussion on the stage before settling alongside another small friend to sit on the front of the stage for a little longer shaking percussive instruments. So cute (and Connan too)!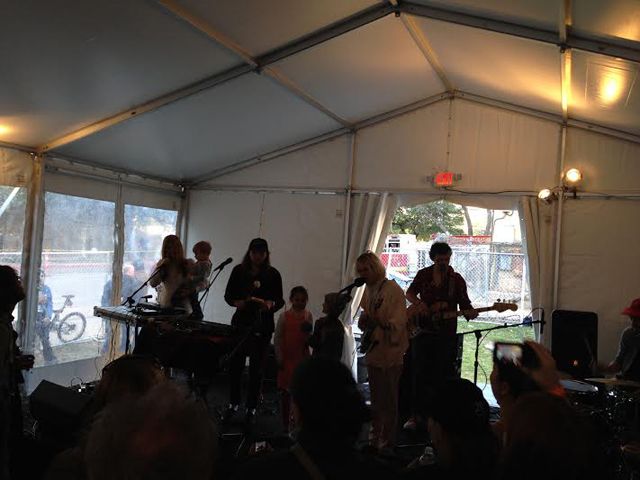 I was pumped and primed - minus BBQ - to check out Captured Tracks' Perfect Pussy at Stubbs last night. Whilst there is definite potential in the Savages mould of things, the sound at the venue wasn't quite hitting the spot, and I felt a smaller show would have been so much more powerful. Bring on their UK tour with Joanna Gruesome!
There was more potential to be noted by Lowell. A small crowd mosh, taking selfies with her as she launched herself in the crowd. Nice raw talent, which has the potential to be honed into something interesting, I reckon.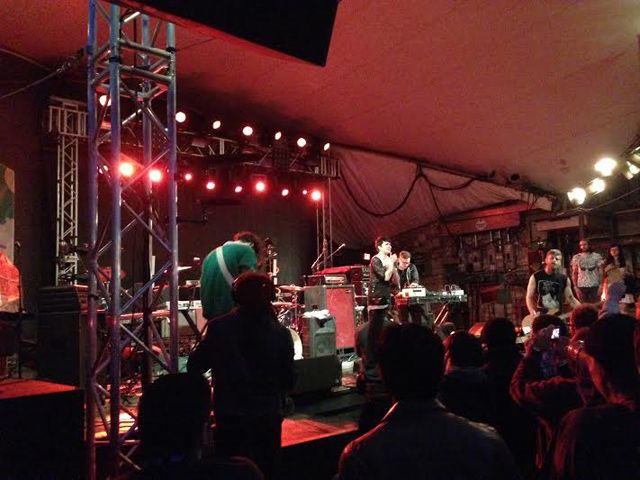 I decided to round my night off with a couple of artists who released albums that I loved last year! GRMLN and Ski Lodge, I wasn't disappointed. Good vibes and happy smiles. It really puts things into perspective, doesn't it?