Well what a day. My feet are battered and bruised, my heads in a spin and the lack of sleep is making me less than coherent! I kicked off my day by meeting up with Mick from Heist Or Hit Records for brunch, eating pretty much everything in sight as I seem to be pretty useless at tracking down the free food and drinks that everyone seems to talk about at SXSW! It was great to catch up with someone as passionate about music and artists as Mick and reminded me why I actually get off my bum to do this job and go to these places. AHEM. I digress.
I headed down to Hotel Vegas out east for the best part of the day on Thursday, some of my must-see bands were playing there at the Austin Psychfest showcase and it just seemed a sensible idea to commit to. I've been to Hotel Vegas a few times previously and Christian Bland from the Black Angels lives around there so you know it's all good. Some of the day parties up near the accident were cancelled yesterday and so plans were rearranged by many people.
I got down early as I didn't want to miss La Luz, a four-piece from Seattle and was treated to TEEN, another band on my list who were down on the schedule as 'To be Confirmed' BONUS! I thought they were fab, and helped to overcome the slight disappointment of not seeing La Luz. Yeah that's the thing about these day parties, if you're ten minutes late they'll cancel your show. I don't know if it was miscommunication as La Luz's flyer said 3.30pm and the days show said 3pm on the flyer. Still, I was somewhat appeased by a 40 minute set by Quilt which was pretty dreamy.
In my preview piece I said Fat White Family were causing a stir in the UK with their live shows of late, promo shots with a naked member of the band and mental energy live. They played their first show yesterday and they were insane! Full on energy, they were everywhere and into everything. The shirtless lead singer frequently mounted the monitors to stand aloft of the crowd. It was a 'touching' experience in more ways than one as he put his hands down his pants on two occasions rubbing himself?! Eyewitness Lois from PINS said there was a definite swelling in the region. I'm not sure how I feel about that to be honest?! In any case it's a show that won't be forgotten in a hurry, one man exclaiming 'they're my new favourite band'.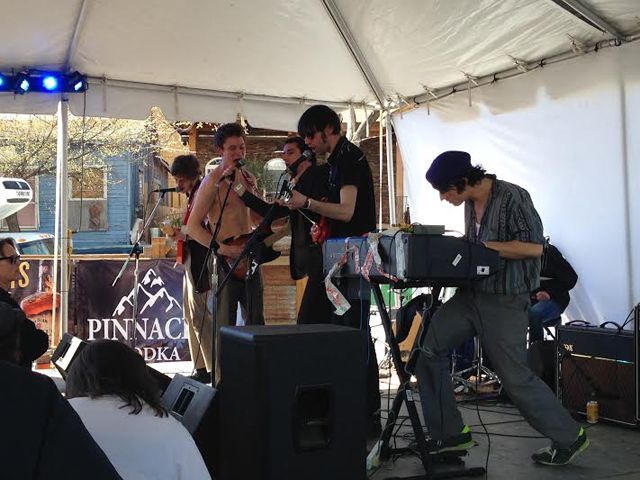 The Hotel Vegas patio had a fast turnaround with one band setting up on half the stage whilst another band played, so it wasn't a long wait to see Heavenly's latest signing The Wytches on stage. I've been a fan of these guys for a while and nice to see their fortunes on the up after last year. I remember seeing them at Swn Festival just after their guitars were stolen and they couldn't afford a new guitar tuner and I also felt they were overlooked at list time due to explosion of Royal Blood onto the music scene. Still it was a powerfully energetic show and they'll go on to great things, theres no doubt in my mind!
Things slowed down a bit when I watched The Goastt who are actually fronted by Sean Lennon (Yes that Lennon). They were ok, but it could have been background music really. There were moments of 'YEAH' and moments where I debated the menu of the BBQ.
An early entrance to Hotel Vegas seemed like a wise move at the time for the line up but actually it was when my friend was stranded outside trying to get into the venue to see Temples that I realized how fortunate I was. I said I wasn't going to fangirl to Temples, who I first saw supporting the Allah La's back in December 2012 where I purchased their only single at the time 'Shelter Song' on 7 inch vinyl. I told them that Sun Structures was everything I had hoped for and more and that I was gutted I hadn't got a copy of the orange vinyl. To which they replied "So are we!". They played a gorgeous set, the side of the stage was rammed with notable presence from The Black Angels' Christian Bland and up and comers Spires.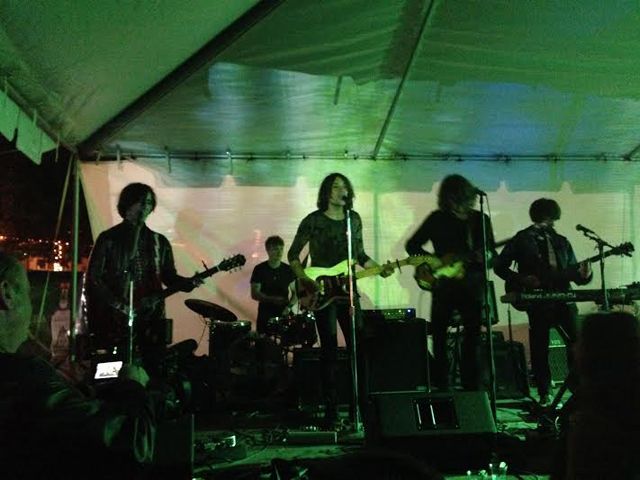 After a quick visit to the indoor stage to see No Joy I realised - despite saying hello to a few friendly faces - I'd spent 4 hours on my own. The downside of music festivals is that many of your colleagues and friends will have a totally different itinerary and in my case very few of them love psych music as much as I do! So It was refreshing to bump into PINS and decamp for some frozen Margarita's in a local bar. Talking experiences, music, Manchester and life in general. Such absolutely fantastic ladies with an amazing work ethic. They are arty, creative, diligent and just bloody A1 on every level. They brought a big smile to my face and hugs that were needed! The show they are playing today is going to be massive, just you wait and see.
I've been waiting to see Spires for near on a year and boy were they worth the wait! Think Temples crossed with Tame Impala with a side of Telegram. Their new single on Too Pure Singles club is just the tip of the iceberg. I was that excited I took three Instagram videos, @shellzenner if you so desire.
On the flight from Philadelphia I ran into Sean from Fortuna Pop, a label with impeccable taste in music, who has released albums by Let's Wrestle, Joanna Gruesome and September Girls of late. I reminisced about the first time I saw Joanna Gruesome and September Girls playing live at Indietracks Festival in a tiny church back in 2012 and Sean told me he couldn't even get into the Church to see them that day as it was totally swamped! I salute you Sean for bravery and perseverance to the musical cause, September Girls' debut album is a gorgeous piece of shimmering pop and seeing it live yesterday was the cherry on top of the rather well iced cake. Apparently you can see them live and get a free irish breakfast today. What's the difference between Irish and English breakfast I hear you say? White pudding apparently? Sounds messy.
As a huge fan of the Captured Tracks label that brought us Beach Fossils, DIIV and Mac De Marco I made a pilgrimage to their Greenpoint store back in January. Blouse are yet another awesome band on their roster originating from Portland, Oregon; the place I'll be heading post Austin on my ongoing musical adventures! They were so dreamy live, a total treat to the senses.
It was then I said goodbye to Hotel Vegas for the day, but I suspect Burgerama may bring on a return in the coming days. I headed back to The Hype Hotel for what I thought was a solid line up: SOPHIE, Banks, London Grammar. Well what a personality-less hole. A concrete bunker with a huge queue full of people that are clearly there for the free drinks rather than the music. I witnessed SOPHIE which was great, he really got things jumping and yes, fantastic hair dude. I could go on to rant about how SXSW seems to becoming more of a jolly and less about the music, but I won't finish this piece if I get started.
I couldn't stay. There were more people talking and drinking than paying attention. There was no atmosphere, no personality, no soul. Sorry, but I didn't want to witness Banks or London Grammar in those surrounds. I scooted off the M for Montreal showcase to see Solids, a two piece that I've spun on radio before. The sound wasn't great, the bass richocheting off the glass panel behind me which left me underwhelmed and thinking that for a two piece, Royal Blood are a hell of a lot more well honed, so what else to do but go and check out Royal Blood again! The British Embassy was pumping, one in one out and everything.
Back in August I DJ'd the main stage of Beacons Festival, where the openers were Royal Blood followed by Wolf Alice. I was so impressed I drove to Liverpool a fortnight later to see them play to a handful of people at Summer Camp Festival. Seeing that venue packed last night and hitting so many tips lists for 2014 was a complete triumph.
I rounded off my night with Woman's Hour. I first saw them play at Kraak Gallery in Manchester about 18 months ago and oh how they've grown! Stunning, stripped back, almost cinematic in places. Steve Lamacq introduced them by saying that they're playing last because they'll colour your dreams, and how he was he right. Gorgeous in every sense of the word. Well done Austin, you are the best!