Friday at SXSW proved that the festival was still focused on the weekend. Maybe I just got the hang of how to handle Austin or maybe Friday was actually just better than the rest of the week, I'm not really sure. The day started off terribly when the bus driver made me throw away one of the best coffees I've ever had—from Austin's acclaimed Bennu Coffee—and then abruptly ended his route halfway through. I tweeted my frustration about the festival so far and encountered a wave of snark from locals and SXSW diehards. It was then I realized that maybe I too was part of the problem. Festivals are work, too, it's part of my job as a journalist to find my way. The online vitriol made me more determined to do so and spurred me on to my favorite day in Austin yet.
So, due to my experience Thursday night at Willie Nelson's ranch, I made fast friends with Marah Eakins, the esteemed editor of The A.V. Club, and I went to check out their day party. This unscheduled stop had me drinking a Lonestar (my favourite Texan beer by far) and vibing to Wye Oak only a few minutes after 2 PM. The skeletal riffs of the Baltimore act were my first encounter with them—they're a name I'd seen a lot but never spent time on. After that set, I certainly will sit down with their catalogue. We briefly caught Speedy Ortiz right before Wye Oak went on, and I have to say, I do not see the appeal. I feel like some acts get over-hyped and I think Speedy is certainly one of them.
From The A.V. Club we wandered into the After the Gold Rush II showcase at the Red Eyed Fly. I had yet to see Hospitality, one of my obsessions this year, and they were slated to close out the day party. I didn't know what the rest of the lineup was but when we arrived I was pleasantly surprised that it included two other acts I really wanted to watch: GEMS and Mutual Benefit. Both of them delivered great sets, GEMS were minimalist and laser sharp while listening to Mutual Benefit live felt like wandering in a vivid garden of orchestral bliss. Seriously, they might have been my favorite live act that I caught at SXSW—oh wait, I havn't gotten to Lil Wayne yet. Anyway, by the time Hospitality went on I was having the greatest time, and the strongly mixed $3 Bloody Marys certainly didn't hurt. Of course watching Hospitality live for the first time was just as fulfilling as I expected. They are making angular, intent indie rock that packs more inventiveness into each song than any of their contemporaries. Their sophomore record Trouble is a compelling force, and live, the band easily switch instruments and parts, cementing their prowess.
The evening meant a quick hop between Coachwhips and Fat Tony at Hotel Vegas, catching my first ever performance from Michael Christmas, a rising Boston rapper whose humor-infused raps and sly rhyming elevate him above the fray. His set at The Eastern was brief but full of blunt force—yes that's a weed joke. From here we went straight to the Red Bull showcase to watch one of my favorite artists of the moment—Chicago's foremost female rapper diva Tink. She handled a difficult crowd with grace and watching her perform jolting raps like Kilo alongside gorgeous, stripped down R&B was a rare experience. She sang, danced and rapped with unflagging energy and charisma for a crowd who were waiting for Sleigh Bells and seemed unfamiliar with her and most hip-hop. Check back for SXSW 2015 though, because I think by then, she'll be a known quantity. Sleigh Bells were a little anti-climactic if I'm being honest, I loved Treats with my entire heart but a lot of their new stuff is cheesier in structure than the Poison-style guitar riffs they've cribbed. Still, when 'Infinity Guitars' came on I was dancing like a maniac, which was probably due in part to my rapid consumption of multiple Red Bulls. I still fell asleep with ease though, crashing on a friend's floor due to a complicated hotel situation.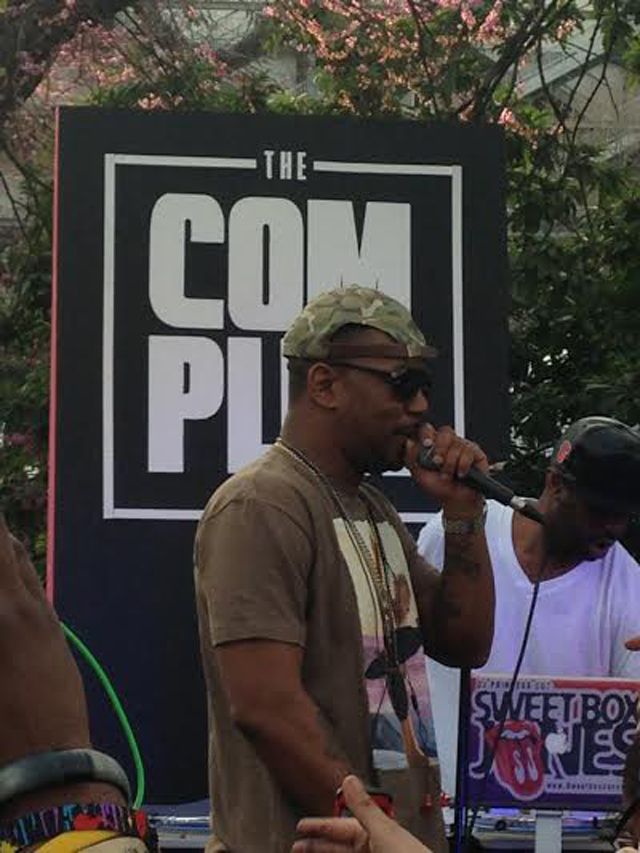 After a successful Friday we were ready to tackle the last day of SXSW. Leaving earlyish for a New West Records event, I was more than surprised to discover that the venue name The Castle wasn't a metaphor. The party was held at a mansion across the river from downtown Austin that for all intents and purposes was an actual castle. Apparently a millionaire had constructed it a few years back. It was awesome. There was free barbecue and free beer so we ate probably the best meal we'd had all week and settled into a side room of the castle to watch Rodney Crowell, Howe Gelb, Robert Ellis and Nikki lane alternate performing songs on their guitars, and occasionally accompany one another. I was moved to tears multiple times by the bluesy, country tunes and a Long Robert Ellis track called 'Tour Song' that summed up the heartache of leaving someone you love behind for the sake of performing. I also loved seeing Nikki Lane perform onstage next to three men, and put them in their place with a few new songs of her forthcoming record All or Nothin' that's out in May.
Pulling myself together and picking up the pieces of my heart, we caught a shuttle back to downtown and headed straight into a slew of hip-hop shows. Stopping by the Complex party we caught sets by A$AP Ferg, Young Thug and Cam'ron. Cam'ron and the open bar were my highlights from this show--a dude spilling his entire beer on my face and phone without even a backwards glance was the low. From there I sprinted to a nearby cathedral to catch Christopher Denny's set and was mesmerized by his pliable, weathered voice and the almost elegiac form of his songwriting.
At this point I was almost stress-crying from hunger and we finally found some tacos that helped relief the plentiful beers we'd had so far. We went back to Red Bull to catch what was only the fifth performance ever by Lucki Ecks, another up-and-coming Chicago rapper who mixes a slow-burning, sultry production style with a slippery flow. Once again, the brotastic audience waiting for headliner Danny Brown didn't really understand the kid's music, but a few entrances faces dotted the crowd, pointing toward his obvious skill. It'll be interesting to watch his career, but he'll definitely have one. Danny Brown was everything you'd expect him to be: outrageous, affable and a master MC. His show was expertly executed but I found myself bored at parts, is it possible to reach a threshold as to how much live music you can properly appreciate in a given timeframe? Maybe. I chugged more Red Bull and more beer, danced my ass off to a "surprise" Mannie Fresh DJ set that celebrated both Danny and Mannie's birthdays and then we left. The night had one more possibility: Lil Wayne was supposed to headline the exclusive hip-hop after party at the Illmore showcase.
We had about a 50-50 shot of getting in I figured, a friend of a friend had promised to put us on the list but that felt a little dicey to me. The gate was a complete shitshow as IDs were waved about and names were dropped with feverish abandon. Somehow, we said the right name and we're approved to head in. Unfortunately, the cops "helping" at the venue directed me straight out the exit! This was one of multiple run-ins with the Texas police who came across as corrupt, piggish assholes at every turn. Whatever. I plowed my way back to the front and headed into the youth entertainment complex. Open bar with Titos vodka lasted till 4 AM, so we were happy to chill and catch up with friends who we had mostly missed in the crush of the week. Finally, just before 5 AM, Lil Wayne took the stage and even rapped a few verses. But mostly, he seemed to be passing his mantle on to Atlanta's Young Thug. 'Stoner' and 'Danny Glover' had Wayne singing with Thug, and when prodded to perform a recent Rich Gang song 'Tapout' he admitted he didn't know it and went back to taking selfies with his endless groupies. Who can even blame him? It was intriguing to see how clearly he is throwing his support behind Young Thug, who isn't even officially confirmed as a member of YMCMB.
It was 6 AM and SXSW was over. I'd seen Robert Ellis, Rodney Crowell, Cam'ron, Danny Brown and Lil Wayne all in one day. Suddenly the brilliance of this festival felt real. Still, I don't really want to go see a concert for at least a week.
Head here to visit The 405's SXSW 2014 hub.