For the second instalment of our Monthly Musical Matter, we've come over all nostalgic at The 405. Oh, youth, fleeting, foolish and full of terrible, terrible decisions. How did I not become a famous footballer/thespian/singer? Why didn't I kiss that person? Or why the hell did I kiss that person? And why, oh why, did I listen to that!?
Well, obviously, all of us here had impeccable music taste from an early age, crawling around to the sounds of bebop jazz and growing up to a soundtrack of post-punk and krautrock, but we wondered what embarrassing treasures our favourite bands and artists were listening to when they were 13? So, we asked them…
Crocodiles
When I was thirteen I lived in Portugal, a cultural desert in relation to what was happening in England or the States. The televison shut off at 9pm and there were no shops to buy music magazines from. At this time I fell deeply in love with The Beatles. I watched their movies religiously and listened to the albums on repeat. Magical Mystery Tour seems to be the one that stands out in my mind as definitive of this period of my life. These is great depth to the Beatles career and it was the perfect fit for the void felt in my thirteen year old mind, having been cast out to sea for two years without any music to be found.
Pontiak
I was a kinetic sort of 13 year old. Always doing something outside, like turning model rockets into explosives or driving the truck into town without getting pulled over (which eventually did happen). But when I wasn't outside, I was playing my guitar. I bought my first guitar when I was 13 and committed to teach myself how to play. I can remember listening to a recording my dad made with his cousin sometime in the early 70's. My dad had taught himself most of the songs on Leo Kottke's 6 and12 String Guitar record and they had set up in the yard at the old farm one summer evening with a few 6 packs and recorded them. I listened to that over and over and over again trying to figure out the tunings and eventually how to play some of the songs. It was a tough but great way to learn how to play!
I also had a Merle Haggard greatest hits CD that I listened to non-stop and we would play it in the car on trips out west and everyone would sing along. To this day I can't get enough of Merle Haggard, he is one of the truly great songwriters and his voice is unbeatable.
Tu Fawning
When I was 13 I was living in a small town in Northern Indiana. There wasn't much to do except listen to music and get into trouble. There was a nightclub nearby called Nite Lites. Every Sunday night they had "alternative" dance nights where everyone from all of the surrounding towns came to dance and hang out. 'Bizarre Love Triangle' off of Brotherhood by New Order was the song and record I fell in love with.
Also on the list (it's impossible to pick just one record!):
Cocteau Twins- Victorialand
Depeche Mode- Black Celebration
The Smiths- The Queen Is Dead
This Many Boyfriends
Laura: Spiritualized
Richard:Green Day and Nirvana and the Ramones. What 13 year olds still listen to?
Tom: Blink 182 and Sum 41, what the hell else was I going to listen to in 2003?
Dan: Deftones
North Atlantic Oscillations
It was the debut album by The Doors. I had just seen a concert performance of 'Light My Fire' on TV, and it blew my brain out the back of my skull. It was the first time I became aware that music far, far more than just pleasant noise. It could teleport you to entirely different environments. I bought every Doors studio album (on cassette, of course) plus all the bootlegs I could find, and listened to them more or less constantly when I wasn't at school. The Doors no longer affect me in quite that profound way, but other music does. Thank you Jim, Ray, Robbie and John.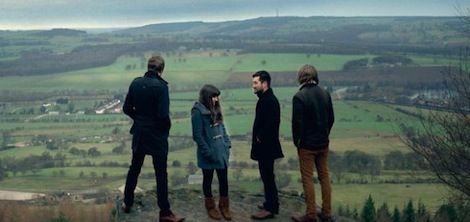 Ellen and the Escapades
James: Robbie Williams - I've Been Expecting You and Jamiroquai - A Funk Odyssey. I can't remember much about being 13 other than having blonde highlights and a quiff... a great look.
Ellen: Coldplay - Parachutes. I literally learned every song on piano and played them EVERY day!
Chris: Foo Fighters - One By One. It was the first proper album I bought around the same time I got my first guitar. Needless to say the two went hand in hand.
Jeff : The Red Hot Chilli Peppers - Californication. I remember seeing the video for 'Scar Tissue' and thinking wow this is cool.
Jenny Gillespie
I was listening to Little Earthquakes by Tori Amos constantly. There was a record store in my small central Illinois town called Appletree. My mom recognized I was a budding songwriter and asked the clerk what female artists were really interesting at that time. She brought home Steady On by Shawn Colvin, Fumbling Towards Ecstasy by Sarah McLachlan and Tori's album. All three completely electrified me and made me vow to follow in their footsteps.
The Wedding Present
I wasn't buying my own LPs at that age… so it was probably Frankie Laine's Greatest Hits which my parents had bought a couple of years before and which I played to death. I'm not a big fan of country music or anything but that record was all cowboy-like and cool… and he had such a great voice. It was actually quite a dark record, thinking about it...
La Sera
I was listening to The Shirelles, the Drifters, Iris Dement, Weezer, The Beatles, The Germs, NOFX and a lot of other totally random bands/singers. By the time I was 15, I was doing a lot more work to find more bands that were related to the bands I already loved. But at 13, I think I liked a lot fewer bands, and I liked them so much more intensely. Also, this was kind of before the internet, so I think that explains a lot. Music was a lot harder to find/research before I was 16.
Colours
I turned thirteen in 1998, the year that Neutral Milk Hotel released In the Aeroplane Over the Sea, The Beastie Boys dropped Hello Nasty and Sparklehorse put out Good Morning Spider. I wasn't cool enough to be listening to those records at the time and would not for a few more years.
For my birthday I received a walkman and, after inheriting the local paper round from my older brother, I was getting bored of listening to Big Willie Style everyday and had begun recording some of my dad's more guitar orientated music onto tapes as a remedy to the Fresh Prince. One of those tapes that I regularly popped into my walkman had the majority of The Beatles' Rubber Soul on one side and some of Abbey Road on the other. Both those records played a major role in shaping my musical future and Abbey Road contains both my favourite and worst Beatles tracks, I Want You (She's So Heavy) and Maxwell's Silver Hammer. I don't know what they were thinking when they wrote Maxwell's Silver Hammer, its a terrible, terrible song.
Mausi
Daisy: I was obsessed with Shania Twain, Destiny's Child and Shakira. Stuff that I loved to dance around to and sing into a hair-brush!
Benji: I was hooked with a mixture of Sum 41 and Linkin Park. I even formed a tribute Linkin Park band... Though none of us could play instruments at that time... I was the rapper. Yep. True story.
Ben: I was super into Eminem. I remember buying the Marshall Mathers EP on cassette and putting it on in the car on the way home from town... After a minute my mum turned the car round and made me go back and swap it for the censored version...
Pinkunoizu
Jaleh: Was listening straight forwardly to The Beatles, like most Danish tweens do. She was also diggin' a rather well known Danish pop group called Dodos and The Dodos. And apparently Cut'n'move (another local pop group).
Jakob: He was spinning his legs to the one and only king, Elvis Presley, and his somewhat schlager like double, Shakin' Stevens, singing along in a weird broken English: Danglish.
Andreas: Was diggin' through the library cd's, going for stuff like Charlie Parker, Pantera, Primus, Archive and everything else that reminded him of Portishead or Massive Attack. Oh and Radiohead and Beck started for him around this time too.
Jeppe: Oh my God, Jeppe was all about acid jazz, Nirvana, and occasionally death metal.
Vinyl Jacket
When I was 13 I was listening to Sing When You're Winning by Robbie Williams As a young teenager I was a football fanatic. In fact, like the majority of the other lads in Vinyl Jacket, at the time my life revolved around football. Sing When You're Winning was the first album that evoked an emotional response from me as it reminded me of waking up on a Saturday morning and playing the beautiful game. My dad introduced me to Robbie, and we used to religiously listen to his album on the way to training three nights a week. It was the first piece of music which made me realise that there was more to music than just listening to a collection of sounds but that it possessed an intrinsic beauty; the potential to stimulate a diverse range of emotions, bring people together and trigger forgotten memories. Listening to the album to this day reminds me fondly of the glory days.
Shortly after purchasing the album, I became obsessed by Robbie Williams and still to this day admire him as one of the greatest natural performers of his time. Sing When You're Winning went on to be the best selling album of 2000 in the UK selling 2.4million copies. From the album, 'Rock DJ' remains one of my favourite songs of all time and I continue to tear it to pieces at every opportunity presented in karaoke bars across the country. Long live Mr. Robbie Williams.