As a site we've only been in existence for three years (or thereabouts) but during that period we've interviewed a lot of bands. We wouldn't want to put a figure on it, but trust us, it would be high. With that said we've never really done more that one interview with the same band, but when offered the chance to interview
Thank You
again, we jumped at the chance. We caught up with Michael Bouyoucas to talk about his bands latest record, changes within the band and what they've been up to since we last interviewed them back in 2009.
How are you guys today? Enjoying 2011 so far?
Uh it's ok I guess. Hard to tell so far. The record comes out tomorrow [24th Jan] so I'm excited about that. I can't really speak for Emmanuel and Jeff but I think it's safe to say that we are all curious to see what will unfold for us as a band this year. I was bedridden and delirious with the flu on New Years Eve so I've had a weird start. 
I know we've interviewed you before back in 2009 (no lightning round this time, sorry). What's changed in the last two years for you guys?
So much. Two years is such a long time for a band. I feel like last time you interviewed us was a weird time for the band. We had our new drummer Emmanuel and we were touring a lot but on songs that he didn't write with us, so that was a bit awkward. Losing Elke really killed the momentum of the band and we had to slowly rebuild that with Emmanuel, which I feel took a really long time for all three of us to adjust to and figure out. Now, I feel like we've really achieved a perfect balance with each other and our respective roles in the band. I feel like that is definitely evident on the record. Lightning round is tight but I guess I'll do without this time.
How are you feeling about the new record?
I feel really good about it. I feel like we achieved something special with this one as far as the energy and mood it creates and I'm really proud of it. 
There seems to be elements of post-punk, krautrock, electronic all the way right through to leftfield all evident in your latest record, leaving a lot of reviewers speculating on influence behind the record. Musically speaking, what would you say influenced the writing process of this release?
This is a hard one to answer just because there was really no particular type of music we were all getting into. To be honest, I'm not even sure what the other guys were listening to when we started writing. I bought a computer last year for the first time and it immediately struck me that I had the power to listen to almost any piece of music I wanted. I spent a lot of time revisiting albums from my past and listening to everything I've ever been curious about, which was a lot. So I've probably listened to more music this year than I have in my whole life. My tastes were really erratic and scattered. Two things that come to mind are
Insight Modulation
by Zanagoria and
Prehistory
Circle X, but there were millions more.
Golden Worry is unusually short for an LP (only six tracks long). Was this a deliberate decision?
Not really, we never talked about it or made a specific plan but I feel like the three of us are fans of short records without filler. Maybe without saying it, that's what we planned to do. Plus I feel like we work with a lot of moods within the confines of one song so maybe it would just get exhausting if we had 12 songs or something like that. Most bands set a mood for a song then ride it out to the end, which is cool but we just write a different way. Our last album
Terrible Two
had five songs on it, so we've gotten a little further.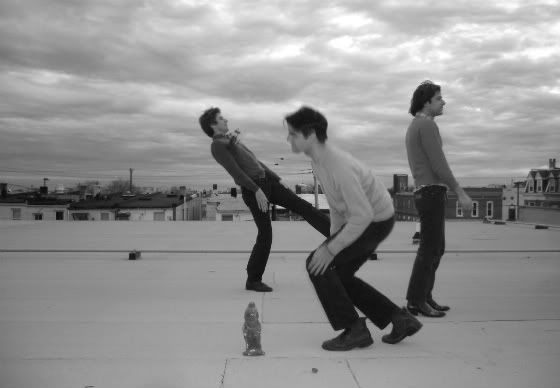 Would you say your sound has changed since Emmanuel replaced Elke behind the kit, and if so how?
Yeah.  BOOM A LOOM.
Your profile on the Thrill Jockey website comments on the influence of 'post-industrial Baltimore' as a creative factor in your writing. Do you feel your roots have played a big role in the music you write and record?
Yes. I don't think that's rare though. Living in Baltimore effects us as people for better or worse and what effects us goes into our music so they are definitely related. It's pretty unavoidable unless you are a band that lives to ape another band, but we won't get into that. 
This is your fourth release in five years, including your 2007 debut 'World City', which I think it's fair to say is fairly prolific by modern standards. How many more records do you foresee releasing in the current line-up?
Oh man that's cool to read. It's hard for me to think that way though. It seems like ages between the last album and this one. That said, as far as the writing and conceiving, after the first two songs we sort of picked up some momentum and everything became less strenuous and difficult. I hope we can continue that and keep improving. I couldn't even begin to look past the next record. I do feel like we'll definitely make one more. But who knows what it will be like or when it will come out. It's going to have to be different though. One thing I like about our band is that every record has a major of change in sound in it. I definitely want that to continue…
Are there any post-release touring plans lined up?
  Uh huh. We're touring the US in February on our own and a short tour in March with Future Islands. We should be touring Europe in May and we're supposed to be touring Japan but I'm not sure when that will be.
And finally, what releases are you guys looking forward to in 2011?
I'm hoping to hear a good new band or two while or tour but at the moment I can't really say.  I've listened to a few songs here and there from upcoming albums but nothing has really grabbed me yet. Maybe it's too early to tell? Sorry. I'll do better next time.
Golden Worry by Thank You is out now via Thrill Jockey