Venue:
Shoreditch Park
Photography:
Lewis Gibbs
Words:
Oliver Primus
Date:
26/07/09 A couple of years ago the 1-2-3-4 festival first set up camp in Shoreditch Park. It provided sunshine, pretentiously dressed Londoners and a collection of bands that spanned both sides of the music spectrum. So, two years later and the festival came back. This time it had bigger bands, a better setup and wasn't free. Was it better though? Lets find out. As we arrived at Shoreditch Park it soon came clear that much like the last festival, a lot of people at the festival would fall under the 'guest' category. I understand this is how most new festivals function but the guest queue looks longer than the normal queue, you've got to start asking some questions. As the day went on the situation didn't seem to get much better as the guest area was akin to sardines in a can. Free vitamin water or not, it's hard to stay in there for longer than 5 minutes without feeling a bit claustrophobic and silly.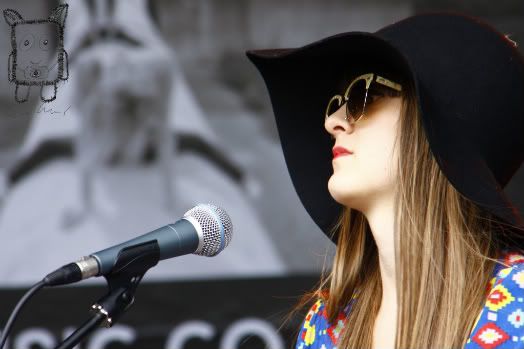 The fist band we saw, or hoped we were seeing (they were running late), was
Poppy And The Jezebels
. I'm not sure if it was a running theme in the bands we caught today but they all managed to seem a bit bored, especially these four ladies. All apart from the keyboardist, who seemed to enjoy every second of her stay on the main stage. Musically they come from the school of Indie-pop and although I wasn't overly impressed with the singers vocals, they were ok. Their final song 'UFO' was their most interesting song but mainly for the theremin portion.
We then headed over to the second stage to see
The Ruling Class
. They were cited as Stone Roses fans and blimey they showed it. Their music falls under the same sort of British Psych category, which was never something that interested me; I was always more interested in west coast American Psych. Even with that said, they were pleasant enough to keep my attention for most of their set and certainly came across as more interesting than most bands of a similar style. Next up we headed to the press area to have a chat with
A Place To Bury Strangers
.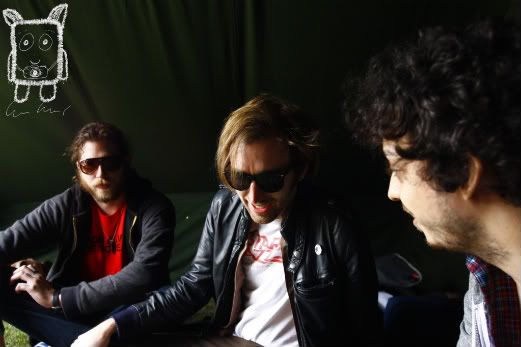 Basically we had ten minutes with the guys to chat about all manner of things and it went really well. They were really nice and Oliver Ackermann (Guitars/Vocals) gave some awesome responses to our questions. Unfortunately, the recording didn't come out at all. So as painful as it is, this is our condensed/from memory, recall of what went down.
How's today been?
It's been really good, we really love coming over to London and have quite a few friends over here.
How was Truck Festival yesterday and do you have anything like that where you're from (New York)?
It was a blast, the people are great and we love how it feels like it's been thrown together at the last second. In terms of festivals like this in New York, nothing really compares. They do put on free festivals in Central Park, though they're usually quite corporate.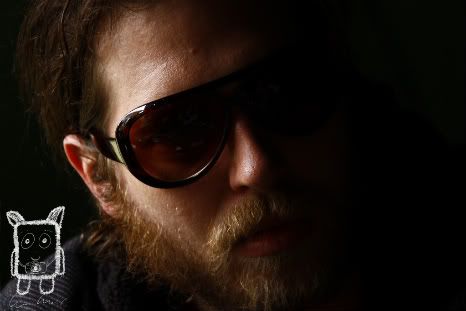 Are you excited to be playing Reading/Leeds Festival this summer?
Definitely, there's loads of great bands playing and we've never been before.
Is it as legendary overseas as it is here?
Yeah! There's so many great 'Live at Reading' albums out there and it's great to be a part of it all.
As a 'loud' band, do you have any issues replicating that live as a three piece?
Not really. In terms of sound engineers, as long as they understand what sort of band we are, it's usually not an issue.
You have a new album out soon, which we're not supposed to be talking about so we won't go into much but are you excited about it's release?
Yeah we're really excited, it comes out in October and can't wait for it's release.
What bands could you recommend for us?
Best Fwends. They're great.
You signed to Mute earlier this year. How do you feel about being on such a diverse record label?
It was an easy choice really. They're great people and have been really supportive for us. Plus the diversity is great. We feel really at home.
You must have had quite a lot of interest after the MGMT tour, right
I think it helped that we got that much exposure but it wasn't a massive thing ya know? We didn't have loads of people after us because of that but it definitely helps.
We recently had a debate on the site about graffiti and whether or not it's art or just vandalism and we wanted to get your opinion on the subject?
I think people that don't see it as art are ridiculous. Every single aspect of it is art. The New York subways used to look so good with it all. I'd like to apologise to Mute and A Place To Bury Strangers guys for the difficulties with the recording side of things and the fact that their in depth responses have been reduced to a few sentences. We would also like to thank Zoe at Mute for sorting the interview out and APTBS for being really nice guys. Back to business... Next up we saw the fantastic
Lion Club
. I think they were given quite a rather honest analysis in the free 1-2-3-4 booklet. "They are the antithesis of landfill indie culture and Hollyoaks guitar pop"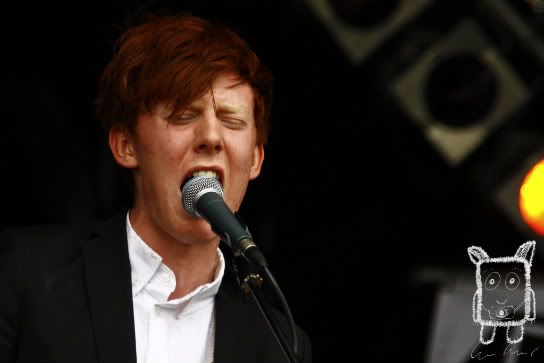 Spot on. They were dark, heart pounding and quite brilliant. I would thoroughly recommenced checking these guys out straight away. We then headed back to the second stage to see the most exciting bands of the evening,
Banjo or Freakout
and
Kasms
.
In about five years time when my hearing goes completely due to my love of music, Banjo or Freakout can claim about 40% of the blame. The Second stage was lout throughout everyone's sets to be honest but they took it to another level, which is astonishing considering they're a two piece. The drummer drummed like he was fighting to save his own life and the other guy was right behind him. It was intense, sweaty and 100% brilliant. Thanks guys, my ears are still pounding! They were followed by alt-punk band,
Kasms
, who spent the two songs that we saw them play, trying to match Banjo or Freakout's sound/passion level, which they just about did. As I said, we didn't stay around too long, but I can assure you I'll be checking them out soon. We took our final steps toward the main stage to check out the rather boring (mainly due to the vocals) Polly Scattergood. On record I quite like Polly but live it just didn't seem to work. Which is a shame.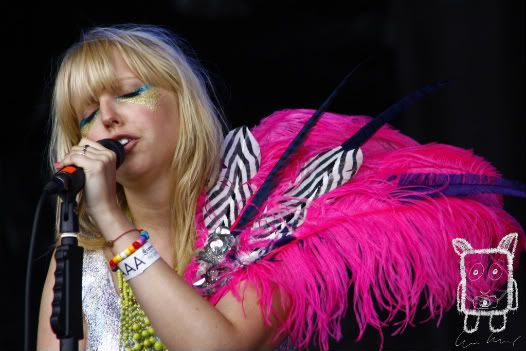 We then made our way to the press area to interview
Patrick Wolf
, but wait, he only wants to do an interview with NME and some other magazine. That's fair enough. It just makes my decision to not see you play even easier. You used to be good Mr Wolf, what happened? Due to unforeseen circumstances we had to cut things short. All in all it was an enjoyable day. On the surface of things it seemed like an improvement from the first year but in reflection I'm not sure it is. The first year was chaotic and it worked, whereas this year it was smaller and lacked depth. Longevity wise it might stick around for a few years but unless they form some sort of identity (which is lacking), their time will most likely get cut short.