What did you do this year to deserve this much great free music? What prayers did you implore to the rap gods to be granted with such blessed sonic offerings? Free quality music was dumped on us in excess this year, making it difficult to even keep up with.
Mixtapes mounted, surprise releases were welcomed and headphones worked overtime. December, the month where things finally slow down, is free time to spend reflecting on a 365 steeped in glorious synth, bass and bars that made up this year's incredible rap, grime and R&B offerings. We graciously accepted it all.
The 405's top 10 mixtapes of the year:
10. Lil B x Chance the Rapper - Free (Based Freestyle Mixtape)

Free is a collection of solely six playful freestyles - unwritten improvisations, not the reused and regurgitated sort now accepted and passed off as momentous - and in case you at any moment forget while listening, the words "off the top" are recapped nine times throughout the short release. While the project may have zero replay value and sputter under an influx of unfocused ramblings and shoutouts on every single cut, the organic nature of Free is its best trait. It surely isn't a project for the masses, but rather a gift dedicated to their highly loyal fan-bases, who know not to take the artists too seriously and will now understandably pine for another more official collaboration from the two.
Download: here.
9. G Herbo - Ballin Like I'm Kobe

For Lil Herb, growing up in the crime-ridden homicidal neighbourhood of Terror Town, Chicago produced alarming and life-lacerating revelations with which the young rapper eagerly packaged and delivered into a powerful blend of drill music; a hard yet honest sound soon elevating the teen spitter as one of the most lyrical and prolific drill artists on the Chicago scene with his acclaimed mixtape Welcome To Fazoland. But two years following the debut, Lil Herb has changed his name to G Herbo, signed to Cinematic Music Group and dropped his long-awaited mixtape, Ballin Like I'm Kobe in honour of his late friend, Jacobi "Kobe" Herron, who was gunned down in 2013.
Download: here.
8. Rick Ross - Black Dollar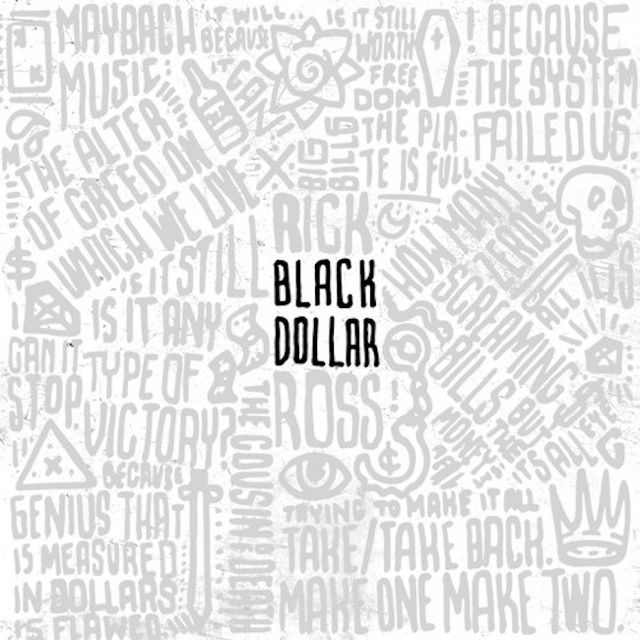 "This is the very best of the best. This is top shelf, the caviar of hip-hop," Rick Ross states at the beginning of 'Bel Air'. Although it may not be the best of what we've heard this year in rap, or even what we've previously been gifted from Maybach Music Group's 'hood billionaire,' Ross' first new project in a year is filled with prosperous luxury rap in abundance. As expected, production is fierce, welcoming long-time collaborators like J.U.S.T.I.C.E. League and Jake One to the boards, while Rozay's energetic baritone growls boastfully. Luxury rap for free - Thanks, Rick.
Download: here.
7. Kehlani - You Should Be Here

Tainted relationships and love lost offer pure and honest autobiographical colour for the Oakland singer's conceptual tape, filled with 15 quality emotional cuts. An impeccable contemporary R&B singer, Kehlani's eloquent sophomore body of work puts her at the top of the list as one of the year's most gracious young R&B stars.
Download: here.
6. Mick Jenkins - Wave[s]

Renowned as one of the most auspicious young lyricists on the come-up, the 24-year-old rapper's long-awaited nine-track mixtape is satiated with buoyancy and lively lyricism. It also signifies a shift in focus for the sensitive phenom, which his insistent fan-base may not have been expecting. After making a choice to take a break from the substantial concepts and social agenda of his acclaimed breakout tape The Water[s], Jenkins taps into a more sensory and experimental lane, gambolling with melody while undertaking newfangled relationship-based themes. Wave[s] is a strong indication that Jenkins is intensifying his sound and stepping away from expectancy as he prepares his debut album, The Healing Component. But in the meantime, he's established himself as an artist with even more to offer than predicted.
Download: here
5. Future - Beast Mode

Produced in full by Atlanta trap music maestro Zaytoven, Beast Mode is the first of the four projects Future has delivered this year. It came a little over two months after the release of animalistic mixtape Monster and two days after Ciara released her break-up anthem 'I Bet,' which brought the ex-couple's separation under spotlight. But the January release of Beast Mode is Future at his core of trap grit and lean-induced ramblings and a pre-lude to a year of double-cupped domination.
Download: here.
4. Tink - Winter's Diary 3

Winter's Diary 3 is a feature-free 10-track opus stacked with nothing but single-worthy contributions from Chicago rapper and singer-songwriter Tink, aimed more so at her R&B fans than rap revelers, although production from Timbaland, C Sick, DJ Wes and Cookin Soul still ensures ample bravado. Here, Tink's brilliance is found in the subdued balance noticeable in every piece of her artistry. Where there's edge, there's soul. Where intricacy intertwines, intimacy unravels. Maturity and youthful vitality coexist through love songs and break-up anthems, while gloss and smoke are components that make up the genre-blending artist, whose malleable range and broad appeal are products of skill rather than strategy.
Download: here.
3. Section Boyz - Don't Panic

These six MOBO award-winning charting grime stars from South London don't need the cosigns they've managed to collect. They don't really need rap peers like Skepta, Stormzy and Drake to hail them up, as their debut release, full of prosperous grime bangers like 'Lock Arf' and 'Trapping Ain't Dead,' is loud enough to make the world hear them on its own. With energy and charisma like the UK's version of Migos, slang, humour, aggression and ad-lib heavy hook-centric cuts collide with bass-rattling underground trap-grime hybrid beats.
Download: here.
2. Drake - If You're Reading This It's Too Late

The 6ix god has made it clear that it's a mixtape. It looks like an album, sounds like an album and thanks to the surprise roll-out, initially cost as much as an album - but it's a mixtape. A platinum mixtape. The first million-selling project released in 2015, in fact. Dark soundscapes from OVO producer-in-residence Noah "40" Shebib uplift the project of Billboard rap hits like 'Energy,' 'Legend' and 'Jungle.' But Drake's surprise release turned out to be a bigger surprise than expected this year, thanks to some now infamous tweets from Meek Mill and reference tracks featuring Atlanta artist Quentin Miller on 'Know Yourself,' '10 Bands' and 'Used To.'
Download: here.
1. Future & DJ Esco - 56 Nights

DJ Esco spent 56 nights in a Dubai jail for a marijuana possession charge during a trip to the Abu Dhabi Grand Prix in 2014, offering conceptual inspiration for the mixtape of the year. Future Hendrix, standing alone with no guests throughout the 10-track trap opus, delivers potent drug-centric storytelling, fumbling flows and trap gold on 'Diamonds From Africa,' 'No Compadre,' and 'Trap Ni**as,' over production provided by 808 Mafia. Rap's most glorified banger of the year, 'March Madness,' only further advances the release beyond any of the year's contemporaries. Here, the #FutureHive was formed and still, Future reigns.
Download: here.