Out of Focus
We all know that famous saying 'a picture is worth a thousand words'.
Nowhere has it been more true than at Out of Focus, the new photography exhibition at the Saatchi – wall to wall of mounted stories, each enclosed within four-sides.
Containing works by an assortment of artists, it's a walk-in wardrobe of colourful tales – all ready and waiting for you to slip out of your daily life and into something a bit more intriguing.
Here are a few multi-coloured stories from the exhibition that I tried on for size….:
Katy Grannan's polished portraiture of the not so polished – figures flaunting their imperfections shyly, staring nervously back into our perfection-obsessed eyes. These subjects are sheened to almost eye-dazzling brightness – smudged lipstick stains and haphazardly positioned head scarfs boldly screaming. Each stands in front of a whitewashed wall, some wincing at the California sun while we wince at their wrinkly knees and unbrushed hair. En masse this motley crew gather round viewers, including us in their world, showing up our own imperfections and making us realise - aren't we part of the same world too?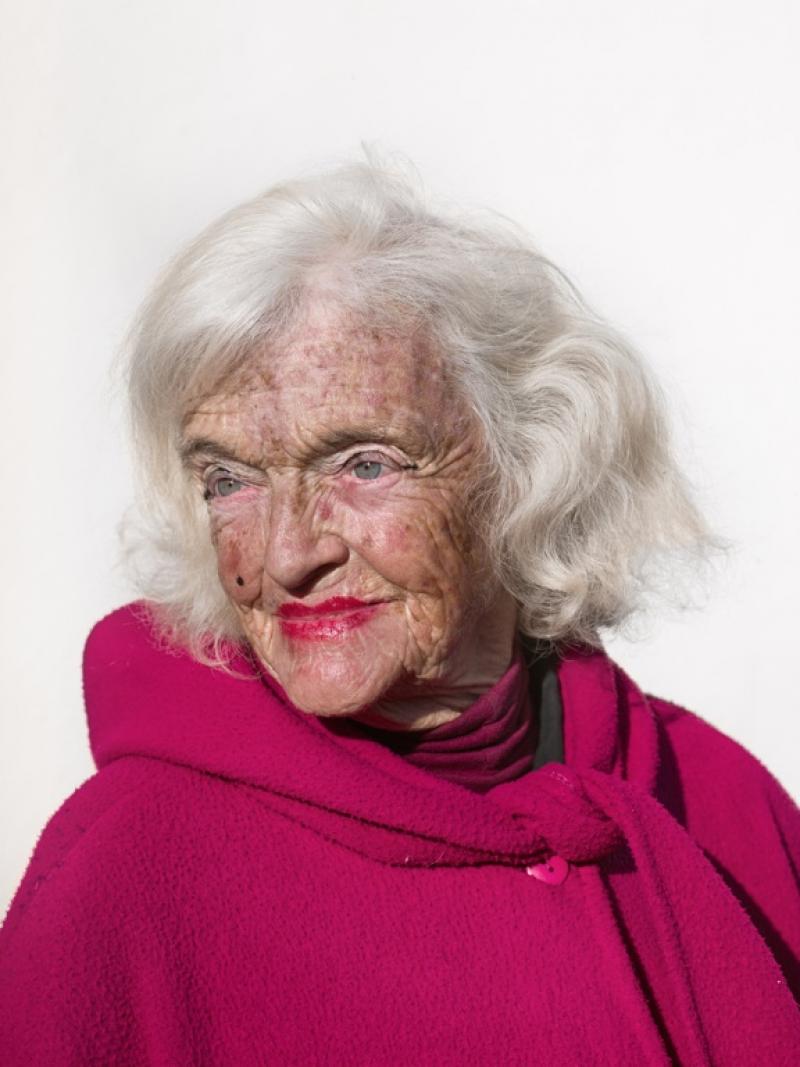 Katy Grannan. 'Anonymous, Los Angeles, Boulevard 11'. 2009/ printed 2011. Archival pigment print on cotton rag paper, mounted on Plexiglas, 139.7 x 104.1 cm. Image courtesy of the Saatchi Gallery, London. ©Katy Grannan, 2009.
According to A.L. Steiner, 'Queer is the New Black.' A wall of women – breast outs, mouths opens, legs apart – here is woman-kind shoved in our eyes like the latest print in Primark that you've seen dragged through a priceless piece on the catwalk, a £90 dress in French Connection and crop-top in H&M, before finally facing its death in fashion's graveyard – used up. Steiner's title hints at Sapphic celebration and overcoming gay prejudice. Facing this work head on however, what grabs the viewer is an overarching femininity – and perhaps a fierce retort in the face of sexualisation of women – "You wanted women laid out on a plate for you – well take them then, in all their stark, raw glory."
A.L. Steiner. 'Queer Is The New Black'. 2008. Portfolio of 77 C-prints 33 x 48.3 cm each, Overall size: 216 x 280 cm. Image courtesy of the Saatchi Gallery, London. ©A.L.Steiner, 2008.
That hastily took passport photo, the hurriedly snapped graduation photo – imagine walking into a gallery and those forgotten moments were blown up and plastered on the wall for all to see. Or how about that once-cherished image of your ex, which you ripped in two to match your achy breaky heart. A rip, a tear and it's the end of the affair. Marlo Pascual's fragments of long lost pictures are enlarged, mounted and shoved lurchingly into the present day, becoming personal to all in their impersonality. As we eavesdrop on these discarded stolen moments we become their new owners, chucking our memories on to them until they are unrecognisable…
Marlo Pascual. 'Untitled'. 2010. Two digital C-prints, Mount: Plexiglas, sintra 78.1 x 182.4 x 12.7 cm. Image courtesy of the Saatchi Gallery, London. ©Marlo Pascual, 2010.
Out of Focus is on at the Saatchi Gallery, Sloane Square until July 22nd...If you need a little focus and perspective then take an amble on down…
The FOTO8 Summershow
Want to be the one TAKING the images? If you think you know what makes a good photo then how about putting your camera where your mouth is and entering this year's FOTO8 Summershow?
FOTO8 People's Choice 2011, James Morgan.
FOTO8 Runner Up 2011, Antonio Olmos.
FOTO8 Winner 2011, Luca Sage
The UK's only open-entry, annual photography show is set to explore how we live today, and how we view the world around us. However you choose to take your snap – from smart phone to swanky professional equipment, your submitted image could tell a tale, create discussion or simply a evoke a feeling. 150 images will be chosen to go on display from July 7th at the newly refurbished FOTO8 Gallery.
A panel of renowned experts will be on hand to pick the winner. Photography boffins in the judges seat include: BAFTA award winning artist/photographer Alison Jackson; documentary photographer Simon Roberts, UK photo historian Gerry Badger, the BBC's director of online photography Phil Coomes and Ossian Ward, arts editor of Time Out.
The winner will be announced at the FOTO8 Summershow party on July 6th and the chosen winner will receive a whooping a £2,000 prize – definitely enough to trade the disposable camera in for something a bit niftier! Displayed images will also be up for the People's Choice Award – exhibition visitors will vote for their favourite photo and the winner will be announced two weeks before the close of the show.
Jon Levy, FOTO8 Founder and Co-Director, says the aim of the competition is to create an exhibition that holds 'a mirror to society'. The final deadline for submissions is this coming Tuesday 15 May so get entering for the chance to be the fairest of them all! For more information, and to enter, click here.
FOTO8 Show opens is at the FOTO8 Gallery from 7 July to 18 August 2012 at 1 Honduras Street, London, EC1Y 0TH www.foto8.com.
The best of the rest – The 405 pick on where to point your camera, so to speak…
Zoe Lennord – Observation Point
Baffle your eyes and muddle your senses as a gallery is transformed into a camera obscura. Daylight filters-in through a lens, projecting an image of the world outside onto the floor, walls and ceiling, creating a spatially immersive experience. Camden Arts Centre, Arkwright Road, Hampstead, NW3 6DG www.camdenartscentre.org
Resistance – Subverting the Camera
Drop by The Fine Art Society for some more visionary tomfoolery. How do you take a picture without a camera? This is the place to find out… The Fine Art Society, 148 New Bond Street, London W1S 2JT www.faslondon.com