Greetings fellow art fiends. I don't believe there's yet been an update about the course that our art coverage is taking, so here it is. I know that quite a few of you take an interest in this because the art digest gets a lot of views each week, which of course makes me grin. So firstly, thank you for taking the art coverage seriously in spite of the main part of the site being music. However, you'll notice that there has been a bit of favouritism towards new media. London-based new media at that. It's great if that's what you enjoy reading about, but it's not for everyone, so do please let us know what you would like to see more of at 405art@gmail.com. For now, we've got one of our fantastic new contributors, Ilana Conway, telling us about Yayoi Kusama's current exhibition at the Tate Modern. And then some. Best wishes to you all.
Will - Art Ed.
Last Chance to See - Yayoi Kusama Exhibition – Tate Modern
There's not long to go until the dottiest exhibition around dashes off. Ilana Conway dives head first into a sea of pattern…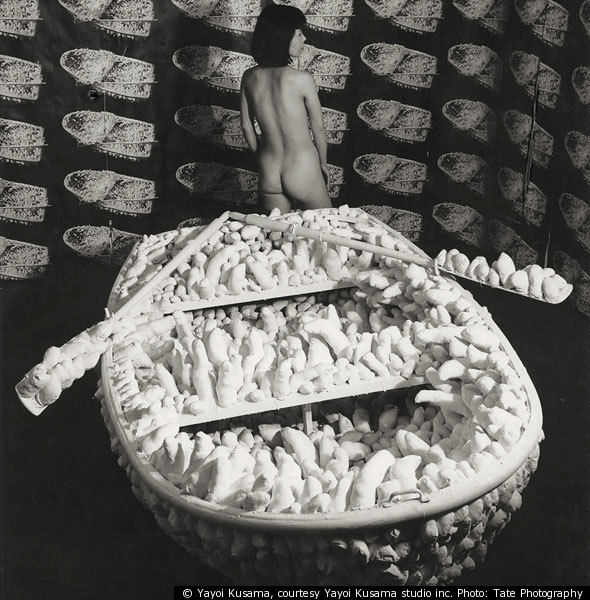 Yayoi Kusama. Kusama posing in Aggregation: One Thousand Boats Show 1963 Installation view. Gertrude Stein Gallery, New York. © Yayoi Kusama and © Yayoi Kusama Studios Inc.
The prettiness of her early abstract works on paper, the hypnotic calm of her infinity net paintings and the breath-taking beauty of her later room-sized installations - view any of Yayoi Kusama's works in isolation and a part of it is sure to stay with you long after you turn your head away. Viewed chronologically however, in the Tate Modern's retrospective of the famous Japanese artist's work, we are led on a journey towards a sense of completion – following Kusama on her path to what she has referred to as 'Self Obliteration.'
As the exhibition gets set for its final push, there's just about enough time to get yourselves on board a shape-shifting ship sailing through Yayoi Kusama's career.
It's a voyage which starts in Japan and wends its way back again via a good few eye-dazzling landmarks. Jump on board….
Paintings on seed sacks in a provincial town outside of Tokyo, and delicate paper works of abstract natural phenomena – these are where it all began. Despite Kusama's resulting acclaim from these early works, she soon left Japan in search of greater freedom. Make sure you give these a good few bats of the eyelashes before taking flight too.
Meditation mounted on a wall – Kusama's Infinity Net paintings are hauntingly empty of colour yet crammed with texture and pattern, built up through repetitive scalloped brush strokes. Does it lull you into a deep, meditative state or bore ya mismatching socks off? You decide…Either way we're swimming swiftly on….
Yayoi Kusama. Installation Shot - 'Infinity Nets (White)', 1959. © Yayoi Kusama Gael and Paul Stoffel, Dallas. Courtesy Neal Meltzer Fine Art. Photo credit: Lucy Dawkins/Tate Photography.
Be sure to jump off at our next landmark - Kusama's Accumulation sculptures – surreal models of everyday objects covered in repetitive shapes – internal obsessions played out nightmarishly before our riveted eyes. We'll sail through Kusama's immersion in the cultural upheaval of America in the late 1960's, taking in her discovery of an audience in the revolutionary hippies who embraced her performative experimentation. On to 'I'm Here, but Nothing' – a haunting room-sized installation. It's an image of domestic bliss – sofa, TV, tidily set table. But something's awry – polka dots plague our vision. Strangely we soon normalise to their gentle pattern. Kusama is immersing us in a world of dotty obsession – where her hallucinations twist her view into endlessly repeated forms. Blink and they're still there – and in the semi-darkness, so, just about, are we.
Yayoi Kusama. 'I'm Here, but Nothing', 2000/2012. © Yayoi Kusama. Photo credit: Lucy Dawkins/Tate Photography'.
Our ship stops at its final call – and we step tentatively behind the ominous dark curtain, to be greeted by dazzling lights shining out of the haunting blackness. Thousands of fluorescent dots, swiftly changing from pale blue and purple through to red and green, pink and orange…. We can barely see ourselves for the mass of lights.
It's as though we've joined Kusama in her obliteration – from placing herself at the centre of her work, we have travelled to a place where we can no longer be aware of where we end and where the rest of the world begins. However, in this dazzlingly lit darkness total loss of self is not darkness – it is not a complete lack of our surroundings – it is an extreme acceptance of them – the world around us heightened into dots, dashes, squiggles – hyper-reality.
Yayoi Kusama. Infinity Mirrored Room - Filled with the Brilliance of Life, 2011. © Yayoi Kusama. Photo credit: Lucy Dawkins/Tate Photography.
It's amazing how much beauty and light Yayoi Kusama has produced in her path to obliteration – a word which would usually conjure up ebony images of darkness. Her 60 year career isn't exactly the stuff of fairy tales – in fact it's riddled with countless moments of madness and peppered with political upheaval – but what emerges is a similarly picturesque story that's unlikely to be forgotten.
The Yayoi Kusama exhibition at Tate Modern ends June 5 2012 See www.tate.org.uk for more info
Other 'Catch 'Em While You Cans' – the 405 pick of what not to miss!
Tainted Love
Fantasy, desires, longing and heartache – no we're not talking about the next Bridget Jones film, but rather Corinna Spencer's exhibition of lovestruck obsession. Visit now or forever hold your peace….
On until May 27 at the Transition Gallery, Hackney www.transitiongallery.co.uk
Clerkenwell Design Week
Clerkenwell's having a party – and you're invited! From May 22 – 24th, participating showrooms in the area will throwing open their doors in celebration of the annual arty knees-up that is Clerkenwell Design Week. Get set for talks, workshops, parties and special events. And it's all free!
22nd- 24th May 10 am - 9pm
Various venues around Clerkenwell