This past Thursday, the
StolenSpace
art gallery in Brick Lane,London was proud to present Californian artist and icon of the current pop art scene,
Jeff Soto
, in his inaugural UK solo exhibition "The Inland Empire".
The405
were in attendance to catch up with Jeff (Read the exclusive 405 interview with Jeff here) and check out the exhibit! "The Inland Empire" was a politically charged exhibition focusing on the theme of recession in the area in which the Soto lives and how it reflects what is happening all over the world. The show featured over twenty new paintings on wood panel. The opening also saw the release of an exclusive limited edition hand pulled screen print with Soto also signing copies of his newly published book "Storm Clouds".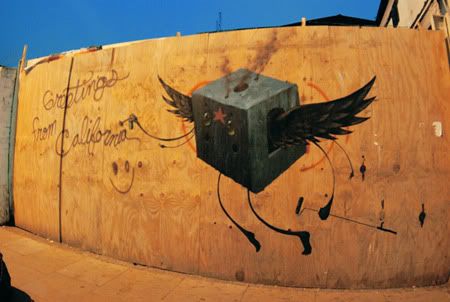 Visually Soto's style is inspired by science fiction, childhood toys, the colourful lifestyle of skateboarding and graffiti, hip-hop and popular culture. Filled with symbols of life and death- flowers, skulls, greenery and dead weeds. Military hardware, bombs, planes, and guns make an appearance. Landscape is also important, in particular the desert like rolling hills of the Inland Empire interspersed with oil well "grasshoppers" and telephone poles reaching into the distance. The "eye candy" colors and objects draw the viewer in to a deeper, more serious subject matter.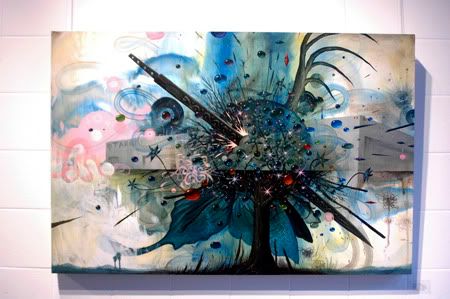 Environmental issues also take precedent for Soto, who is concerned with conflict of humans trying to harness, or take advantage of nature. His paintings exude this tension, as robotic creatures duel, organic tentacles and flower bouquets thrive, and black smog looms amidst floating, ominous skulls.
StolenSpace
put on a really awesome and organized exhibit, managing to transform the close nit,white washed gallery environment into a busy an attentive setting, granting Jeff Soto's work the attention it truly deserves. Kudos would also be in order for the free alcoholic spread that was also on offer; further proof that beer and art go hand in hand! Check out more of Jeff Soto's work by clicking
here