Hey this is Babak from Wet Paint, I'm currently sitting here trying to work out what interesting things I can tell you about Wet Paint. We've finally got our second record ready to share with everyone which is quite an achievement as over the past two years we have become masterful multitaskers, starting labels, setting up studios playing in other bands, holding down jobs, I'm gonna stop there before I get tired thinking about it all.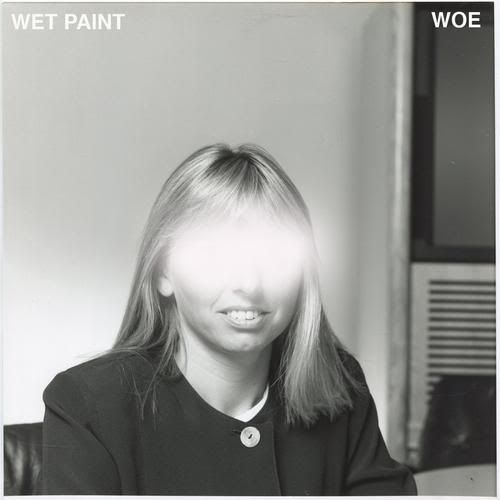 Listening to:
I help run our label and there is this band from Leeds called Wonderswan and we are hoping to put stuff out for. Anyway they sent me a couple of new tracks and I have had them on constantly. There is this amazing lo fi sound which I crave from my youth. It's whatever made Slanted and Enchanted sound like an accident, It turns out these things are never an accident. Another band who I love at the moment and who share this sort of innocent sound is Dignan Porch, their records remind me of my old 4 track tape recorder and the actual magic found in putting two tracks on top of each other. That makes them sound like amateurs, they are not, they are awesome, and I'm really jealous of bands who can capture that sound.
Reading:
They say never judge a book by it's cover so I tried to follow that rule and skirted around Michael Chabon books for a while...maybe even a couple of years. The I realised life is short and I can just part with £8 and not spend accumulated hours thinking about maybe buying a book. What swung it was that he wrote a book called 'Manhood For Amateurs' it's short stories about being a Father a Son and a Husband...I'm the first two of those things and so I've take this on as my male self help companion. It's funny and insightful, and the cover is good. I've also been trying to rewrite a comic book I wrote last year called Hilarious Consequences into script form and so I've been reading lots of screenplays...Fargo, Welcome to Dollhouse, Happiness, Your Friends and Neighbours, you know really depressing scripts that will bum you out.
Watching:
The last things I watched that really got me where Eastbound and Down and Breaking Bad, though they are now old news I suppose. I could never turn off 30 Rock or Arrested Development, I'm a bit of a sitcom junky really. I think I could sit through any sitcom. However having a little boy most the TV shows I watch are on cbeebies and I can tell you know it's all about Octonauts. Rastamouse came out of nowhere but I feel like that was made to get students into CBeebies. You can't fool a three year old.
Eating:
Hmmm I'm eating everything, I can't help it. It's probably safer that way. Anytime I try and eat less or be more healthy it backfires. Like yesterday in an attempt to avoid meat I made a seafood lasagna, (I said meat not fish...) anyway this was supposedly to be a healthy option, but it took up a pack of cheese, and it turns out cheese is all fat.
Promo Info:
Our album
Woe
came out this week!