CHRISTMAS. By now you've probably seen your first Christmas advert, you've been hearing about it for about a month already and thinking about it since January this year. It's Christmas soon and a large portion of this means presents, or let's say gifts, but it's not often the easiest thing to do. Sometimes, if not most of the time, it's a last minute rush with a desperate trawling of all online outlets for something that's a) still in stock, and b) deliverable before 25th December. Aiya… what a trauma.
However, we feel your pain and the pain of millions worldwide in situations like this, so we're hoping to make things a little easier, or at least give you a serving of inspiration. It comes in the form of this selection of gift ideas that range from oddities to practicalities, from clothing to music-related items, and from wow-they'll-love-this to I-love-this-but-it's-Christmas-so-I'm-getting-it-for-so-and-so-instead. Start making your lists, checking them twice, observing your bank account closely, and don't forget to send your Christmas cards because it's nice to get something through the post instead of opening a flippin' e-card.
Disclaimer: all items featured in our gift guide were either requested by The 405 to review, or pitched to us. Nobody has paid to be in the guide, and not all items sent to us have been included. The prices we've listed are subject to change.
Kendrick Lamar's To Pimp a Butterfly on Vinyl • £23.99 • Buy • Website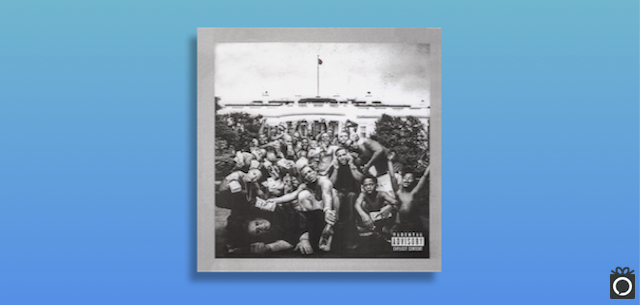 Given the massive delay in production, and the nature of the album (the year's best, surely?), there's a good chance you might have to fight for a vinyl copy of Kendrick Lamar's most recent masterpiece, To Pimp a Butterfly. But hey, pretend you're Arnie in Jingle All the Way and make a game of it. Just stay clear of the postman.
Every single bag from the Topo website • £Various • Buy • Website
Topo Designs is a company based in Colorado with an impeccable track record for creating bautiful backpacks, bags, and apparel. We can't really speak on the apparel too heavily, but we were lucky enough to be sent the newly released Topo Designs x Chaco Rover pack, which is absolutely perfect. Comfortable, beautiful and practical. The fact that this will make you want to step away from your computer and climb a mountain says it all. We're in love.
p>
PowerUp 3.0 • £39.99 • Buy • Website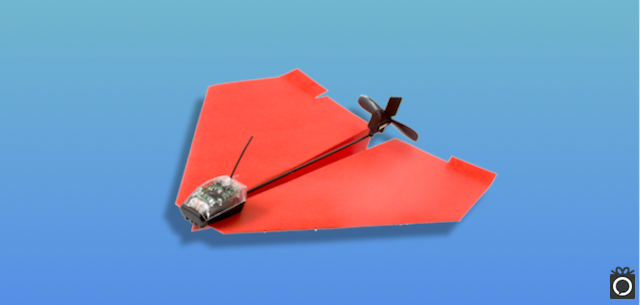 I spent a great deal of my childhood in Kilburn competing with my cousins to create the perfect paper airplane. We used to go to the top floor of my grandma's house and launch them out of the window, often to the confusion of the neighbours. I was a promising up-and-comer, always putting innovation ahead of a consistent score; should I put a cut in the tail? Should I add some blue tack to the nose? This was before the internet was a thing, so all we had were our imaginations and playground myths ("Davey's cousin created a circle shaped plane that flew a mile") to inform our tweaks. Well, it's 2015 and paper airplanes are still made out of paper (duh), but now, thanks to PowerUp, they come with motors that you can control with your smartphone. A paper airplane that you can control. Read that back. This is not a dream.
Hunger Makes Me a Modern Girl by Carrie Brownstein • £16.99 • Buy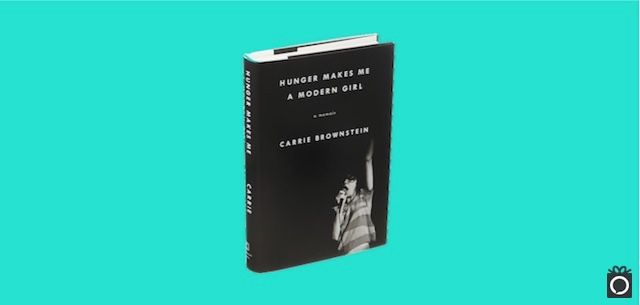 Hunger Makes Me a Modern Girl is a memoir by Sleater-Kinney's Carrie Brownstein, and it's probably the best music-related book of the year as far as we're concerned. It's touching, honest, engaging and passionate - showcasing the life of an incredibly interesting and important artist, all in her own words.
Bang & Olufsen BeoPlay H6 • £329 • Buy • Website
Bang & Olufsen know what they're doing, don't they? The name comes with a guarantee of quality that not many can provide, especially in such a consistent manner. The BeoPlay H6 are comfy as hell, they sound great, and they look pretty lovely too. There's really not much going against them at all. If you're looking to treat yourself, or a music-loving friend/loved one this Christmas, look no further.
Sennheiser Urbanite XL Over-Ear Headphones • £199.95 • Buy • Website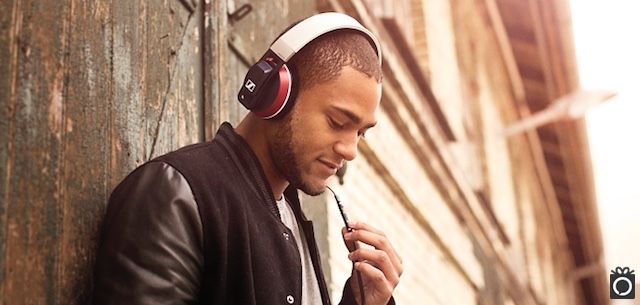 Finding a pair of headphones that sound great across the board is extremely difficult. In fact, most headphone companies are quick to let you know what type of music will sound best with what model - so consider this a warning: Sennheiser's Urbanite XL range is for fans of "intense club sounds" and "massive bass", which is exactly what you'll get if you opt for these.
D-Link Home Music Everywhere • £54.99 • Buy • Website
The D-Link Home Music Everywhere plug allows you to stream music from any smart device or computer straight to any connected speaker. Essentially it turns your old ass stereo into a fully-fledged wi-fi speaker - which is extremely handy. Plus, it doubles up as a wi-fi extender, which is great for all those dead spots in your house (for me, that's the kitchen). It's a simple idea done well. What more could you ask for?
Smart Herb Garden Starter Kit • £49.99 • Buy • Website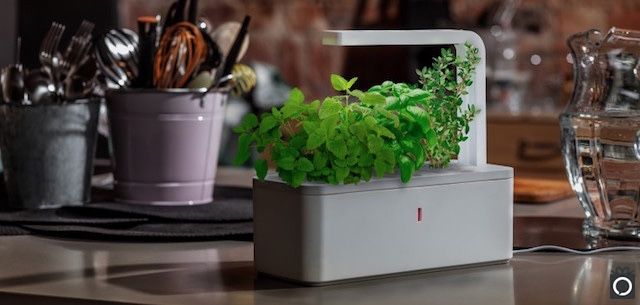 I spent my summer trying to grow various vegetables, and to mixed success. The thing is, I like the process but not so much the upkeep. I'm also a tech addict, so this Smart Herb Garden really appeals. You plug it in, add water and then walk away. It uses "innovative NASA-inspired technology that help the herbs naturally grow faster - with no GMOs, pesticides, fungicides, insecticides, plant hormones, or any other suspicious substances. It's nature at its purest." Intrigued?
Lotoo Paw Gold • £1,499.99 • Buy • Website
Ok, so it might be a bit on the expensive side, the gold is a bit crude, and it sort of looks like a gadget you'd expect a surveyor to carry - but the Lotoo Paw Gold portable digital reference level audio player is probably our top pick for 2015. Hands down it's the best sounding DAP we've ever heard. Seriously - we threw everything we could at it, and it performed incredibly - providing us with warmth across the board. Plus, it's super heavy and will make you feel important when you carry it around.

FUGOO Sport - Bluetooth Speaker • £169 • Buy • Website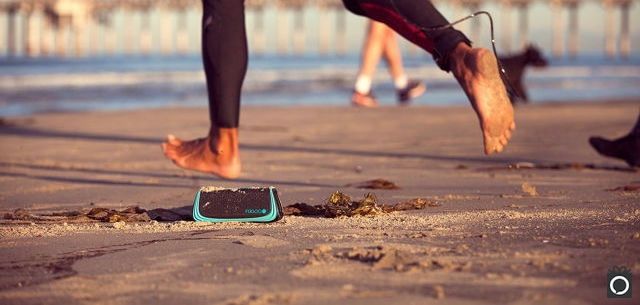 This waterproof, 40-hour battery capacity, 360° sound bluetooth speaker is for people that like to listen to music out in the open, but don't wanna worry about their reckless friend destroying it by throwing it against a wall in a drunken haze. It's one hell of a tough speaker, and sounds really good too thanks to the six drivers packed inside its case.
Little Dot MK9 • $459 • Buy • Website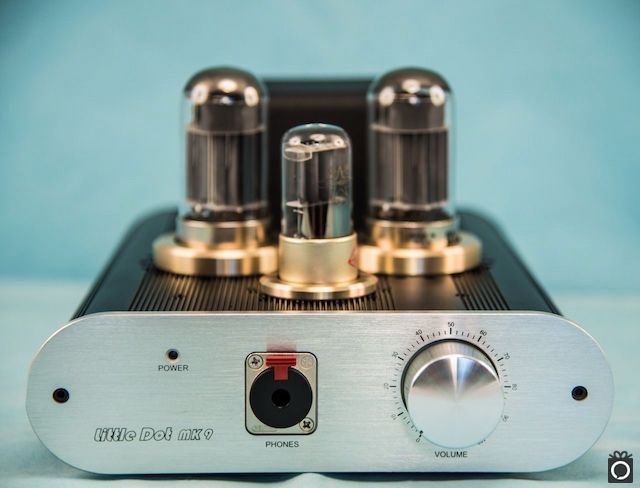 If you want your music collection to have some soul, some actual warmth, then look no further than the Little Dot MK9. It's a vacuum-tube based headphone amplifier and stereo pre-amplifier, which provides stunning results, and looks immense (seriously, it's massive). One of the best things we've tested this year.
Avea Bulb • £19.99 • Buy • Website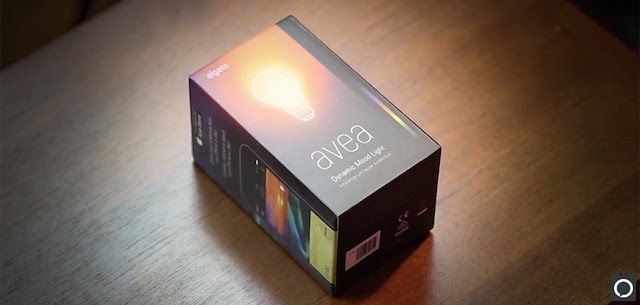 I suppose you could file the Avea under 'things you probably don't need, but will have fun using' - which isn't always a bad thing. It's a bluetooth lightbulb, which you can control with your smartphone. Rather than dealing with the standard yellowish hue that currently surrounds you, at the touch of a button you could transform your room with cozy flames, or northern glows. Go on, you know you want to give this a go.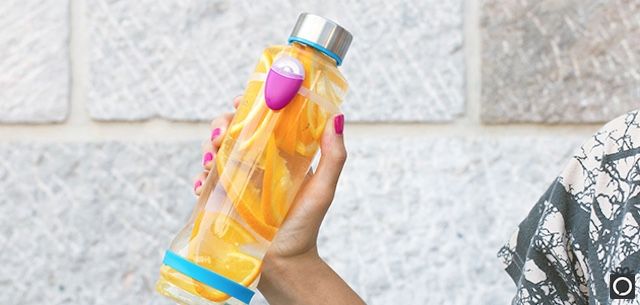 Ulla tells you when to drink. I know that seems silly, but no matter how much water you're drinking in a day, it probably isn't enough, and Ulla is here to change that. You attach it to your favourite bottle/cup/mug and it will remind you throughout the day to drink using a flashing light. It's simple, but massively essential. Don't believe us? Enter our competition at the bottom of the page and find out for yourself!
Tacopedia • £19.95 • Buy • Website
We've not actually read this book, but the fact that it claims to provide you with "everything you need to know about the taco," and features "100 authentic recipes adapted from the Mexican best-seller from fillings and tortillas to salsas and sauces," makes this an essential purchase.
Bleep Bleeps - Sammy Screamer • £ • Buy • Website
Much like the Ulla above, the power of the Sammy Screamer lies in its simplicity. It's a movement sensor controlled by your smartphone - so say you wanna make sure nobody looks in your wardrobe, you could put the Sammy Screamer on the handle, and if someone tries to open it, they'll treated to a loud noise, and you'll be be notified on your phone. Cool, right? Bleep Bleeps' focus might be on smart parenting, but this could be applied to many different situations outside of that sphere.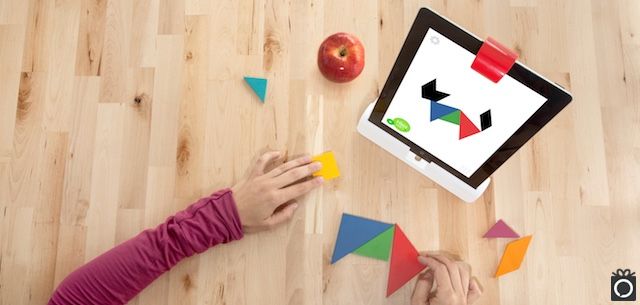 This is for anyone with tech-hungry kids. Osmo turns your iPad into an interactive projector of sorts. Using the iPad's camera, and a specially fitted mirror, the surface in front of the tablet becomes a playing field, making certain games (five in total) interactive. It's an incredibly clever device, and certainly better than letting them play GTA.
Everything from Dan Lacey • £Various • Buy • Website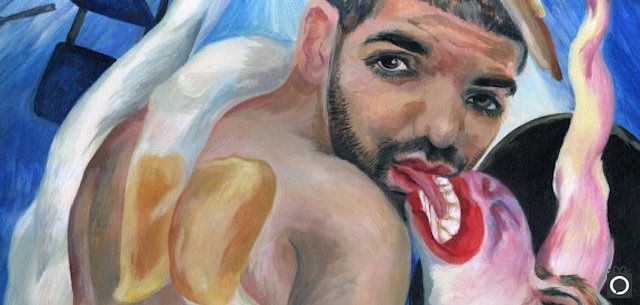 Dan Lacey is an artist. A very strange artist. He likes to paint pictures of celebrities in dreamlike/nightmarish scenarios, usually involving a heavy does of nudity. Ever wondered what Kanye would look like in the nude, with a stack of pancakes on his ass, riding a unicorn? Lacey is here for you.
Tanner Goods: Leather Slipmat • $60 • Buy • Website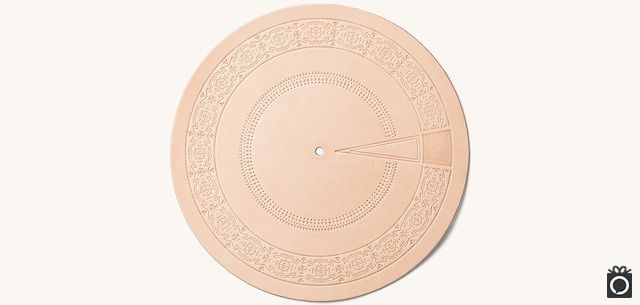 Just look at this thing. It's like looking at unearthed gem from the Aztec period - but with modern day properties (it apparently has less static and dust than usual slipmats, and "exceptional sound dampening") But just look at it. Beautiful.
Never underestimate the power of a good subscription. Seriously. With Mubi providing the incredible films, Vinyl Me Please sending you beautiful vinyl, and Stack expanding your horizons, picking just one will be the biggest decision you'll have to make.
You know those removable, silicone tips that come with earbuds? They're all trash. They're not particularly comfortable, they're awful at noise cancellation, and they're doing your headphones a disservice. Thankfully Crystalline Audio have solved the problem by creating Crystal Tips - a memory foam style tip which moulds to the shape of your ear, providing you with a secure and comfortable musical experience. Easily the best #10 you'll spend this year.
Roku 3 • £99.99 • Buy • Website
The streaming media market is pretty fierce right now, especially with Apple's latest sleek-as-hell update to their TV range, but taking everything into consideration, Roku 3 might be the best option out there. It's fast, it's got a motion-control remote (which you can plug headphones into for private listening!), and it's easy to use. What more could you ask for?
Lenco: BT-125, L-175, Playlink • £Various • Buy/Website
When we spoke to Lenco about our Gift Guide, they rather kindly agreed to send us a few products to test out. A week later, a massive crate of gear turned up - the best of which we're about to talk about. The Playlink is a wireless multi-room system that plays out like a cheaper Sonos without many compromises (a great entry-level system). The BT-125 is a 3D Sound cube, comprised of 6 HiFi speakers and a subwoofer. Yep - it's got enough power to drive the rowdiest of parties. Lastly is the L-175 (seen above), which is direct drive glass turntable, which looks beautiful, and provides a pretty great listening experience at a relatively reasonable price. Plus, it has a USB port, which might come in handy if you wanna burn those dusty vinyl records you picked up real cheap from Oxfam.
Bluelounge: Sanctuary 4, Kosta, Mika • £Various • Website/Buy
Bluelounge's tagline is 'simple solutions for everyday problems', which seems to be a recurring theme in this Gift Guide. Out of everything they sent us for review, Sanctuary 4, Kosta (seen above), and Mika stand out as the best of the bunch. The Sanctuary4 is a multi-device charger with 4-amps, so that you can charge up to four devices at once. It also doubles up as a tablet stand, which is cool. Speaking of tablet stands, the Mika is a minimalistic stand which doesn't really need much explaining. Lastly, we've got the Kosta charging coaster for Apple Watches. We're not sure if it can be used as a coaster for your morning coffee, but I guess you can find out for us as we're giving one away! Just use that widget at the bottom of the page. So there we have it, three beautifully simple products that will make your life a tiny bit easier. Mission statement complete.
Aurender Cast-Fi 7 and Flow • £ • Buy / Buy • Website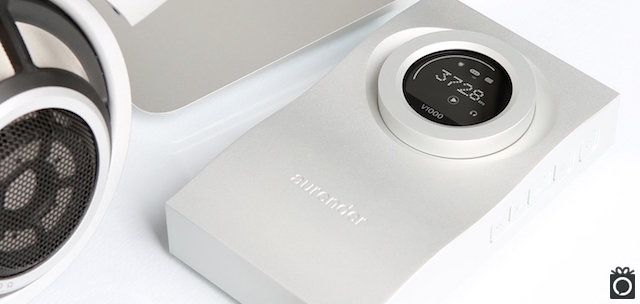 With tablets of all shapes/sizes/prices readily available, surely a product like the Aurender Cast-Fi 7 is a bit of an oddity? Perhaps, but the fact that it sounds so great (and it really does) pushes it towards the external speaker market, but with the added edge of having a screen. Plug in a Wi-Fi HDMI dongle (Chromecast, Roku etc) and you've all of a sudden got access to a million apps. Hell, use the Spotify app and treat it like a small jukebox if you want. A different story for Flow (pictured above) though. It's a portable DAC and headphone amplifier capable of playing up to 32bit/384KHz PCM and DSD128 (DoP), and has no concerns over its identity. It's here to improve your day-to-day music listening experience, and it does that more impressively than any other DAC/Amplifier we've tested. An audiophile's dream.
Duo Coffee Steeper • $99.99 • Buy • Website
We love coffee here at The 405, so we were pretty excited to receive the second generation Duo Coffee Steeper recently. What makes it so special, other than the impressive design, is the dual filtration process - which ensures your next hit is smooth and gunk-free. It's a relatively bulky product, but you won't care once you taste your first cup. Plus, it makes a killer Japanese-style iced coffee. What more could you ask for?
Fiio X5 2nd Gen • £290 • Buy • Website
Everyone mourned the death of the iPod Classic back in 2014, but with companies like Fiio making impressive DAPs at reasonable prices, it's about time we all moved on. Featuring native DSD decoding, slots for two micro SD cards (max 128GB each), and a beautiful design - the Fiio X5 2nd Gen is like your current iDevice, but much, much better.
Adidas miCoach Fit Smart • £110 • Buy • Website
Featuring a modern, minimalistic design, the Adidas miCoach Fit Smart isn't your standard tracking device, oh no - it's all about motivation. Syncing wirelessly to the miCoach Train and Run app, this watch will get you pumped up about reaching your fitness goals, whatever they may be. Perfect for anyone looking to shed those extra holiday pounds.
Monorover R2 • £ • Buy • Website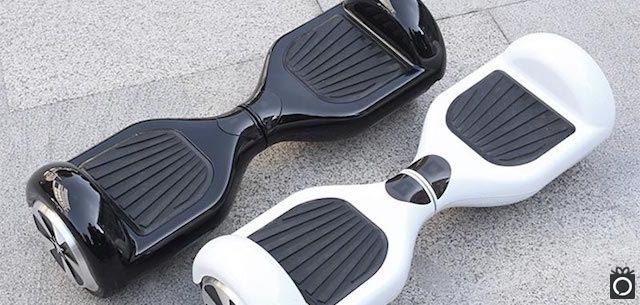 Will you look like an absolute moron using one of these hoverboards (well, more like a Segway without the handles)? Absolutely. But the thing is, you won't care. It's that much fun. I made a coffee whilst moving around my kitchen on one of these, just because I could. I carried my cat around my house whilst using one of these, just because I could. I've not been brave enough to test it outside quite yet, mainly because they're technically illegal to use in public (the UK, at least), but when summer rolls around, I'll be sticking two fingers up to "the man".
TRND Labs: SKEYE Mini Drone • £ • Buy • Website
This Christmas, you won't be able to move down your local high street without being struck by a poorly-controlled drone, but none of them will be as impressive as the SKEYE Mini Drone byTRND Labs, which packs an impressive HD camera and a MicroSD slot (perfect for all those rappers out there looking to give their new music video a unique flavour). With restrictions on drones flying in from every direction, this is just small enough to stay under the radar. Oh, and would you look at that, we're giving one away! Use the widget at the bottom of the page to enter the competition.
B&O Play A2 • £299 • Buy • Website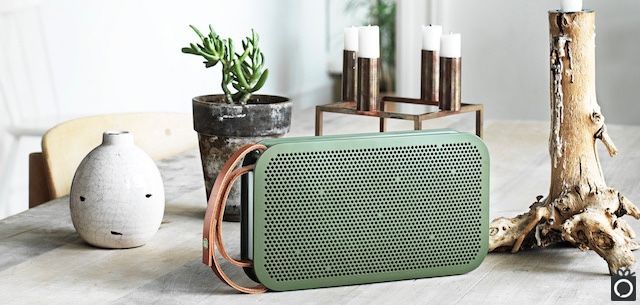 The B&O Play A2 is easily the most stylish-looking Bluetooth speaker around - and with the good folks over at Bang and Olufsen under the hood, it sounds beautiful too. If you happen to be quite well off, you could buy all five different colourways and accessorize perfectly with whatever you happen to be wearing that day, which is kind of a Brewster's Millions type of setup, but one we'd love to experience. Ahhh, money.
Field Notes - Shenandoah / Mixed Three-Pack / Workshop Companion / Field Note • £Various • Website
Field Notes, the brand, is inspired by the "vanishing subgenre of agricultural memo books, ornate pocket ledgers and the simple, unassuming beauty of a well-crafted grocery list." That inspiration resulted in them creating a collection of notebooks, memo books and other beautiful products. A perfect gift for that writer friend of yours (pro tip: go for the Shenandoah 3-Pack - its colours match the leaf colour of three trees found at Shenandoah National Park).
MOS Reach and The MOS • $34.95 / $19.95 • Website
MOS create useful, minimalistic products - the best of which is their original MOS (Magnetic Organization System), which sits on your desk and keeps cables from flying all over the place. In second place is the Reach - a "power extension solution for stationary charging." Essentially it extends your power outlet to a more convenient place, whilst providing two extra USB ports for easy charging. Simple ideas done beautifully.
Bowers & Wilkins P5 Wireless • £329.99 • Buy • Website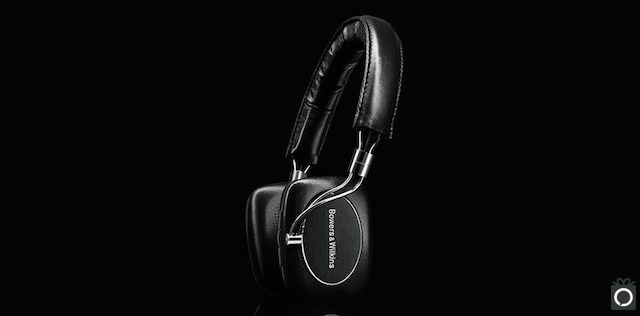 Here at The 405, we get sent a lot of headphones to test - some of which are crap, some of which are good enough to be featured in this guide - but perhaps the best we've tested this year from an all-rounder perspective is the P5 Wireless headphones from Bowers & Wilkins. Their closest rival in terms of comfort/sound quality is probably Bose, but let's be honest here - these destroy that brand completely. The P5's are incredible in every way. 100% recommended.
Parrot Zik 2.0 • £279.99 • Buy • Website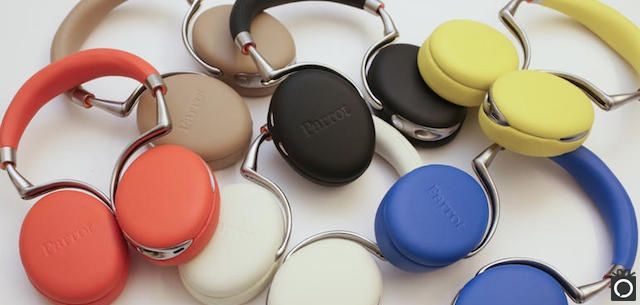 With touch controls, a dedicated app to tweak your EQ settings, a superb DAC, and incredible noise-cancelling, the Parrot Zik 2.0 is probably the most high-tech pair of headphones we've tested this year. The touch controls take a bit of getting used to (you can change tracks, set the volume, answer calls etc - all by using your finger on the right earpiece), but it's the sort of feature that makes the Zik 2.0 stand out in a crowded marketplace. Well worth the money.
Misfit Shine • £49.99 • Buy • Website
The Misfit Shine is a fitness track with a modular design, so you can adapt it to suit your needs; a pendant? Sure! A watch? Of course! It's waterproof, has a 6-month battery life and provides you with your fitness and sleep monitoring in the form of an incredibly sleek app for your iOs/Android/Windows device. The adaptability of the Misfit makes it one of the best trackers around.
Dr. Martens • £Various • Buy • Website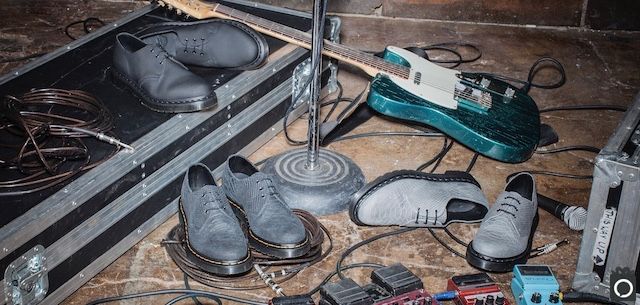 You don't wanna be the schmuck that goes through a British winter without a decent pair of shoes, so we suggest picking up a pair from Dr. Martens because they're tough and they last for bloody ages; a solid investment if you ask us. In fact, why don't you enter our competition to win a pair? We're giving away three pairs of shoes (you can pick from the entire range found on their website). All you need to do is use the competition widget at the bottom of this guide, specifying which item you'd like to win.
BLUNT™ Classic Umbrella • £48 • Buy • Website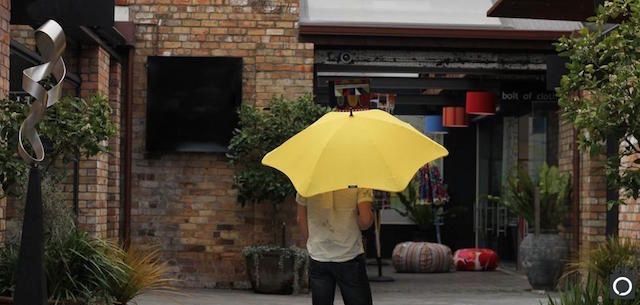 Umbrellas are hardly the most exciting of items, and probably not the sort of thing you'd expect to see in a guide like this, but I've been involved in enough slapstick moments in my rain-defending life to know that sturdy umbrellas are important. The BLUNT™ Classic is one such umbrella. The aerodynamic, storm-resistant, wind tunnel tested canopy really is a thing of beauty.
Gift Guide Competition