I approach an empty table in the café we have relocated our craft group to. A lady nearby is concentrating as knot by knot the waxed string she holds develops into a decorative length from which she'll hang a pendant. "Are you here for Felt Up?" I ask, the response being a confused expression. This is the first she's heard of the group, having only been in town for a couple of weeks.
Felt Up! Craft Club
(the birth of a name that woke me at 4am one morning last summer) launched in Brighton last October with an aim to make communal craft more accessible and act as a supportive source for other groups in the area. We are (mostly) FREE, and are able to supply materials that are donated. Felt Up! Craft Club is a space where we can share ideas, thoughts, experiences and skills relating to craft and creativity. We now meet every Tuesday evening (6-8pm) at The Marwood Café off Ship Street, Brighton and occasionally at The Penthouse, Phoenix Place.
The woman by this point has joined me at the table while we wait for others to arrive. Sewing, knotting and drinking Earl Grey. There is a wonderful range of teas and coffees. DJ Shadow plays under the clattering of cups and conversation. The space is busy tonight and so a while later a second lady approaches with nowhere else to sit and we agree to let her join us so long as she gets involved in the making. Being a textiles artist on her break, this wasn't really what she was expecting; however with the communal aspect of the making, she admits to feeling more relaxed as she cross-stitches us a small heart. Others join later, someone mending a dress, another making a costume, another knitting a sweater. Discussions revolve around the approaching coming Artist Open House event that is part of Brighton's fringe festival, and also on the topic of audio-visual culture (a few of us are artists and musicians, others have things to say on their experiences of being in the audience).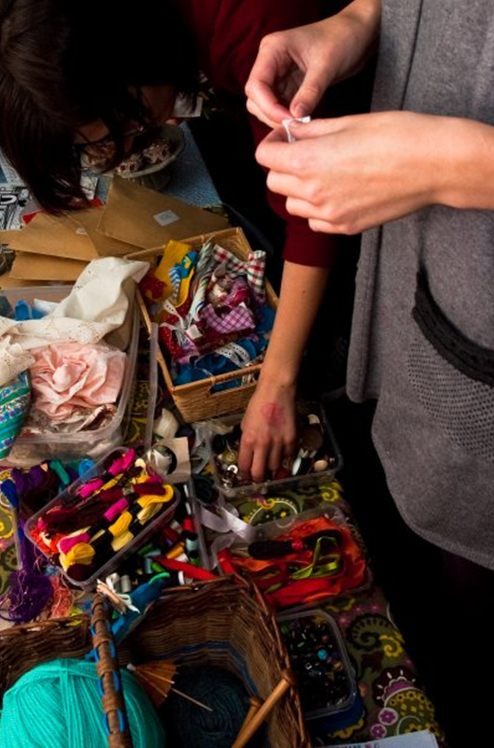 The night ends at eight o'clock and it is still light outside. Some of us are buzzing from the combination of craft and caffeine so continue the discussions had on a walk to the sea front. After this, I float home satisfied that we've made a good decision to keep up our efforts to bring awareness of the benefits of communal craft. Over the coming weeks I hope to be able to share with you readers out there the craft happenings and goings on that are occurring. Interviewing contemporary makers, organisers and craftivists all over this planet. If you have anything you feel is worth sharing please get in contact with me at: feltup.craftclub@googlemail.com

More info can be accessed here:
http://feltupcraftclub.blogspot.com
http://www.myspace.com/feltupcraftclub
Facebook Group
Words by Miss String (aka. Rachael
http://yseult.tumblr.com
) Photos by Oleg Pulemjotov (
http://www.olegpulemjotov.com
) Craft manifesto by Hannah Clare (
http://www.hannahclare.co.uk
)