Cast your gaze over this, the third and final part of our annual Festival Guide. This instalment, though last, shouldn't be perused lightly; featuring the likes of Bestival, Treasure Island Music Festival and Fun Fun Fun Fest, there's tangible proof that the festival season isn't just limited to early summer and the weeks immediately before and after Glastonbury. Some of the most marvellous magic occurs as the trees turn ember-orange and Autumn-dappled skies are markedly crisper.
If there's one caveat to this festival guide, it's that we thoroughly recommend joining us in Iceland for Iceland Airwaves. If only to buy us a drink (or two).
Head here for part one, here for part two, and look below for part three of this riveting, rollicking, rip-roaring trilogy. Don't worry, this isn't a Godfather III scenario.
Bestival
For ten years now, Bestival co-founders Rob da Bank (a BBC Radio 1 DJ) and his wife Josie have aimed to provide the most eclectic and visionary festival experience possible. Along with fellow co-founders John and Ziggy (from Get Involved), the pair have managed an astounding track record, winning the Best Medium-Sized Festival award from the UK Festival Awards four times between 2005 and 2009, and Best Major Festival in 2010 and 12.
With a hyper-eclectic lineup of musical performers, abundance of DJs, comedians, and various other live performances, Bestival does the most to bring any and every element possible to a music festival. Held at the Robin Hill County Park at the Isle Of Wright, this year's event will take place September 4th through the 7th. Featured on the billing will be 2014 festival journeymen OutKast, along with Beck, Chic featuring Nile Rodgers, and a cavalcade of UK favorites like Foals, Disclosure, Basement Jaxx, and plenty more.
The vibe of unique independence can always be felt throughout the event, which also includes a blow-up church for any couples looking to just tie the knot, a Yurt for mothers to take care of their children, and a cycle of stages that changes theme every year. It's no coincident that Nile Rodgers and Chic were brought on board this year, as the 2014 theme happens to be Desert Island Disco. Rodgers has even gone on to request that organizers create the world's biggest disco ball for the festival, but that remains to be seen. - Matt Korman
Bestival takes place September 4th-7th. For more information head to the official Bestival website.
Listen to our playlist for a taste of what to expect.
Festival No. 6
A spirited and welcome newcomer to the end-of-summer music festival circuit is Wales' Festival No. 6. In only its third year, the Portmeirion event is a showcase of some of the most bizarre and beautiful location setting you'll see in any music festival in or out of the UK.
Portmeirion, for those who may not be history buffs, was constructed from the 1920s-70s by Sir Clough Williams-Ellis in the model of classic Mediterranean villas. The result was as majestic as it was wonderfully bizarre, making for an impossibly unique setting. Attendees can bring their own camping equipment, but the festival will offer "luxury" tipis, yurts, tents, or the offer to actually sleep in the castle. If not for the music, Festival No. 6 could sell itself on accommodation alone.
Rounding out the top of the festival billing will be Pet Shop Boys, Beck, and upstart London Grammar. A healthy array of UK acts like Jon Hopkins, Los Campesinos!, East India Youth, and a gamut of live DJ sets.
Ultimately, the lineup is what sells a music festival. It's not a mysterious algorithm of location, date, and money; just the lineup. But Festival No. 6, perhaps more than any other festival, sets to defeat that method. The lineup is one thing, but actually being in Portmeirion, gazing at the coastal shores as the sun drifts on a cool September night, is something profoundly enticing. - Matt Korman
Festival No 6 takes place September 5th-7th. For more information head to the official Festival No 6 website.
Listen to our playlist for a taste of what to expect.
Unknown Festival Croatia
The festival lifestyle is ruminated with unwritten trade-offs. Does one opt for the massive sprawl of a Coachella to deal with tens of thousands of drunken American teenagers? Is the pristine location of Pitchfork Music Festival Paris worth the limited amount of musical performances? How much money do I have to pay for Cayamo?!
For Croatia's Unknown Festival, the obvious sell is the unrivaled beauty. Held near Rovinj, Unknown manages to offer almost every beautiful vision that the Croatian coast emanates. Along the Adriatic Sea, Unknown 2014 will feature Chic featuring Nile Rodgers, Disclosure, and CHVRCHES, among a litany of other acts worth seeing as you bask in the warmth of the Mediterranean sun.
Festival organizers, for one, are deftly aware of this. Along with the more standard presentation of events, Unknown also offers exclusive boat and island parties, as well as separate artistic displays. And while it is technically a five day event, organizers will open the festival a day early this year (September 7th) and will keep it open until the 16th. So in terms of an actual vacation, Unknown seems to get it - Matt Korman
Unknown Festival takes place September 8th - 12th. For more information head to the official Unknown Festival website.
Listen to our playlist for a taste of what to expect.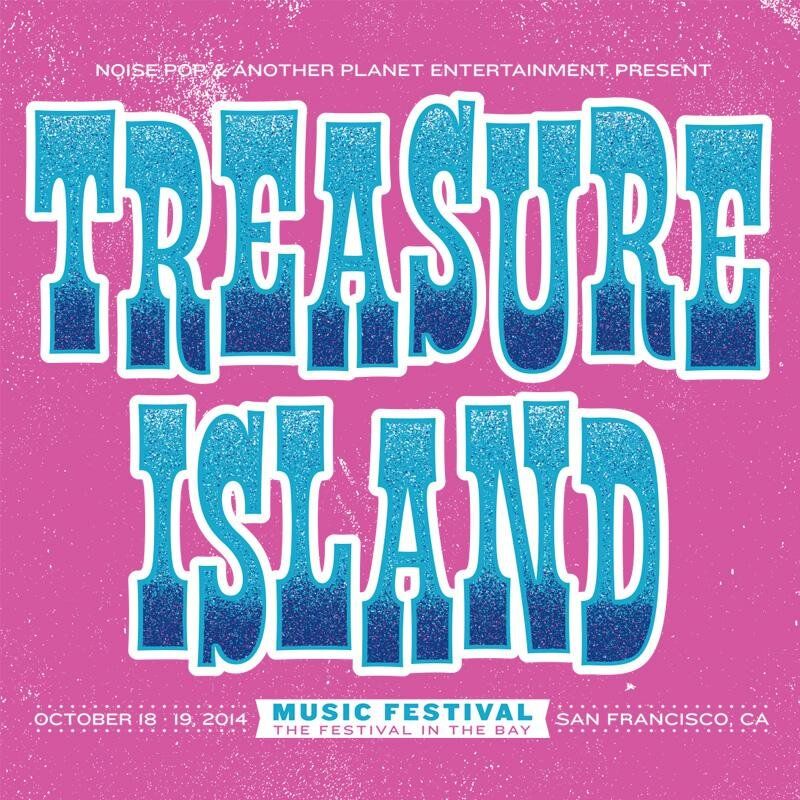 Treasure Island Festival
In the triumphant run of the annual festival circuit, California seems to win by leaps and bounds in terms of sheer volume. While the pillars of Coachella and Outside Lands stand firm in the gamut of California festivals, nearly a dozen others are quietly successful. Of which includes the two-day Treasure Island Festival held on the San Francisco island of the same name.
In an ambitious mark, organizers effectively split each day of the annual October weekend into two distinct genres, with hip-hop/electronica and rock-centric music on separate days. While for some this may come off as alienating, for single-day buyers the idea lines up perfectly. 2014 festival kings OutKast lead the charge as the presumptive alpha headliners, with Massive Attack, Zedd, TV on The Radio, and Janelle Monae following close behind.
There may be a mild confusion of what Treasure Island is, however. The man-made island lay between the arch of the historical Golden Gate Bridge, and no it's not Alcatraz. Not every island in San Francisco is Alcatraz. It's also a famous film location, featured in such projects as; Flubber, What Dreams May Come, Patch Adams, and Bicentennial Man. If you're making the connection here, yes; Robin Williams was the king of Treasure Island in the late 90s. - Matt Korman
Treasure Island Festival takes place October 18th and 19th. For more information head to the official Treasure Island Festival website.
Listen to our playlist for a taste of what to expect.
Pitchfork Festival Paris
Continually branching off from the success of the initial Pitchfork Music Festival, held annually in Chicago, the internet-addled progenitors of all things modern indie are now in year four in its annual Paris festival edition. Held in the city's Grande Halle de la Villette, this year's billing will feature Pitchfork-faves Belle & Sebastian, as well Caribou and James Blake leading the charge as headline operators.
The three day event, much like its original incarnation, favors a modest ticket price. Single day passes still stick at a reasonable €49 and weekend access will only set you back €110 (minus booking fees). This stipulation, of course, is partly because of the relatively sparse quantity of acts actually booked for the early fall event, which tops out (currently) at an almost unheard of 22 acts.
For some, the lower number may be a bit off a downside. However, anyone with even a shred of familiarity with a large music festival will note that by the end of the sprawling weekend, its hard to come out with even 20 musical acts witnessed. With that in mind, Pitchfork Festival Paris seems like an easy bargain. - Matt Korman
Pitchfork Festival Paris takes place October 30th - November 1st. For more information head to the official Pitchfork Festival Paris website.
Listen to our playlist for a taste of what to expect.
Iceland Airwaves
Originally held as a one-off event at the Reykjavík Airport (hence the name), Iceland Airwaves has burgeoned into a five-day festival that seems much less about the product of the artists and more about the artistry and celebration of the event.
That point seems impossibly clear once it was known that the Flaming Lips were to be included in the 2014 incarnation of the festival. Largely, however, Iceland Airwaves serves as a steeple for the many emerging and talented acts coming out of the tiny Northern Atlantic island. Other celebrated international acts like East India Youth, Future Islands, and The War On Drugs will also perform across the five-day weekend.
Considering most attendees are located outside of Iceland, the festival has worked at ends to accommodate visitors are preferably easy as possible - even including hotel plans in its ticket packages for multiple countries. Such a welcoming effort bodes well for what may be the best weekend of the year. - Matt Korman
Iceland Airwaves takes place November 5th - 9th. For more information head to the official Iceland Airwaves website.
Listen to our playlist for a taste of what to expect.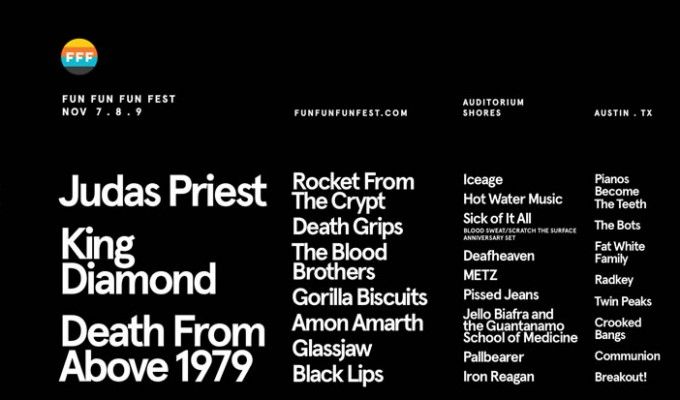 Fun Fun Fun Fest
In the swing of the annual festival cycle, it's somewhat odd that the proverbial sun rises and sets on an unassuming Austin, Texas. SXSW, of course, kicks the year off with the massive Austin City Limits rounding off as the finale of the four major U.S. music festivals, following Coachella, Bonarroo, and Lollapalooza. ACL, often, is seen as the year's presumptive finale, but that's a disservice to the furiously stellar Fun Fun Fun Fest.
The three day festival, held in the second weekend of November, will bring together a sparring set of very different acts, from metal legends Judas Priest taking helm on Friday, November 7th, to beloved indie icons Neutral Milk Hotel setting off the finale Sunday night. Comedians and DJs will be laced throughout the weekend, which will also include performances from notable acts like Nas, Modest Mouse, and the recently re-birthed Death From Above 1979.
But caught up in the commotion of the event is the not-praised-enough Aqua Olympics; a one day event (August 2nd at the Fiesta Gardens) held separate from the festival, but still hosted by it. So even if you can't make the November festival, this totally free four hour event comes packed with games (including a celebrity Tug-O-War), complete with prizes. - Matt Korman
Fun Fun Fun Fest takes place November 7th - 9th. For more information head to the official Fun Fun Fun Fest website.
Listen to our playlist for a taste of what to expect.