Tired of cold British festivals? Well check out some of the European festival for your fix of sunshine!
Primavera
Dates:
28th-30th May
Place:
Barcelona, Spain
Website:
http://www.primaverasound.com
One of the problems with British festivals is the weather. It can never be truly predicted and although you can still have plenty of fun in the rain it's not so much fun having to trudge around in covered head to toe in rain proof gear. If you're lucky enough to be attending this year's Primavera festival in Barcelona this is something you won't have to worry about. Just ten minutes outside of the city centre and held in a purpose built festival site Primavera will impress all but the most jaded of concert goers. This year Primavera plays host to a plethora of amazing bands, including; The Jesus Lizard, The Horrors, Crystal Antlers, Dan Deacon, The Mae Shi, Sunn o))), EL-P, Liars, Deerhunter, Sonic Youth, Lightning Bolt, Magik Markers, and many more. Useful Tips: As mentioned earlier Primavera is held in a purpose built arena. This is great because it means that everything is within easy walking distance and all the stages have seating areas where you can get a great view of the stage. However it's all concrete which can be a bit of a pain if you're standing around all day, be sure and wear something comfortable on your feet. Also, although the weather will be warm during the day in the evening it can get chilly. The arena is right next to the sea which means you can get some cool winds coming off it. Be sure and pack a jumper. Primavera is sponsored by Jagermeister, which means that all the bars serve shots of it at one Euro a pop. Although the temptation will be there to get as wasted as possible be sure and pace yourself as the festival runs until 5am each night and you don't want to miss out on any of the excellent bands that will be playing. Who to look out for: Crystal Antlers. A firm favourite of most of us at The405, Crystal Antlers are purveyors of blissed out psych rock which will get your ass shaking and will be the perfect band for when the sun starts going down. Sonic Youth may have gotten older but they're still able to give most young bands a run for their money and will no doubt be showcasing some new material. Dan Deacon is performing with his Wham City Ensemble. His album Bromst is a fine piece of dancey electronica and while some may think that peoples descriptions of his live show are hyperbole I assure you they're not. If you see a more fun and exciting band at Primavera I'll be surprised. My final band I think you should watch would be Liars. Always interesting performers, particularly frontman Angus Andrews Liars will no doubt be showcasing new songs from their upcoming album which will no doubt confound expectations as have all their previous releases. Sadly this year I wont be attending due to cash flow problems but I hope everyone who is attending will have a great time and be sure and report back on who you thought were good, who weren't and any exciting new discoveries.
Roskilde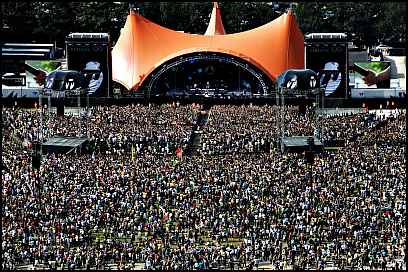 Dates:
2-5 July
Place:
Roskilde, Denmark
Website:
http://www.roskilde-festival.dk/uk
If you are a foreign festival virgin Roskilde is a great place to start. It's easy to get to from Copenhagen airport, the transport system is pretty fantastic in general and the Danish contingent are incredibly welcoming and fun. Another lovely thing about this shindig is that it's entirely non-profit so it's nice to know that all proceeds go to charities. My top tip for this one is to get there as early as possible as the site fills up quite quick. Get talking to people and they will probably ask you to join them, which is what happened to us. It's an incredibly well organised site, all areas are numbered so you know exactly where you are and each camp has it's own communal area, free lock ups\phone charging stations and not free but pretty cheap showers. It also has two lakes! yes that's right two. One for fishing and one for swimming in. The lakeside is also a great place to grab an afternoon nap when it all gets too much. Bands to check out : Mew,Fever Ray, Marnie Stern, Yeah Yeah Yeahs, Slipknot (just because you have to), The Bronx, Fleet Foxes, Frightened
Rock Werchter
Dates:
2, 3, 4 and 5th of July
Place:
Werchter (near Brussels), Belgium
Website:
http://www.rockwerchter.be/en/home/
Rock Werchter is known to be one of the better European festivals. With a great line up and amazingly low pricing, the festival manages to attract a huge variety of both national and international visitors every year. And with this year's line up, things only seem to get better! Bands like Metallica, Kaiser Chiefs, Kings of Leon and Coldplay are scheduled to perform as well as singers like Katy Perry, Regina Spektor, Lily Allen and Lady Gaga. Picks: Because of the great variety of artists, it'd be nice to create a little mix of different styles. In my opinion the following artists should be seen: Kings of Leon, Lily Allen and Metallica for the simple reason that these artists are amazing live.