Hello you lot. Last week was a bit of a mad one but nevertheless we've found the time here to bring you a Trailer Park feature on a rather revisionist new film (not in quite the same was The Iron Lady though…) as well as a report on new Shoreditch based film event, some thoughts on A Dangerous Method and it's representations of women, as well as a slightly belated but no less good-fer-it review of Polanski's new droll satire Carnage..
Don't feel like you need to read it all at once! Bookmark us or get that fancy Read It Later app, dip in and out, do with us what you will.
Danny - Film Ed.
Trailer Park
- Steven O'Shea
Some films sell themselves and give the audience an instant idea of what they're about. With The Hangover it was obvious that we were going to get a drunken misadventure resulting in a devastating morning migraine and with Snakes on a Plane we knew that we were going to get…well you get the picture. And so it is with the latest offering from Wanted director Timur Bekmambetov and Abraham Lincoln: Vampire Hunter.
The film focuses on one of the most famous men in American history as he battles the undead creatures that murdered his mother. Instantly this film gets points for not taking itself too seriously and even more for giving us a fresh spin on an already overworked genre. The trailer, which gives very little away, is definitely one to watch as well with some awesome action sequences and some epic tree chopping…you'll see what I mean. The film is due to be released this August and only then will we get to see if this movie can live up to the top hat left by its central character.
Screen Social Thoughts/Images
- The 405
Photos taken by the lovely Claire Holden
Last week we previewed Screen Social, a novel concept from itinerant film exhibitors Cannes in a Van in collaboration with Rushes Soho Shorts and Straight 8 and intercut with live music from the wonderful The Title Sequence. Well, we went along, some pictures were taken, and mental notes were made.
In short, I would thoroughly recommend future nights to anyone with even a passing interest in short film and indie film-making. Rushes Soho Shorts kicked the night off in style; a series of fantastic shorts that spanned the emotional spectrum from a tender, unlikely love story based around the hunt for a wayward pooch and some falsies to a slapstick, and quite hilarious Aardman animated short. Short films can have a nasty habit of either being underserved by poor production values or distastefully self-indulgent but I was pleasantly surprised by the consistent strength of the selection and one or two real stand outs.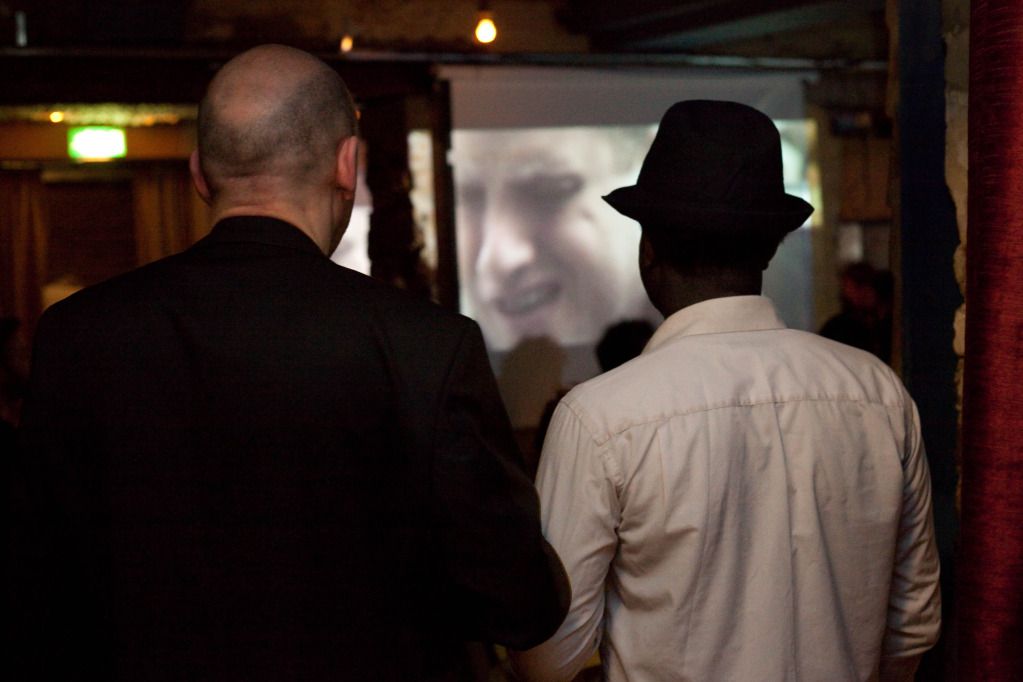 The Title Sequence also knocked it straight out of the park. An unassuming duo consisting instrumentally of a Spanish guitar (and vocals) and a keyboard banked up with mini synths and drum machines (swapped for a steel drum at one point) and captivating, heartfelt songs about surreal subjects provided not just the perfect accompaniment to the themes of the night, but a seriously good live performance in its own right. Having never even heard of them before (my own fault perhaps?) I'm now embarking on the process of discovering much more about them and rest assured, with any modicum of success you'll be hearing more about them on the site in the near future.
Carnage Review
- Yashoda Sampath
Carnage may just be the best film yet in Roman Polanski's favorite setting: the small home from which you can check out any time you like, but can't quite leave. As with Rosemary's Baby, Repulsion, The Ghost Writer, and The Tenant, he demonstrates his total mastery over his preferred genre: "people slowly losing their sanity while trapped in small spaces".
Unlike those previous films, there's nothing supernatural or conspiracy-related keeping these people together. And what people they are: Christophe Waltz and Kate Winslet, as the too-perfect Cowans, invade from the Eastern flank while Jodie Foster and John C. Reilly, the Longstreets, entrench themselves in their home.
After settling the reason for their visit – an act of vicious bullying or innocent childsplay, depending on your perspective – the Cowans can't make themselves leave. The Longstreets keep drawing them back into their living room of horror, using the most civilized of enticements: apple-pear cobbler, 18-year old scotch, and false politeness.
But no matter how innocent the veneer, it can't prevent this particular battle for Western civilization from breaking out. Allegiances shift between all four characters as their petty argument over their children devolves into a screaming match about what it is to be a man, what it means to take a stand on Darfur, and what it means when these high-level discussions are interrupted with something so brutal and immediate as projectile vomiting.
The audience is left squirming in their seats as each twist in the conversation becomes more brutal, but luckily there's plenty of humor to soften the horror. Christophe Waltz's Alan pretends that he's above all this, but of course he isn't, and that tension leads to some brilliantly barbed dialogue. There was also an audible gasp in the audience as Kate Winslet's Nancy, who'd quietly hung in the back as the Longstreets marriage fell apart in front of her, finally reaches her breaking point.
Which is not to neglect Jodie Foster or John C. Reilly. As the cracks in their marriage widen, they become the soul of the film, presenting two opposing philosophies for Alan and Nancy to rally around. But nothing's as obvious as that. We're left to read between the lines of faked social interest, white lies and attempts to compromise.
The joy in Carnage is watching what the characters do and say, and then figuring out whether those actions in any way reflect their true beliefs. And along the way, you'll get a few belly laughs, courtesy of some of the best actors in the business today.
A Dangerous Method and The Problem With Women
- Danny Wadeson
David Cronenberg's latest collaboration with Viggo Mortenson (and also drafting in Keira Knightley and Michael Fassbender) is a curious beast; one of the incredibly small minority of films that is not only theoretically put through the wringer of psychoanalysis but is actually about how those theories took shape. A Dangerous Method is a menage-a-trois but with the relationship-turned-dichotomy between Freud and Jung at its real heart.
And it's a great film, by mine own standards. As an avid Freudian I was able perhaps to fill in a lot of the backstory subconsciously, adding characterization and depth to the characters that might not necessarily be present on screen. That said, even as an absolute psychoanalytic novice, Cronenberg doesn't look down on you, never shying away from using the proper terminology or presenting a really quite in-depth theoretical discussion in heated tones with barely a breath to digest the vocabulary let alone the meaning.
However, intentionally or not, the film mirrors one of the defining points of early Freudian discussion that has pervaded film theory virtually since its inception. That is, the problematic 'Male Gaze';, the idea that cinema is ostensibly given meaning and identity through a patriarchal perspective. The lens is the eye of a male. Indeed, the leading female roles, played by Knightley and Sarah Gadon, are defined by their hysteria/masochism and passive, constantly child-bearing submissiveness respectively. Granted, Knightley's character Sabina is constantly referenced as being wonderfully educated and talented, but there's still something slightly awkward about how voyeuristically we're shown reflected scenes of her being whipped, boobs hanging out of her corset, in rapture. Gadon's Emma Jung, in reverse, is so stripped of any kind of sexuality by her constantly child bearing that it becomes impossible to know if this is a conscious choice of Cronenberg's, to highlight the contrast between the two, or an uneasy inability to reconcile himself to home-keeping spouses being sexy too.
It's a huge issue and to the film's benefit, the subject matter being so conducive to plays on meaning. And despite my aforementioned acute enjoyment of the film as a whole, a part of me still can't shake the feeling that this was a slightly missed opportunity to look the male gaze squarely in the eye, hands on hips, and pose that very real question 'What are you looking at?'. Or rather, the question was perhaps implied, but it was the lack of any real directorial answer that left me feeling like the film's title is uncannily apt.