Oh hello there. This week's film digest sees the inclusion of another debut feature aimed at highlighting the best work being done in the short film sphere - a deceptively tricky art and often massively under appreciated too. Alice talks us through the initial intricacies of the 2012 awards season, I mouth off about the one scene in Shame that floored me without exposing any fleshy bits, and, speaking of which - Steven O'Shea takes a fond look back and forward at the American Pie reunion, imaginatively entitled American Reunion.
Danny - Film Ed.
Film Talk
- Alice Sutherland-Hawes
And so begins awards season. We've had nominations, snubs and wins and now the internet is a sea of Meryl Streep reaction .gifs. Despite the apparent hordes of people demanding refunds because they didn't realise The Artist is a silent black and white film, it's done pretty well with it's nominations and awards, including one for the adorable dog Uggie who also presented nominees with co star Penelope Ann Miller. At the LFCC, an award was shared for the first time between Anna Paquin for Margaret and Meryl Streep for The Iron Lady and still Gary Oldman waits for his turn on the acceptance stage…
Sundance Festival got off to an interesting start with none of the films being premiered having distribution deals set up. Perhaps this will become a trend as distributors wait to see the reaction to films before rushing in to claim them. However it looks to be a good 10 days with Spike Lee, Stephen Frears and Julie Delpy all showing new films alongside Jesse Eisenberg and a documentary about Paul Simon's return to South Africa. After the success of Bridesmaids, Kirsten Dunst is starring in the next independent wedding comedy Bachelorette and Stacy Peralta moves back to the LA skateboard scene with Bones Brigade: An Autobiography. Plenty to keep our eyes on then.
This week has seen the release of two films which haven't had a brilliant reception, W.E. and J. Edgar. Neither of these films has received all too favourable reviews but we shall soon see what the public makes of them. Also out is Jonah Hill's latest, The Sitter which I can't imagine will be much more than another slapstick comedy. The film world is making up for this though with Haywire and the much anticipated Coriolanus. (our review) Oh yes, and there's the next Underworld too...
Shorts Bar
- Evin Keane
It's often said that the internet has damaged the way we consume media. It's the argument that today's attention span lasts about the length of time it takes to watch a doped up baby swallow a goldfish (or whatever it is that's trending on youtube at the moment). So why are feature films thriving, and the glut of great short films available online for free is still largely ignored?
If anyone doubts me, I'd like to bring their attention to the following. Sundance is possibly the most exciting thing in non-Hollywood US film, even if it can seem a little too hip and trendy for its own good. Independent greats like Jarmusch and the Coens cut their teeth there. And if you have the patience to click that link, you'll find all the entrants to the 2012 short film category, available for viewing without spending a penny.
It's a great mix, and each short provides tons of material for reflection, but I'll concentrate on Debutante Hunters, a documentary following a group of beautiful, glamorous South Carolina ladies whose passion, along with hairdressing and jewellery, is hunting. Deer, alligators, hogs: whatever's worth shooting and eating, they'll kill. Hearing these dainty women deliver lines like, "It's just so much fun [to] have a cookout of everything we've killed", completely deadpan, is pretty hilarious.
Watching Debutante Hunters, though, the question of 'what is art'? crops up. Certainly, some of the other Sundance entries take themselves far more seriously, and this thing wouldn't look out of place sitting between the likes of I Didn't Know I Was Pregnant and The Real Housewives of Atlanta on Bravo. But it does make a decent argument that we have a false perception of hunting, that there's a wholesome value to it, that it draws us closer to nature. Either way, it's fun to imagine stereotypical beer-guzzling rednecks watching this and ogling over chicks with guns. Besides, you're bound to strike gold with one of these shorts. So click that link!
Trailer Park
- Steven O'Shea
Back in 1999 an entire generation was introduced to a film that changed the very nature of comedy and defined its own sub-genre. It's a film that has been parodied a million times and referenced a million more, but never equaled. American Pie created the idea of the goofy teen comedy for the 90s generation and introduced us to some truly beloved characters. After three films and a happy ending it seemed as if the franchise had been laid to rest, but then spin-offs emerged featuring almost none of the original cast with only the title to remind you that what you were watching was supposed to be funny. But just as with the prodigal son, the original cast have returned for a reunion.
The trailer catches up with all of the original gang and with some funny masturbation material and Stifler jokes in the newly released full trailer it looks set to be an American Pie that won't disappoint. With the writer of the Harold and Kumar franchise, one of whom appears in the American Pie series, at the helm and a returning cast behind it this film is sure to be a great slice of fun for 2012.



The 405 Awards
- Danny Wadeson
Most Likely To Make You Want To Start Running At Midnight Through New York: Shame
Shame is an intense film, and intense is an understatement. It's ball-grippingly potent, heart-wrenchingly resonant, and arm-flailingly poignant. Most of all though, it's probably got one of the best scenes of a man running about a bit in celluloid history, and seeing as it won't win any awards in the mainstream ceremonies, I rather thought I'd recognise it herein.
Shame is, in a nutshell, about the torturous day-to-day of a sex-addict, in the most pathological sense. In one bizarre scene that (without spoiling anything) makes protagonist Brandon go all self-reflexive and in so doing, out of his mind with existential angst, he responds the only way a dysfunctional, repressed professional of the city can - by strapping on his 'sneakers' and pounding the 'sidewalk' in the early hours of a frosty morning. In one contiguous masterful tracking shot, we see Brandon run in a purely linear trajectory from right to left, passing by mysteriously beckoning alley ways, flashing street lights, department stores and other night-walkers; it's a distinctly prolonged shot and to say nothing of the technical achievement (that's a lot of track and traffic cordoning!) it's wonderfully dreamlike, subjective and redolent of Brandon's desperation.
Weirdly though, the fluidity and sense of a city passing beneath his feet with a kind of energetic effortlessness and restless impatience is hugely enticing. It made me want to go for a run something dire, and I'm sure for at least a moment, everyone in the audience thought 'that looks really fun, I could go for a midnight run about now' - so cathartic and empowering did it feel. So strap on your trainers and leg it to the cinema to see the film before it stops showing (it really is a contender for film of the year already I'd say) and then run of the crushing denouement on your way home - two birds, one stone.
Poster Child
Psychoanalysis hits the silver screen at last! Expect lots of repressed desire and sadism. Not sure how much you can get of that from the poster, but hey - with Viggo Mortenson and the currently prolific Michael Fassbender on the poster it's never going to be that bad to look at. Keira Knightley, whilst normally annoying, looks to be a good shout for the role of the 'case study' too, thankfully.
Pouty Theron, lots of pink, and a pomeranian. They don't make 'em like they used to but hey, at least the pomeranian has kind of a funny expression and the film is supposed to be good.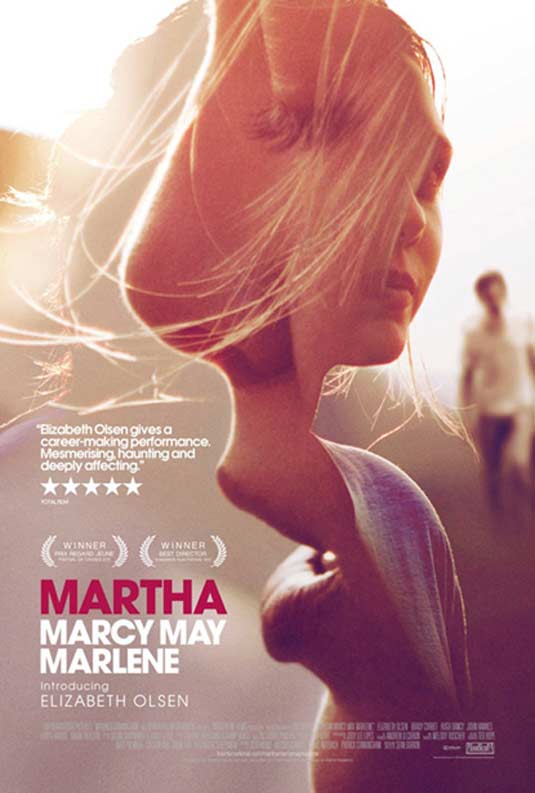 My excitement is at fever pitch for this Sundance and Cannes favourite with Elizabeth Olson and gorgeous looking cinematography. Interesting poster too, bonus!
And for our classic poster this week - Terry Gilliam's masterpiece Brazil. Lovely quad, detail: Jonathan Pryce with wings flapping out of a dystopian wall of filing cabinets. Not seen it? You'd better had before Central Services muck up your ducts…