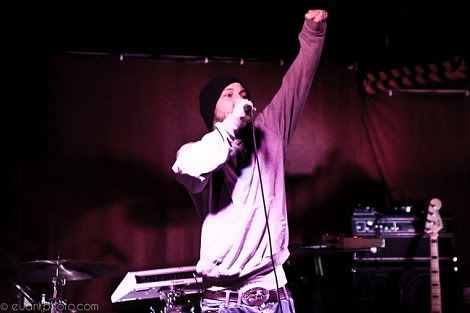 Hector Bizerk – Bloc // 4th February 2012
Fresh and snappy hip-hop from Scots duo Hector Bizerk. Best of all? If you get there before midnight, it's free! Click here to buy tickets

You can visit Hector Bizerk by heading to http://www.soundcloud.com/hectorbizerk/
Gigs chosen by Toni Spencer
Wild Flag - Electric Ballroom // 1st February 2012
It's Wild Flag. They are rad. Go see them.
You can visit Wild Flag by heading to http://wildflagmusic.com/
Gigs chosen by Oliver Primus

Low Duo - The Great Gatsby // 3rd February 2012
A previous Guardian Band of the Day, Low Duo are Sheffield's best modern day troubadours. This melancholic minimalist folk-pop two piece should garner more honours in no time.
You can visit Low Duo by heading to Facebook
Gigs chosen by Kyle Rice
Clap Your Hands Say Yeah– HMV Ritz   // 2nd February 2012
The Ritz is putting on a few good shows this month, and this is certainly one of them! The Brooklyn based quintet make a welcome return after their self-imposed five year hiatus, with a new album in tow. Let's hope the DIY spirit is still living strong within them!. p>


You can visit Clap Your Hands Say Yeah by heading to http://www.clapyourhandssayyeah.com/
Click here to buy tickets