I Break Horses – Cargo // 5th December 2011
A chance to see one of the best bands of the year, who happened to release one of the best albums of the year. Don't miss out on this. Or do, and regret it.
You can visit I Break Horses by heading to http://www.facebook.com/ibreakhorses
Gigs chosen by Oliver Primus

Emmy the Great and Tim Wheeler – Rise Records, Bristol // 10th December 2011
The rest of the South West should be ashamed of itself, there is absolutely nothing going on this week as far as I'm aware. Bristol takes the buck with a number of decent gigs and this in-store performance is sure to be a cracker as Rise is one of my favourite record shops!
You can visit Emmy the Great by heading to emmythegreat.com
Gigs chosen by David West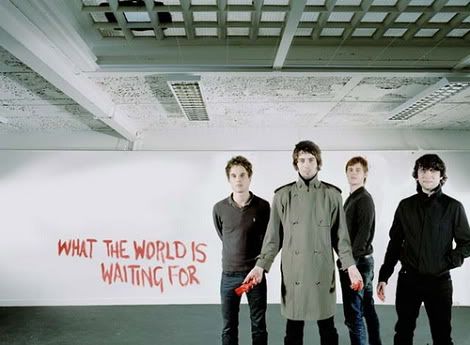 The Courteeners– o2 Apollo // 8th-9th-10th December 2011
Personally, I like The Courteeners. The swag and the attitude is all part of Manchester indie and, with their three night homecoming shows, Liam Fray and the gang will have it in abundance! Forget your hipster credentials of finding "the next big thing" and get down to the Apollo for testosterone and singalongs. p>
You can visit The Courteeners by heading to http://www.thecourteeners.com/
Click here to buy tickets
Other Gigs

Gigs chosen by Heather Berry




Twin Atlantic – O2 Academy // 10th December 2011

Glasgow's very own Twin Atlantic rock the O2 Academy as part of their aptly-titled Free-ze tour; let's hope it's not a sign of things to come, given last year's Ice Age. They're sure to warm things up nicely…




You can visit Twin Atlantic by heading to http://free.twinatlantic.com

Gigs chosen by Toni Spencer




Death In Vegas – Concorde 2 // 11th December 2011

Back after a seven-year hiatus, electronica pioneers Death In Vegas arrive in Brighton on the back of their long awaited fifth album 'Trans-Love Energies'. Expect the foundations of the Concorde 2 to be shaking with a heady concoction of well-crafted electro and pulsating rock,laced with enough grooves to make you forget it's Sunday night.

You can visit Death In Vegas by heading to http://www.deathinvegasmusic.com/

Gigs chosen by Ed Blow




Million Way + Zwolf + Leone - The Full Moon bar  // 7th December 2011

In the newly opened Full Moon bar, Bristol's Million Way are headlining a fantastic line up. The band call themselves a live electro/house trio with no singing and are quite frankly brilliant. There no nonsense beats have livened up the end of 2011. Supported by the fantastic Zwolf, one of Cardiff's electro finest.

You can visit Million way by heading to here,

Gigs chosen by Emma Dudley




Rock Sound Riot Tour – Corporation // 9th December 2011

You can't beat a good hardcore show, and the whisky and sweat-drenched Every Time I Die's live show will doubtlessly live up to the promise of this tour's name. With a strong lineup completed by Trash Talk, Defeater and Spycatcher, this is going to be one moshfest you are not going to want to miss out on.

Click here to buy tickets


You can visit Every Time I Die by heading to evertimeidie.net

Gigs chosen by Kyle Rice




Le Galaxie – Auntie Annies // 9th December 2011

The Dublin 4 piece are heading north to this week's Animal Disco bringing their electo magic with them. Expect synthy goodness and sounds of the future in an energetic set you can't afford to miss.

You can visit Le Galaxie by heading to http://legalaxie.webs.com/index.htm