Grimes + Eugene McGuinness - Madame JoJos // 7th February 2012
By the time this goes up, tickets will be sold out. In fact, as I type this they're probably sold out. We don't condone buying tickets from ticket touts, but this is a rare opportunity to see Grimes in a tiny venue. We suggest you head to the venue early and try your luck.
You can visit Grimes by heading to Facebook
Gigs chosen by Oliver Primus

Aerials Up – King Tut's // 11th February 2012
Once Again, Glasgow is a bit of a mixed bag this week. The not-to-be-missed gig this time around is none other than Aerials Up - who, as it happens, I have missed every single time. Ironic, no? Click here to buy tickets

You can visit Aerials Up by heading to http://www.aerialsup.com
Gigs chosen by Toni Spencer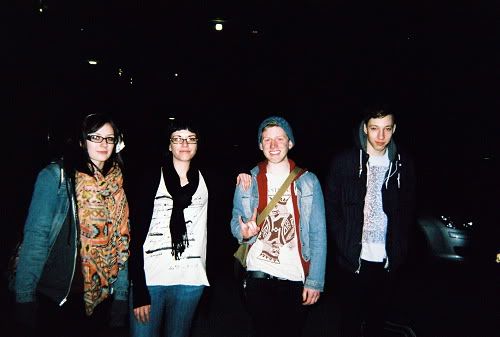 run, WALK - The Riverside Cafe // 6th February 2012
run, WALK make an incredibly dynamic racket for a 2-piece. Expect them to get all up in your grill in the unfeasibly small upstairs room of The Riverside, heading up a bill that also features everything from the noisy hardcore of No Coast, to afro-punks Blood Sport, to the synth-driven math pop of Beware Wolf.
Click here to buy tickets
You can visit run, WALK by heading to Facebook
Gigs chosen by Kyle Rice
The Black Keys– O2 Apollo // 6th and 7th February 2012
It would be rude not to pick The Black Keys as the main gig this week. The retro-tinged indie favourites are already sold out for the majority of this tour, these Manchester dates included, but that should only make you want to go more! With Band of Skulls as a support, you should be green with envy. Expect annoying friends to regal you with "I was there!" stories... p>
You can visit The Black Keys by heading to http://www.theblackkeys.com/
Click here to buy tickets