Guimarães is the birthplace of the Portuguese nationality. Statues and murals around the exquisite old town centre proudly display it, a sense of history that does not weigh the place down but enthuses it with historical immortality. Nestled in the rolling hills of Northern Portugal, it is one of Europe's most beautiful secrets, a town that remains largely untouched by the crawling hegemony of the modern West. It has also played host to one of Europe's most quietly respected annual music showcases for the last five years, and this sixth installment is no exception. We took it upon ourselves to get down to Guimarães to pick out the highlights of Westway LAB 2019.
Not unreasonably, Portuguese acts occupy more than their fair share of the lineup, offering an impressively varied snapshot of the country's current musical output. For such a historical site, what could be more appropriate than one of the foremost representatives of Portuguese folk music, Marta Pereira da Costa. A master of fado, the mournful, working-class traditional music of this country, she leads her quintet through a stirring set that, although intricately arranged, erupts into emotional outbursts at several points. Da Costa is the first and currently only professional female fado guitarist in the world, her Portuguese guitarra fluttering with butterfly wing beauty, her dexterity hard to keep pace with even as just a listener. The setting – a sharply upholstered classical auditorium – rises to the occasion, its acoustics elevating every note, especially during a maudlin interpolation of 'Summertime' or the rousing, skipping final piece that has the audience spontaneously clapping along. It is an authentic experience, a blend that has been perfected over hundreds of years.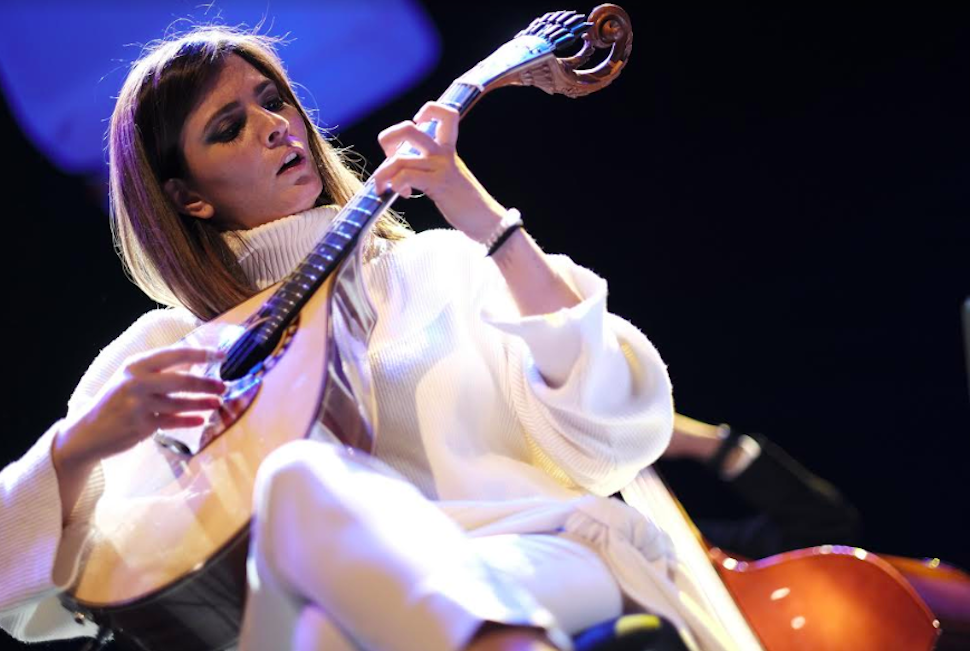 One of the weekend's most rapturous receptions is earned by The Black Mamba, the Portuguese/Brazilian R&B/jazz/funk outfit that appears in their expanded eight-piece lineup on Saturday night. Led by the restless Pedro Tatanka on guitar, they barrel through decades of musical history, his guitar soaring and crying, usually at the same time, channelling a path somewhere between Eddie Hazel and David Gilmour. We get sax solos that shoot fountains into the sky and bass solos that damn near create cracks in the ground; we get the wiry space guitar of Prince on 'It Ain't You' and the steaminess of Al Green on 'I'll Meet You There'. They are a walking encyclopedia of the last fifty years and Guimarães laps up every second.
Westway LAB has a tradition of bringing together artists in first-time collaboration, allowing them to present their results in a debut performance at the festival. One such example this year sees a coming together between João Pascoal and Sofia Ribeiro, who together produce an electronic combination that expertly takes its time in burying its way into your cortex, slowly seizing its tentacles around your temples until it is moving you at the pulse that it has decided it right for you. The slow build is in fact a gradual, imperceptible hypnosis in preparation for the great catharsis of the payoff, they keys and bass synths eventually exploding in tantric climax. Not bad for a first time.
One of the features this year is the showcasing of new Canadian talent, with a group of artists playing on Friday evening. The endearing Saskatchewan country singer Megan Nash is the most likeable stage presence of the festival, regaling us with tales of her small town existence, whilst The East Pointers bring their party from Prince Edward Island, their fiddle and banjo led mix calling to mind a traditional Irish ceilidh, with songs about shipwrecks and wildfires alongside a rousing version of Nirvana's 'In Bloom'. A much more classic vintage of rock is brought to mind by Tribe Royal, complete with Allman Brothers hair and 70s AOR riffage. A step above your average bar band and a step below Almost Famous' Stillwater, they may not be at the vanguard of anything, but they are easy crowd pleasers.
The clear standout of the Canada Country Focus is Les Deuxluxes, a riotous duo that high kick their way into the hearts of Westway LAB. Working with double the conviction in an attempt to overcome the extremely un-rock'n'roll surroundings of the aforementioned classical auditorium, with its soft seats and bourgeois ambience, singer Anna Frances Meyer is a constant provocateur, galvanising the sedentary audience into something mildly approaching a frenzy. Meyer and partner Etienne Barry duel on guitar, Barry hammering a kick drum with his foot all the while; they draw from glam, psych and punk but they operate at their own wavelength, a spiky, angular cool that earns a legit standing ovation as they leave the stage.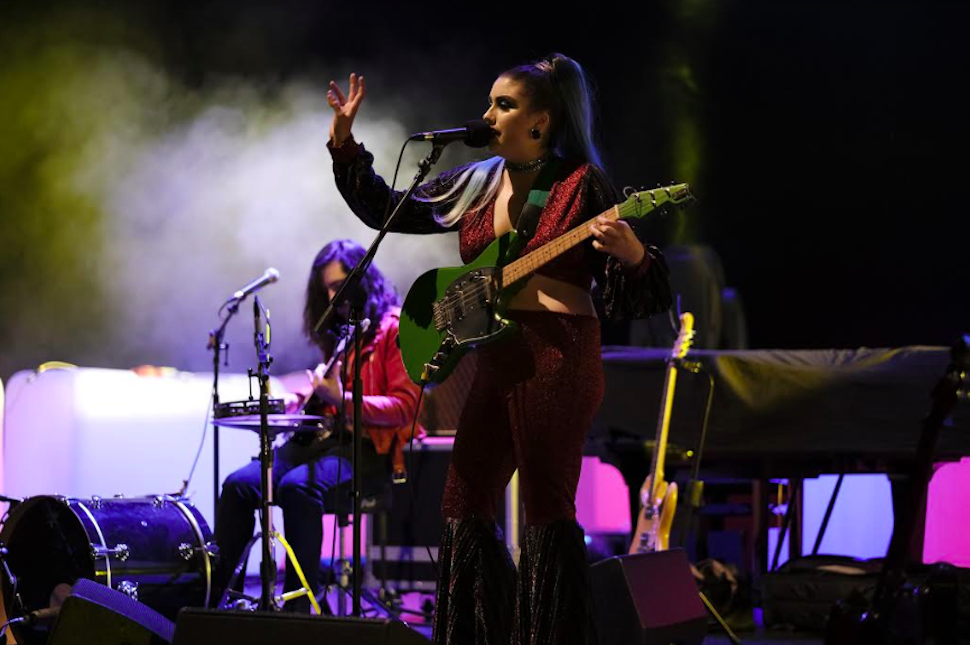 Away from Portugal and Canada, Westway LAB plays host to an international bill. The focus artist spotlight on Thursday night falls upon Italy's Violetta Zironi, a singer-songwriter with the poise of Marianne Faithful and the tunefulness of France Gall. She sings in English throughout, mining the truthfulness out her songs despite their apparent simplicity. She jokes of the modicum of fame that having a song featured in the German version of The Bachelor brought her before embarking on a version of Billy Joel's 'She's Always a Woman' at the keyboard. She debuts multiple new songs across the set too, a confident and winning performance.
The Los Angeles ambient experimental composer Tashi Wada represents the U.S. on the lineup with the weekend's most gradual and involved set. Featuring the great Julia Holter on keys and vocals, Wada presents a set of glacial horror, calling to mind the work of Krzysztof Penderecki, only perhaps at an even more languorous pace. The trio conjure a sense of complete freedom on stage, the drummer using the handle end of his sticks more often than the tip, Wada himself cracking out the bagpipes on occasion to add an extra sense of chaos. At one stage the drummer adjusts his seat and it is hard to tell whether he is playing it as an instrument. At another there appears to emerge a conversation between a bell and a triangle from opposite sides of the stage. The further we descent into the avant-garde jungle, the more that some of the passing crowd decide that there might be a preferable alternative. For those ready to engage, however, there is something transformative about this performance, a metabolism shifter in the tradition of the Steve Reich and Lamonte Young experiments of yesteryear. It is the sort of set that proves that Westway LAB is a place of artistic freedom, a space where just about anything might happen. Just don't tell too many people, it's still a secret.